Welcome the return of Fashion Friday, the most stylish segment of Coral Gables Love. This is your bible to EVERYTHING Coral Gables and through the bi-weekly series of "Fashion Friday" you will gain insightful details of all current fashion news as well as the latest style trends within this beautiful neighborhood we call home. The tree-lined boulevards, fountains and winding roadways aren't the only thing that give Coral Gables it's identity as "The City Beautiful." A great part of what makes Coral Gables so special has to be the multicultural mix of beautiful and creatively unique individuals. You will find that as we explore these streets to bring you stories, we fall more in love with our neighbors everyday. We truly praise the organic #streetstyle of Coral Gables and as fashion continues to move forward, we will feature our favorite looks. So whether you are roaming the streets, working, out for lunch, or even just visiting; make sure you strut your very best personal style because we may just snap a shot!
It is well known that when it comes to fashion, Miami is an entirely different animal. Some places in the world have yet to recover from a winter of snow while our locals are picking out their best sunnies and bikinis. The start of Spring really isn't for another couple of days but walk Miracle Mile and you can see that everyone is already marching into Spring!
This year, it is a season of high impact trends. Step away from minimalism and be bold with color, patterns, and all exaggerated details. Retro silhouettes have been modernized back into your homes, and pajama inspired styles are passing as daywear. And of course nothing says Spring such as bright shades with a tint of neon. You will find may prints of yellow, pink, purple, aqua, and green, color blocking, spanish ruffles, and lace finishes.
Featured above is this stylish man named Silas, wearing a full Vineyard Vines ensemble. This preppy bright color blocking is perfect for this time of year; it suits a man very well while keeping it fun. (Styling Tip: Match the shades equal in tone to avoid an imbalanced combination.) The yellow pants serve as a neutral and would compliment a multitude of fun shades. They can be paired with blue, green, orange, and even a bold print. Silas stated that his outfit was inspired by "Pink Lemonade."
Shop Silas's Look:
[show_shopthepost_widget id="1478255″]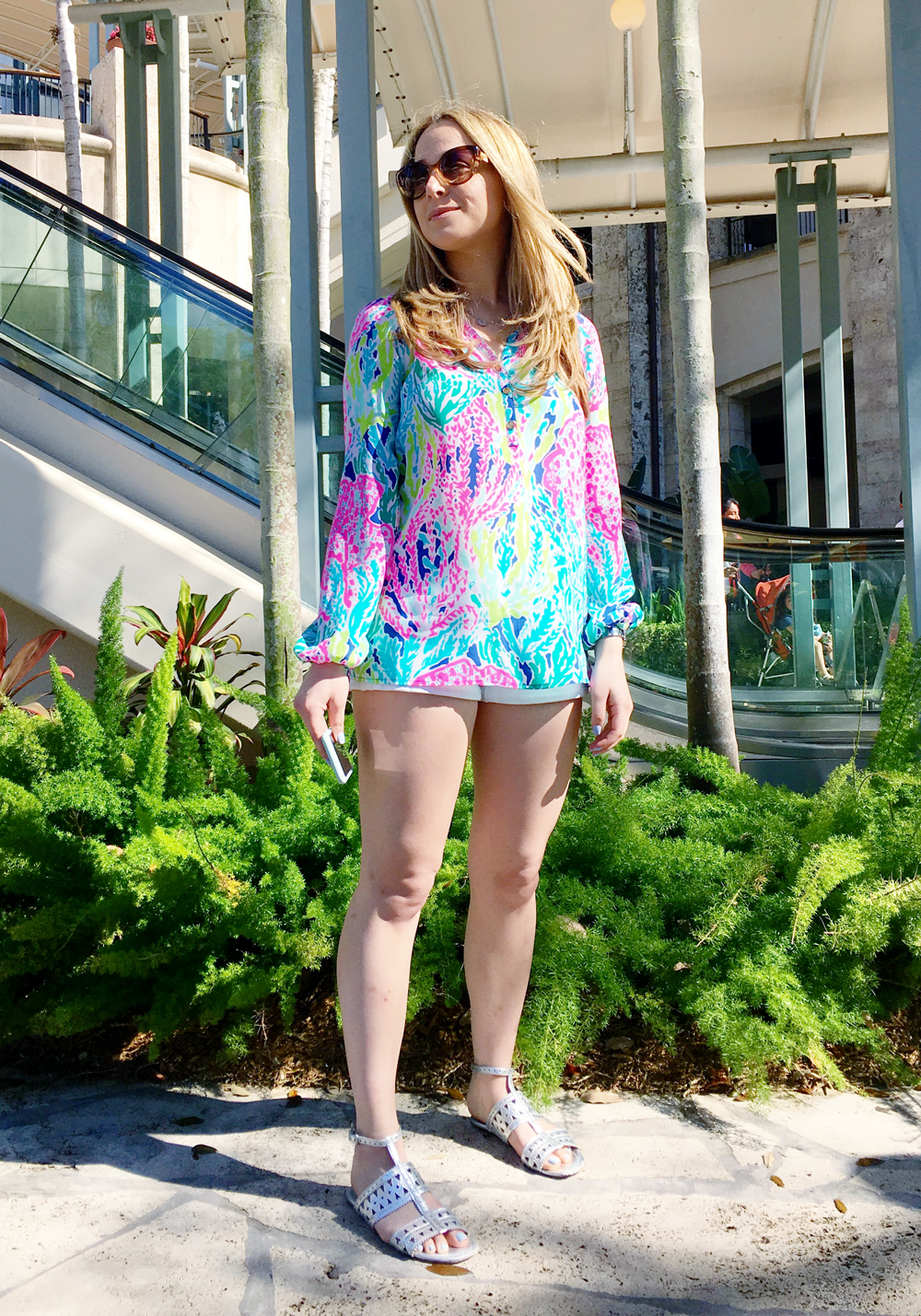 Lindsay, a fashionable local who says she never leaves home with out a pair of designer shades! Lindsay is wearing a Coral Gables favorite, designer Lilly Pulitzer. The beautiful blue print top represents the bold mix of color we want this Spring. It is a pajama inspired tunic, designed for a comfort cool feel. She paired it it with shorts to not overwhelm the print, this way the top is a statement by itself.
Shop Lindsay's Look:
[show_shopthepost_widget id="1478268″]
Both of these outfits are a beautiful light-weight combo for the streets of Coral Gables. You can take these looks to a brunch, a day at the mall, or even a stroll with family and friends. Spring is just around the corner and I'm excited to see what styles you have for us. You might just make it on the next #FashionFriday!