I wanted to share all the wonderful things you can find at the Coral Gables Farmers Market as my first post because it is only running three more weeks. You should definitely go check it out and visit the vendors; and tell them I sent you!
The Coral Gables Farmers Market is an annual event that runs January through March. This year, the 2015 Coral Gables Farmers Market runs from 8 am to 2 pm, every Saturday through March 28th. It is located in front of the Coral Gables City Hall and offers additional activities for the Market shoppers.
I attended the Coral Gables Farmers Market today and had the opportunity to talk to almost every vendor. The following is a rundown of the vendors I chatted with, their products, and where you can get in touch with them once the Coral Gables Farmers Market comes to a close.
Anita's Guacamole

Anita's Guacamole is my favorite guacamole and the first booth I visit. They sell the original guacamole we all know; but they also sell delicious mango guacamole! Anitas' Guacamole is a family recipe on a mission to provide all natural, wholesome goodness. With the increasing amount of processed foods, and misleading products that are high in preservatives and additives entering the market, they are proud to serve "strictly vegan" recipes, always freshly made with nothing other than fruits and vegetables, the same way Great-grandma Anita used to do it. Check their website for recipes and locations where to find them www.anitasguacamole.com. You can also like them on www.facebook.com/anitasguacamole or follow them on www.twitter.com/anitasguacamole
Lulu's Nitrogen Ice Cream
Luisa Santos and Paula Santos from Lulu's Ice Cream
It was fun meeting Luisa & Paula Santos, the sisters that run Lulu's Nitrogen Ice Cream. Luisa came up with the idea and her sister, Paula, manages the booths at farmers markets they attend. They will be opening their first storefront opening in April at 2001 Biscayne Blvd in Miami. So what is nitrogen ice cream? At Lulu's they craft ice cream from scratch using fresh, locally-sourced ingredients and a splash of liquid nitrogen. Liquid nitrogen freezes so fast that it reduces the size of the ice crystals, creating much smoother ice cream than the traditional way. The best part is watching them make it! A big foggy cloud surrounds you as you wait for your for your ice cream to be freezed on the spot – just for you. They also do catering for events. www.lulus-icecream.com
Face Painting

Coral Gables Parks & Recreation Department Volunteers: Brian & Jasmin
The Coral Gables Parks & Recreation Department offers various activities during the Coral Gables Farmers Market. One of these activities is Face Painting. You can look forward to other activities such as the Gables Guitar Kids Sing Along Concert on Saturday, March 21, 2015 starting at 11 am or The Little Farm Petting Zoo on Saturday, March 28 at 11 am.
Buzy Bee Honey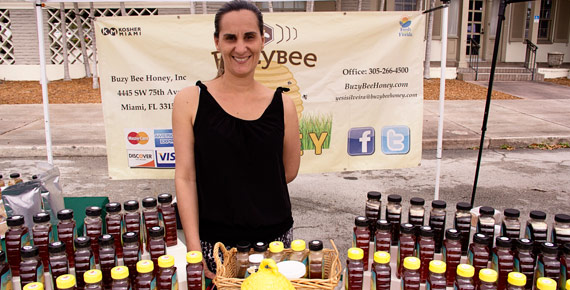 Raffaella from Buzy Bee Honey
Buzy Bee Honey is run by a family of Bee Keepers: Andres & Angela Silveira and their three children Yesi, Jose and David. I met Raffaella at the Coral Gables Farmers market and she explained how the Silveira family does their own processing and packaging of the honey. They specialize in real unadulterated Tropical South Florida honey. They sell raw, unfiltered, unheated Tropical South Florida Honey that is as pure and natural as extracted honey can be. If you would like to contact them for honey outside of the farmers market you can visit their website: www.BuzyBeeHoney.com or call them at (786)369-6415.
Laurie's Pantry Gourmet Foods
Laurie Landgrebe from Laurie's Pantry Gourmet Foods
Four years ago, Laurie Landgrebe saw a need for a breakfast food that was not tainted with chemicals. She looked at granola and thought it was bland and boring so she decide to spice it up. Laurie's Pantry produces a wide variety of homemade gourmet Granolas and Mueslis, using only the highest quality, all natural ingredients. The company is committed to using natural and organic products in all of its many dynamic flavor combinations sourcing the best ingredients from all around the globe. Laurie also creates seasonal flavored granolas and I got to try her Irish Coffee Granola (one of her novelty flavors made for St. Patrick's Day). Let me tell you, it was fantastic! The granola is made of multigrain espresso granola with Baileys Irish Cream, raisins, and chocolate covered espresso beans. I love Baileys and chocolate so that granola tasted like heaven. You can find her granolas at local stores including: Graziano's Market, The Market (300 Aragon Ave, Coral Gables), Epicure, and Lokal in Coconut Grove. These granolas have great packaging so they would make excellent gifts too. www.lauriespantry.com
The Empanada Lady
Flavia from The Empanada Lady
The Empanada Lady is the loving project of Monique Font Delacroix. Monique is a Pastry Chef who studied in France and Italy. They offer beautiful empanadas hand-made to perfection. All the empanadas are made using organic and natural ingredients, starting from the secret recipe used to create a delicious and light vegan dough used in all of their empanadas. Monique is working in adding gluten-free and vegan empanadas to the menu soon. www.theempanadalady.com or call them at (305)469-2362.
Native Conch
Native Conch owners Jason Mira and George Mira
The Native Conch Food Truck was started 13 years ago by ex pro football player George Mira. After being the in the restaurant business for 35 years he decided to start the Native Conch and it has been a huge success. Now, his son, Jason Mira, has taken over the business and they attend events such as the Coral Gables Farmers Market. If you see this bright food truck make sure to try out their delicious conch fritters. To contact them outside the farmers market call Jason at (786)350-9509 or George at (786)514-2486.
Gelato Express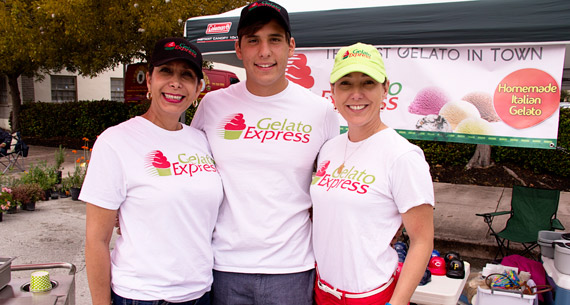 Alba Biondi, Alex Biondi, and Daniella Garcia Loynaz from Gelato Express
To contact Daniella outside the farmers market email her at dloynaz@yahoo.com or call her at (786)296-5992.
Herbeque

Herbert Prince and Alexander Prince from Herbeque
Herbert Prince's passion for cooking started as a child as he watched his mother cook. Eventually, his recreational bar-b-queing evolved into a full fledged BBQ catering business. His menu includes smoked pulled pork, bbq baby back ribs, smoked chicken, hot dogs, hamburgers, and more. If you ever see his bright yellow tent head on over to taste some of his famous BBQ. Visit their website www.herbeque.com
El Lechoncito Asado

Brendy Rodriguez and Sezy Rodriguez from El Lechoncito Asado
Lechoncito Asado is another family run business started by Luz Rodriguez 8 years ago. Their customers' favorites are the pork sandwiches and the tortillas with picadillo. They can cater any of your events and they specialize in all latin american foods. You can find them at other Farmers Markets: Sawgrass, Coral Gables, West Palm Beach and Pine Crest. If you want to reach them outside of farmers markets call Luz at (786)344-4834.
Pasta Amore
Gabriel Daguerre from Pasta Amore
Gabriel Daguerre brings his fresh gourmet pasta all the way from West Palm Beach. The pasta is made every week and he has rare dried squid ink pasta available for $9 per 12 oz. He also brings… To reach Gabriel outside the Coral Gables Farmers Market email him at gdaguerre915@gmail.com or call him at (561)207-0329.
Benny Fruit & Vegetables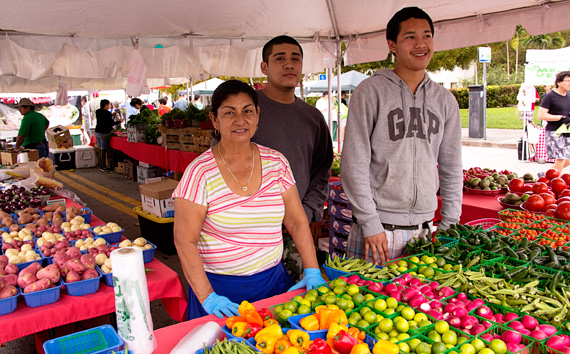 Adan, Naul, and Benny from Benny Fruit & Vegetables
Meet the owners of Benny Fruit & Vegetables, Benny Lara and Johnny Martinez. They have been growing and selling local produce for over 20 years. You can find them at other Farmers Markets: Isla Morada Farmers Market, Doral Farmers Market and Tropical Park Farmers Market. You can also call them at (305)345-0876.
John Martin's Irish Pub & Restaurant

Barbara Clarke
The local Irish pub was selling fresh made scones, soda bread and quiche not usually found on their menu. They have been attending the Coral Gables Farmers Market for the past two years but their Irish pub is a Coral Gables landmark that was opened in 1989 by John Clarke and Martin Lynch. I highly recommend you visit their establishment on Miracle Mile :) www.johnmartins.com
Kreative Gardens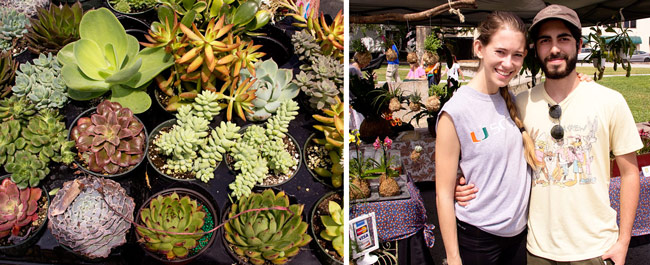 Isabella & Alejandro
The owner of Kreative Gardens, Rene, designed the Root Orb Plant System over ten years ago. It is a patented product designed to keep plants healthy & beautiful as well as provide a beautiful presentation on almost any surface. The Root Orb takes the place of a traditional plant pot by weaving a plant's roots in organic material. This allows a unique visual display of any type of plant in many settings such as plates, baskets, driftwood and almost any other household accessory. Some of the plants assembled with root orb can also hang from galvanized bent wire. Her niece Isabella helps her at the Coral Gables Market every weekend. www.kreativegardens.net
Miguel Bode Beekeeper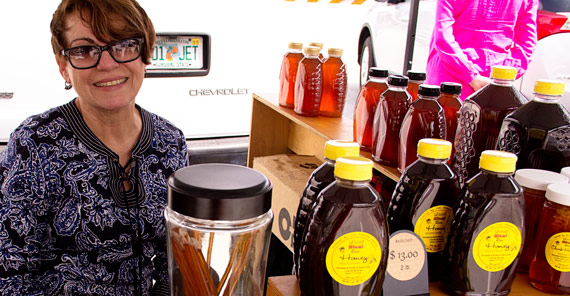 Cary Iglesias
Miguel Bode is a hobby beekeeper he sells honey, royal jelly, fresh pollen, honeycomb, creamed honey and beeswax candles. He has been working with honey for over 20 years. You can find him at Fair Child Tropical Gardens Farmers Market. To contact Miguel outside the farmers market call him at (305)562-2631.
Quinoa Corner
Max Gutstein from Quinoa Corner
Max Gutstein started Quinoa Corner three years ago to provide healthy and delicious food. They are dedicated to replacing all the popular rice dishes with the supergrain, quinoa. www.quinoacorner.com
Crackerman Crackers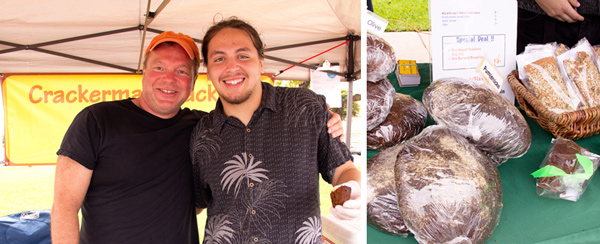 German style whole wheat bread is made with both organic pumpkin and sunflower seeds, golden and brown flax and sesame seeds, which we soak before baking to add even more goodness. There are absolutely no preservatives, dough conditioners, bleach or other nice things widely used in other breads. The owner, Stefan Uch, created the Real Food Project (www.realfoodproject.com). The Real Food Project is a community/website to inform individuals about the need for pure, fresh, unadulterated food on our plates; and how to take steps achieve this.
The Spiced Nut Factory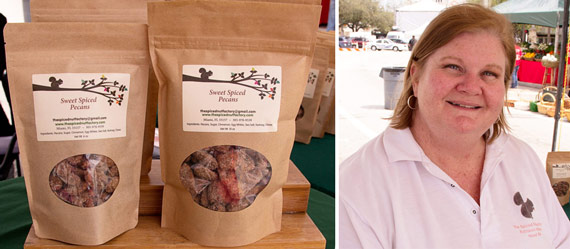 Katheleen Harding from The Spiced Nut Factory
Kathleen Harding has been selling spiced nuts for over 20 years. They are great to keep in mind as gifts or a yummy treat. You can pick them up locally at the Urban Market on 300 Aragon Ave in Coral Gables.www.facebook.com/TheSpicedNutFactory
Jerry's Here Farm Fresh
David Sanchez from Jerry's Here Farm Fresh
The Sanchez family grows their produce in Homestead with as few pesticides as possible. You can find them at other farmers markets: Ocean Reef Club, Del Ray Beach Farmers Market, and Parkland Farmers Market. They also have a fruit stand year round at Homestead: 15970 SW 177 Ave, Miami, FL 33196. You can contact them via email at losgirasolgarm@yahoo.com or via telephone at (305)506-5279.
Farina e Cuore
Marco Morelli from Farina e Cuore
Marco Morelli and Monica Linke proudly make their fresh handmade pasta with all natural ingredients without using any kind of preservatives, colorants, or artificial substances. They sell their pasta to local restaurants including Randazzos in Miracle Mile in Coral Gables.www.farinaecuore.com
Doctor Pickle
Matt
Harold "Doctor Pickle", was a First Responder for the New York City Fire Department and found himself doing a lot of cooking for the station and always included a pickled product with each meal. The station loved his pickles and he started refining his recipes. His pickles are all natural without any added preservatives or artificial coloring. He has a diverse line of pickles you can check out on his website www.doctorpickle.com
Lilly's Snacks
Tony
13 years ago, Tony, had a baset hound named Lilly. Tony would bake fresh, homemade, doggie treats and give them to other dog owners at the local dog park. When the dog park fundraiser came around he donated 80 bags of doggie treats. The treats were a hit and sold out in under three hours. Now, you can find Lilly's Snacks at the Coral Gables Farmers Market. You can reach Tony outside the Coral Gables Farmers Market via email lillysnacks@gmail.com or via phone at (305)888-2971.
JC's Daily Bread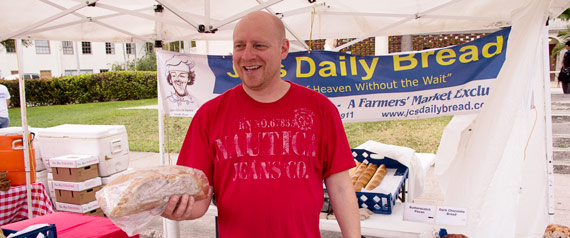 John Andescavage from JC's Daily Bread
Jon-Claude believes that great food is for everyone, not a select few. He created his line of breads and pastries with that goal in mind. Grab some samples at a Farmers' Market near you to experience the deliciousness and quality for yourself.www.jcsdailybread.com
Imperial Roasts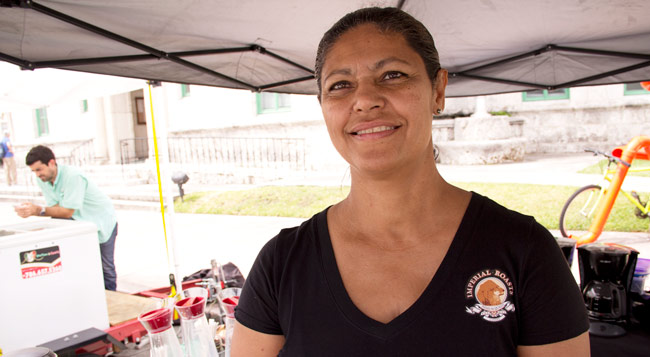 Sybil Shadeed from Imperial Roasts
Imperial Roasts is owned and operated by Sybil Shadeed. They sell gourmet coffees, teas, rum cakes, and biscottis. All their coffees are roasted upon order. Visit their website www.imperialroasts.com
The CheeseCake Gallery
Chef Jorge Regueiro from The Cheesecake Gallery
The cheesecake business was a dream of owner and Pastry Chef Jorge Regueiro. Jorge has worked diligently experimenting with flavors to arrive at just the right formulas, which now are the makeup of these delightful products. He is continuously working on new flavors. Visit his website www.thecheesecakegallery.com
Gables Delight

Chef Almudena Gudiel sells natural, traditional and homemade marmalade, jam, jellies and more. www.facebook.com/Gablesdelight
Blondie Fit Treats
Amber Yothers from Blondie Fit Treats
Amber Yothers created Blondie Fit Treats to offer delicious and nutritious goodies that will satisfy everyone's sweet tooth. I tried the Banana Protein Bread and it was delicious.www.blondiefittreats.com
Chris' Crepes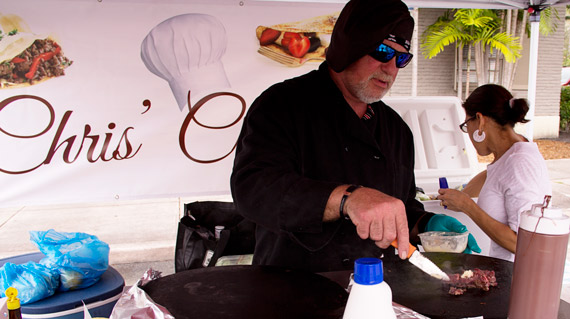 Chris has been making crepes for over 8 years. He also caters parties, weddings, festivals and special events. You can contact Chris for any occasion at (786)507-9604.
Monica Orchids
Monica Ledesma from Monica Orchids
Monica Ledesma has a beautiful selection of orchids for sale. To contact her outside the Coral Gables Farmers Market call her at (786)286-6470.
Karen Kreations
Karen Darnell, Michelle from Karen's Kreations
Karen has been making jams and tapenades for over 20 years. She likes mixing new things and creating new flavors. You can also find her at the Fairchild Mango Festival. You can reach her via email kreations105@att.net or by phone (786)260-3666.
Le Vinois Bakery
Laure
This french artisan bakery came to represent Ft. Lauderdale at the Coral Gables Farmers Market. They make everything from scratch daily. Make sure to visit them next time you are in Ft. Lauderdale. www.levinoisbakery.com
Paradise Farms
Carlos from Paradise Farms
Gabriele Marewski purchased an abandoned five-acre avocado grove next door to her home and in 1999 founded Paradise Farms.The farm started with lettuce in the circle beds and each season the planting expanded to a greater variety of products. The product line now includes micro greens, over 52 varieties of edible flowers, a popular baby greens mix, assorted basil tops and mint tops, baby root vegetables, oyster mushrooms, honey and a variety of tropical fruits including carambola, jackfruit, monstera, mango, avocado, cotton candy fruit and bananas. Paradise Farms sells to the best chefs at high-end restaurants in the Miami area. www.paradisefarms.net
Mr. Green Deans Vegetable Farm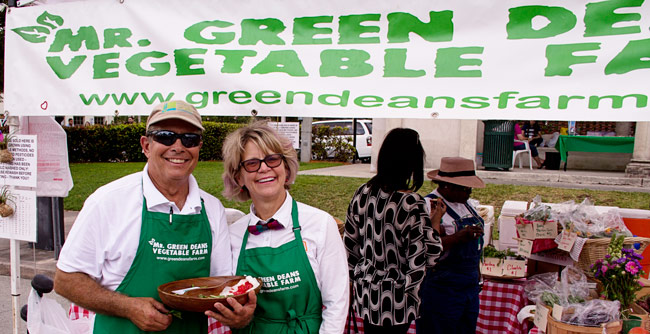 Mr Green Dean sells extraordinary veggies, greens and herbs grown responsibly and sustainably. www.greendeansfarm.com
Flantastic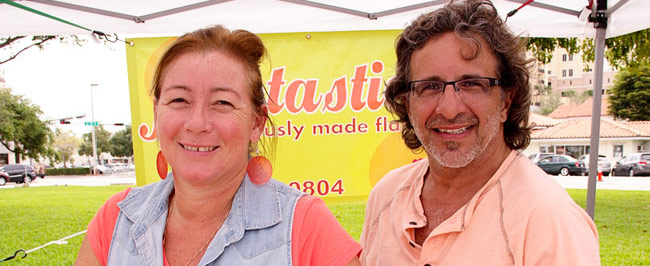 Nancy & Raul Hernandez
Raul Hernandez is a chef that has been perfecting his flan for the last 15 years. To reach them outside the Coral Gables Farmers Market call Raul at (305)751-0804.
PCK Orchids & Exotic Plants
Peter Kouchalakos from PCK Orchids & Exotic Plants
Peter and Clara Kouchalakos have been growing exotic flowers for 20 tears. You can reach them at (305)632-3448.
Rare Fruit Council International, Miami Chapter
Matt Snow, Carla Hatten, Laura Buksatis, and Steve McNaly From the Rare Fruit Council
The Rare Fruit Council International – Miami Chapter was founded in 1955 to promote and further the worldwide culture of rare tropical fruit. www.tropicalfruitnews.org
I got to talk to three friendly guys from the Fire Rescue, Jerry Maxson, Javier Rodriguez, Yohandi Garcia, between the three of them they have been part of the Coral Gables Fire Rescue for over 35 years. Thank you for your Service.