As a stay-at-home-father it has been imperative for me to find outdoor spaces where my son and I can run, climb and scoot to our heart's content.  A little outdoor exercise is just what the city of Coral Gables offers. The following are a few parks that fit the bill perfectly.
1.)  Phillips Park:
This park holds a special place in my heart due to the fact that my family and I lived next door for about a year.  Phillips Park offers a wide variety of facilities to enjoy as well as being a short walk away from downtown Coral Gables and Miracle Mile.  From a jungle gym for the kids to tennis and basketball courts for the adults, this place has it all for your outdoor recreational fix. If you are a jogger, take a few laps around the pavement running path that circles the entire park.   I think its especially inviting for its wide open field space. On Sundays I've witnessed organized soccer games that make for a very entertaining day.  The convenience of the park doesn't stop with just its facilities. Its close proximity to a Publix supermarket comes in handy for those last minute supplies you need when enjoying a party outside at the park's picnic area.
2.) Coral Gables War Memorial Youth Center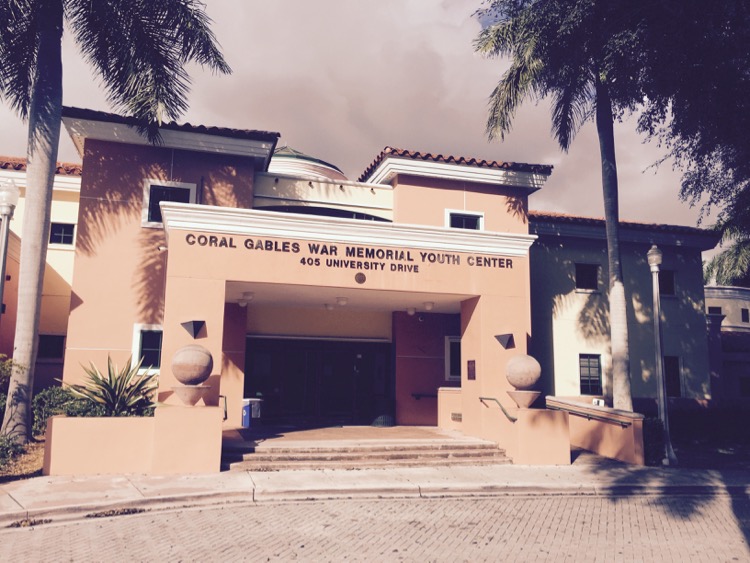 It's possible the War Memorial could be considered the mecca for youth activities here in Coral Gables.  It offers a wide variety of outdoor fun with its playground, basketball courts and Baseball diamond.  Outside organized activities such as sports is prohibited if it doesn't go through the proper channels of the youth center.  However if you're like me, tromping around the field with your three year old, feel free to kick a soccer ball around or have a catch on the ball diamond.  This is the perfect area and space at which to do so.  Another feature I like is the fact that the Coral Gables Public Library is located next door to the Youth Center offering a great kids area with toys and of course books for all ages.
Its also important to note that the Youth Center has a variety of activities that take place inside.  Stop by and pick up a brochure for the list of classes, activities and programs ranging from gymnastics to Tai Chi.  Becoming a member can save you 25% off the cost of each program you enroll in.
3.) Salvadore Park
Salvadore Park is a bit of a change of pace from the previous two options listed.  Like the others it caters to children of a young age with the usual jungle gyms and family gatherings with its picnic tables and benches.  It also has tennis courts for the adults.  The open space is a bit limited allowing for a smaller open area for the the kids to run and jump around in.  But the limited space gives way to a more green environment thanks to a variety of trees scattered throughout the park. It makes for a pleasant and enjoyable visit.  Expect the trees to help keep the sun out.