The City of Coral Gables has issued the following Zika Virus Advisory:
The Florida Department of Health is monitoring travel-associated cases of Zika virus, a mosquito-borne illness. On Friday, July 29, the department confirmed Florida's first local transmissions of the Zika virus in four individuals in Miami-Dade and Broward Counties.
The Florida Department of Health believes active transmissions of the Zika virus are occurring in one small area in Miami-Dade County, Wynwood, just north of downtown. The exact location is within the boundaries of the following area: NW 5th Avenue to the west, US 1 to the east, NW/NE 38th Street to the north and NW/NE 20thStreet to the south. This area is about one square mile and remains the only area of the state where the department has confirmed there are local transmissions of Zika.
CDC recommends that women who are pregnant or thinking of becoming pregnant postpone travel to areas with widespread Zika infection. Florida's small case cluster is not considered widespread transmission, however, pregnant women are advised to avoid non-essential travel to the impacted area in Miami-Dade County. If you are pregnant and must travel or if you live or work in the impacted area, protect yourself from mosquito bites by wearing insect repellent, long clothing and limiting your time outdoors.
The most common symptoms of Zika virus disease are fever, rash, joint pain, and conjunctivitis (red eyes). The illness is usually mild with symptoms lasting from several days to a week. It is a serious concern for women who are pregnant or may become pregnant.
Avoiding mosquito bites is the best way to prevent all mosquito-borne disease, and there are simple steps to reduce the chance of being bitten. Practice "drain and cover" at home, but also when you're traveling, particularly to areas such as the Caribbean, Central America and South America.
What the City of Coral Gables is Doing:
City Crews are on special assignment clearing catch basins of debris throughout the City of Coral Gables. This effort is being done to prevent standing water and potential mosquito breeding. Efforts to clear catch basins continue.
The City of Coral Gables is also conducting a public awareness campaign to inform residents and visitors about effective ways to prevent mosquito bites. Informational flyers in English and Spanish are being distributed in various city facilities and to city employees to use for their own information and to distribute when in contact with the public.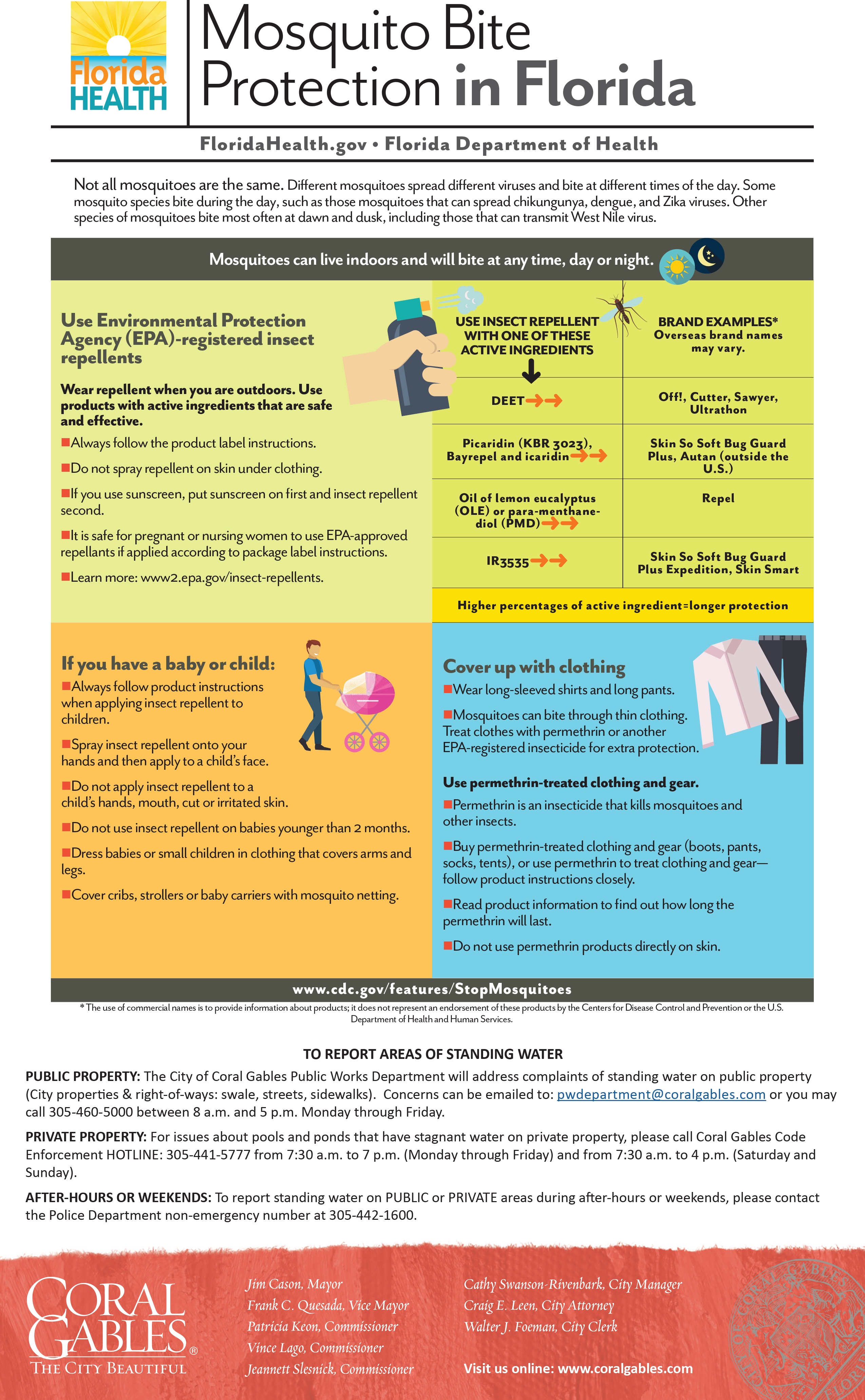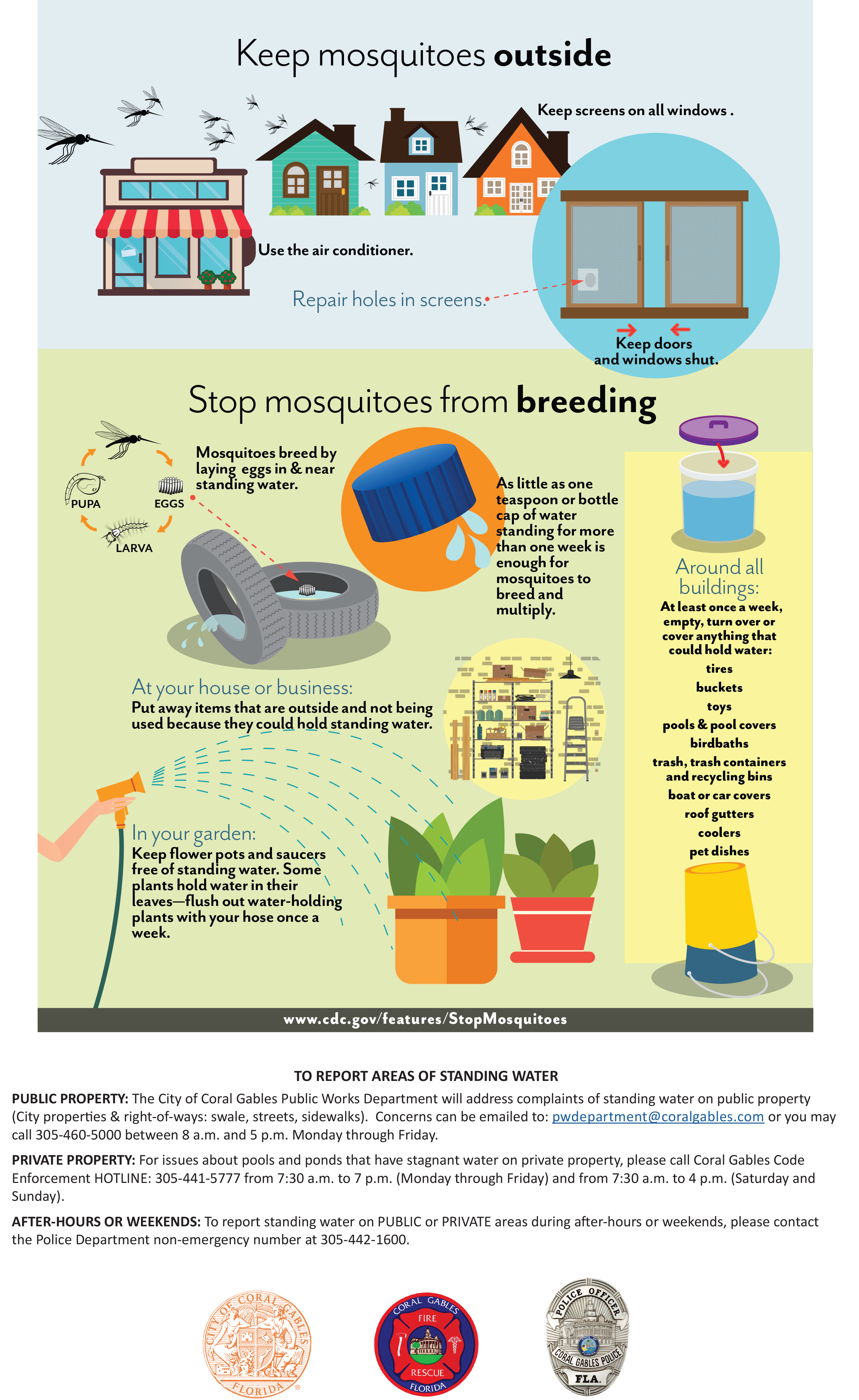 What You Can Do to Help:
While the City of Coral Gables is taking proactive measures to prevent mosquito breeding scenarios, we need your assistance. Please help us keep all catch basins clean in your neighborhood to prevent mosquito breeding in standing water. Residents can help keep catch basins clear of debris by disposing of leaves and other yard waste properly. Make sure that there are no leaves, sticks or twigs clogging the catch basins and check periodically to ensure that the catch basins are clear. Make sure your yard company also disposes of the yard waste properly and away from any catch basins in the neighborhood.
Please report to the City of Coral Gables areas of standing water. Here's how:
ON PUBLIC PROPERTY: The City of Coral Gables Public Works Department will address complaints of standing water on public property such as City properties and right-of-ways: swale, streets or sidewalks. Concerns can be emailed to pwdepartment@coralgables.com or you may call 305-460-5000 between 8 a.m. and 5 p.m. Monday through Friday. You can also make online reports through Customer Connect and the City App. Watch a tutorial here on how to use Customer Connect.
ON PRIVATE PROPERTY: For issues about pools and ponds that have stagnant water on private property, please call Coral Gables Code Enforcement's Hotline at 305-441-5777 from 7:30 a.m. to 7 p.m. (Monday through Friday) and from 7:30 a.m. to 4 p.m. (Saturday and Sunday).
AFTER-HOURS OR WEEKENDS: To report standing water on public or private areas during after-hours or weekends, please contact the Police Department non-emergency number at 305-442-1600.
Please help the City of Coral Gables stop mosquitos from breeding. Here's how:
Mosquitos breed by laying eggs in and near standing water. As little as one teaspoon or bottle cap of water standing for more than one week is enough for mosquitos to breed and multiply. At least once a week, empty, turn over or cover anything that could hold water: tires, buckets, toys, pools and pool covers, birdbaths, trash, trash containers and recycling bins, boat or car covers, roof gutters, coolers or pet dishes.
Miami-Dade County provides mosquito control services for Coral Gables residents. If you are experiencing an issue, you are encouraged to call 311, or report the problem online here.
Important Contact Information
Zika Virus Information Hotline: 1-855-622-6735
Miami Dade County Information: 311
Coral Gables Non-Emergency Number: 305-442-1600