About South Beach Seafood Festival 2016
The Sobe Seafood Festival means one thing: it's almost stone crab season again! The South Beach Seafood Festival is the ultimate seafood experience featuring luxury dining on the sands of South Beach. The seafood festival will take place on 7th street and Ocean Drive and will go from noon to 7pm. Plus, ticket price includes all-day open bar! If you want to get your tickets go to sobeseafoodfest.com and use promo code CGLOVE for 20% OFF your ticket price.
Sobe Seafood Festival 2016 Promo Code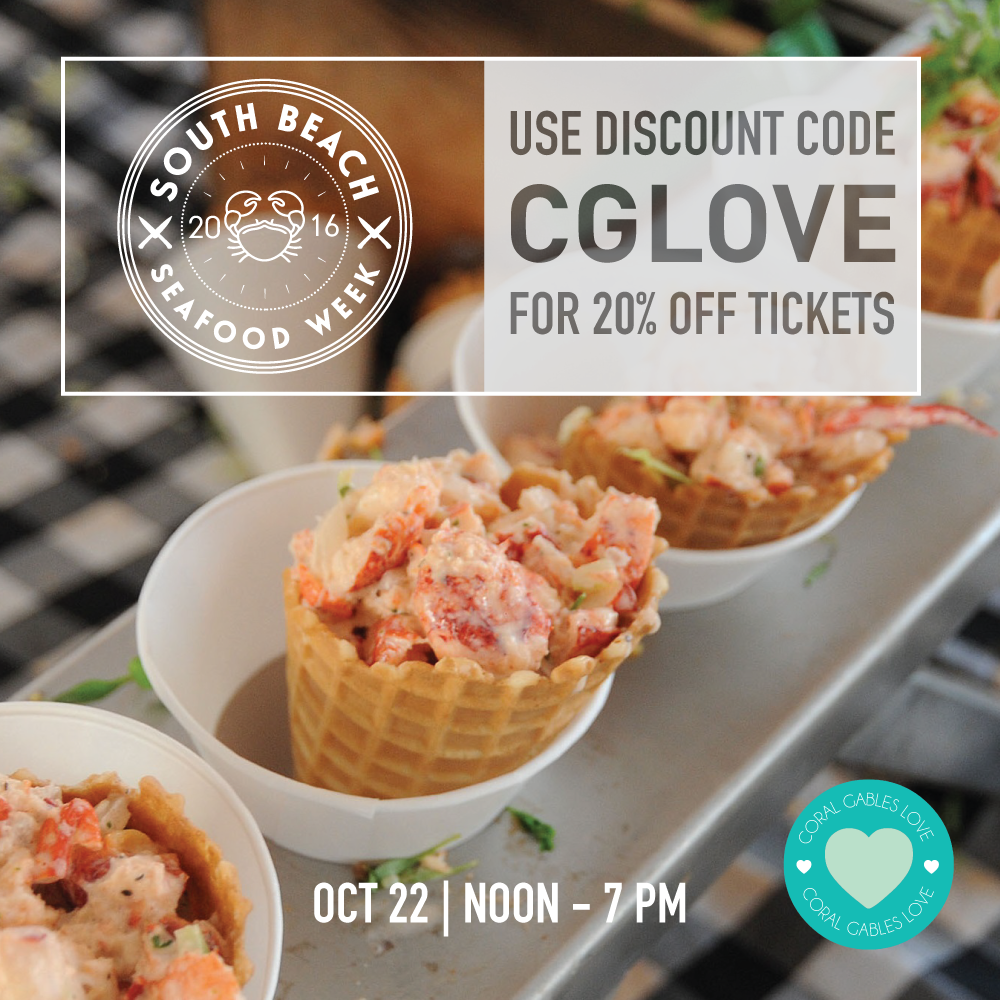 Sobe Seafood Fest Participating Restaurants
Saturday's festival will feature pop up café's from the best restaurants such as
Joe's Stone Crabs
Naked Taco
Red, the Steakhouse
CJs Crab Shack
Drunken Dragon
A Fish Called Avalon
Naiyara
Poseidon
Toro Toro
Trulucks
and more

Together, 17 restaurants will showcase an eating experience unlike any other, where the restaurants are serving you right on the sand – it's four blocks of fun to be exact.

South Beach Seafood Festival Tickets

There are two types of Festival Tickets, and both General Admission and VIP include an all-day open bar available at any of the 30+ bar locations.

General Admission Tickets: General admission starts at only $35; this low price gives guests the opportunity to pick and choose which delicious restaurants to try – all of which are bringing their premium menu items at affordable prices between $5 – $10. This is not a tasting festival; this is an eating festival.

Enjoy Stone Crabs, Lobster Waffle Cones, Steak & Lobster Skewers, Shrimp Tacos, Oysters, Shrimp Cocktail, Gyros, Crab Cakes, Grouper in a Bag, Lobster Mac 'N Cheese and more. But please, don't go home hungry!

Enjoy the all new JACK DANIEL'S BEACH CLUB featuring local DJs playing today's hottest beats all day long as you lay out, courtesy of Boucher Brothers Management. Or put your toes in the sand with some KJ Avant corn hole boards and other life- size games at the all new beer garden.

The Main Stage will be jamming all day long with live music from South Florida's best bands, so you can dance the day away. If you'd like to learn a little something while your out there, step into the WHOLE FOODS DEMO ZONE, where the featured chefs and mixologists will take you to another level and make you the ultimate master seafood pairings chef.

VIP Tickets: There are tons of NEW reasons why guests will splurge to be a VIP this year priced at $150.

Tickets will include $20 worth of food vouchers to use at participating festival restaurants, premiere sampling, private bars, entrance into GOYA's Culinary Pavilion featuring all day private DJs, shade, lounges, MYO Bars from Jack Daniels, Herradura, and Finlandia, VIP swag, and the fun doesn't stop there.

In the VIP Hospitality Village, the upgraded experience will include sampling from GOYA, Celebrity Cruises, and Papa's Raw Bar, while Jack Daniel's will host a one of a kind "Jack Den" featuring unique tastings throughout the day.

Event host, Kendall Jackson and La Crema, will have a one-of-a-kind sensory garden inspired by their famed "Farmer T", where they will be transplanting their Sonoma garden tour onto the sand where guests can literally walk through a private experience sampling potted fruits and tasting the wines that are made from these fruits.

The additional VIP benefit for 2016 will be the extended hours keeping the party going into the night. The festival grounds will close at 7pm, but the GOYA Culinary Pavilion inside VIP Hospitality Village with the featured DJs and bars will stay open until 11PM, so guests can dance the night away.