*** Update 5/17/2018: This establishment has closed.****
When I dine at Yuga it feels like eating at my closest friend's home. Granted, I have been a regular at this restaurant since the year they opened; but as soon as I walk in, a friendly face welcomes me there. The staff has been working at Yuga for a long time and they have become friends. Mind you, I am not an exception. If you walk into Yuga during their busy lunch hour you will notice they know most of the regulars by name. I tend to always order the same things and they often know my order before I say it.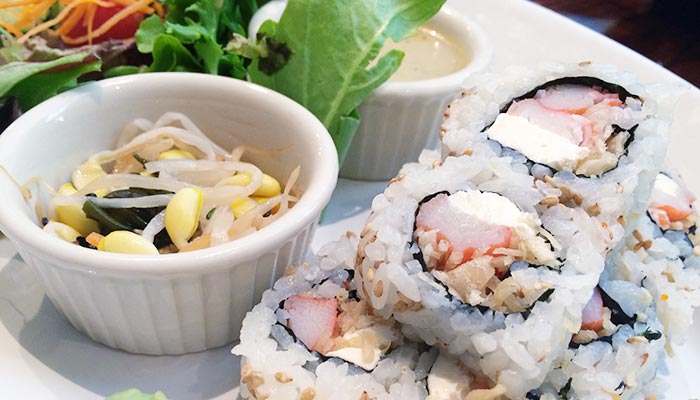 Menu Recommendations
I wouldn't be a regular for so many years if the food at Yuga wasn't consistently fantastic. They serve fresh delicious sushi and dishes with flavors from many different Asian regions including China, Japan, Korea, Thailand, and the Philippines. I am personally addicted to their crab rangoon sushi roll. The crab rangoon roll has surimi, cream cheese, wanton crisps and sesame seeds. I like to have it with soy sauce but I also like to dip it in their cilantro dressing.
If you are not that big into sushi they have many other options. I have tried and loved the Thai basil chicken, yakiniku don (chunks of sautéed beef & onions covered in a tasty glaze served with rice), the Filipino rice bowl (garlic fried rice topped with tender braised pork, fried sunny-side up egg and pickled onions), the red curry, and many more.
As far as appetizers, you should definitely try the Asian Nachos: crispy wonton chips topped with braised pork, chopped tomato, avocado, and a cilantro cream sauce. The wonton crisps make the nachos lighter and fluffier. Plus, the creamy cilantro sauce is addicting. You might have started to see a trend here. Yes, I love cilantro! Other appetizers I like include the five spice sweet potatoes, edemame, and agetofu (fried tofu served over broth). Sometimes, I like to order their tuna sandwiches as appetizers too. Tip: the tuna sandwiches are very filling so make sure to share them with someone else.
For those looking for a quick, affordable, and delicious lunch option, head on over to Yuga. Yuga offers lunch specials that include miso soup, salad, California Roll, and a lunch portion of a main dish (i.e. Thai basil chicken, beef red curry, miso salmon, etc.) It's a ton of healthy and tasty food for a great price ranging from $8 to $11. You will have a hard time finding that much nutritious food for that price in the area. I always feel full and satisfied when I have a weekday lunch at Yuga.
As far as desserts, they have Thai donuts served with three sauces for dipping: strawberry, chocolate, and condensed milk. The donuts are fluffy. The sauces are perfection. You can't go wrong with this dessert option.
The Perfect Place for Meetups
I like taking big groups of people to Yuga because they have so many options. So I can relax and be sure that everyone will find something they enjoy. Also, Yuga has a quiet ambiance that lends itself for big groups or romantic dinners. The key benefit of their quiet atmosphere is that you can hear your fellow companions without much effort. That's a big plus for me. When it's my turn to pick a place for our book club meetup, I tend to pick Yuga.
Yuga's Predecessor
So what is the story behind Yuga? Yuga is the second restaurant owned by Kazu Abe & Johnson Teh. They first opened Lan Pan Asian Cafe at Dadeland station and it has been an enormous success. The food at Lan and Yuga is very similar but Lan offers an additional array of Bubble Teas. I've tried the Green Latte Bubble Tea and it's fantastic. Lan Pan Asian Cafe is located at 8332 S. Dixie Highway, Miami.
Yuga is a great restaurant with amazing food, friendly service, and reasonable prices. You should check it out :) Let me know your thoughts in the comments and share this discovery with your friends via the social buttons below. Yuga is located at 357 Alcazar Ave, Coral Gables. yugarestaurant.com