Kim-Joy, the Great British Bake Off finalist famous for her gorgeous cakes, shares 40 of her imaginative designs for sweet treats in this bestselling cookbook. Learn how to make cute iced llama cookies, lifelike turtle cakes, adorable panda madeleines and much more with this fun baking guide. The greatest gift for Kim-Joy fans, this recipe book will show you how to give delicious baked breads and desserts a showstopping presentation. Buy your Baking With Kim-Joy Cookbook at worldmarket.com.
RECOMMENDED READING: Best Gifts for Her 2020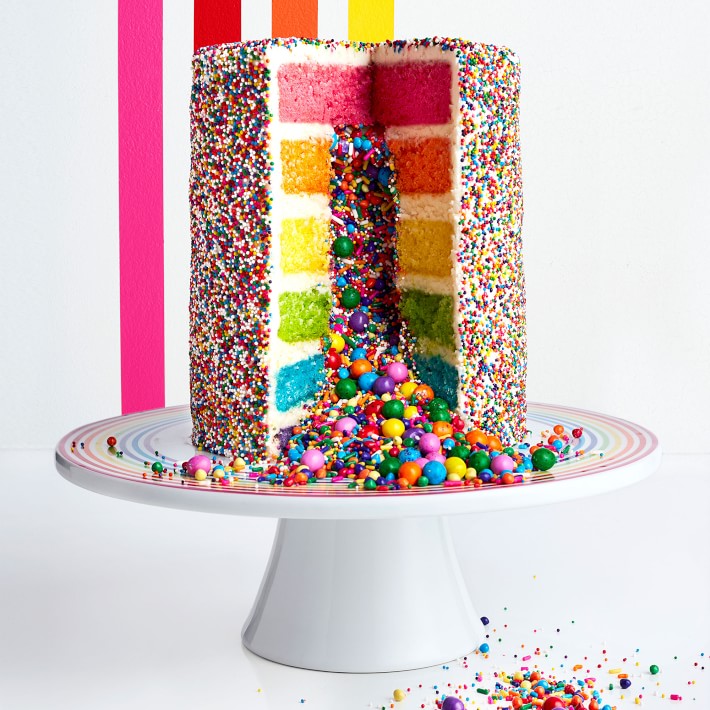 The Flour Shop Rainbow Explosion Cake Kit from Amirah Kassem's Soho-based Flour Shop bakery brings you this exclusive kit for whipping up your own version of the Instagram-famous Rainbow Explosion Cake at home. Start by combining the premium cake mix and coloring gels to bake the six rainbow-hued layers, then use the cream cheese frosting mix and colorful candies to frost, fill and decorate your surprise-filled dessert.
RECOMMENDED READING: Best Gifts for Kids 2020
KitchenAid® Artisan Stand Mixer is a smaller version of commercial-size models. This versatile stand mixer is designed with enough power and capacity to prepare large batches of cake batter or cookie dough without compromising your kitchen counter space.
RECOMMENDED READING: Best Technology Gifts 2020
Inspire a pie lover with our ultimate gift set. The centerpiece is a ruffle-edged Emile Henry pie dish, handmade in France and perfect for oven-to-table prep. It comes with five professional-quality essentials for making pies and countless other sweet and savory pastries. Set includes pie dish, rolling pin, pastry cutter, pastry blender, pastry mat and pie weights. Buy your Pie Bakers Dream Set at williams-sonoma.com
RECOMMENDED READING: Best Gifts for Him 2020
Sun & Fun Cookie Cutter Box Set celebrates the best of summer – from sun, sand and surf to super-cool treats. Great for bakers of all ages, these easy-to-use cookie cutters help you create exceptionally detailed cookies. Just press the stainless-steel cutters into rolled-out dough and bake. Use the included decorating bags and tips to finish cookies with colorful icing.
RECOMMENDED READING: Best Kitchen Gifts For Your Loved One Who Enjoys Cooking
Enjoy the best breakfast on earth with these Mickey Mouse Silicone Pancake Molds. The nonstick molds help you create a stack of pancakes in the shapes of Mickey, Minnie, Mickey's glove and Minnie's bow. The durable silicone molds are easy to use for young chefs and Disney fans of all ages. Set of four molds includes Mickey Mouse, Minnie Mouse, glove and bow. Silicone tabs make it easy to lift molds from hot griddle.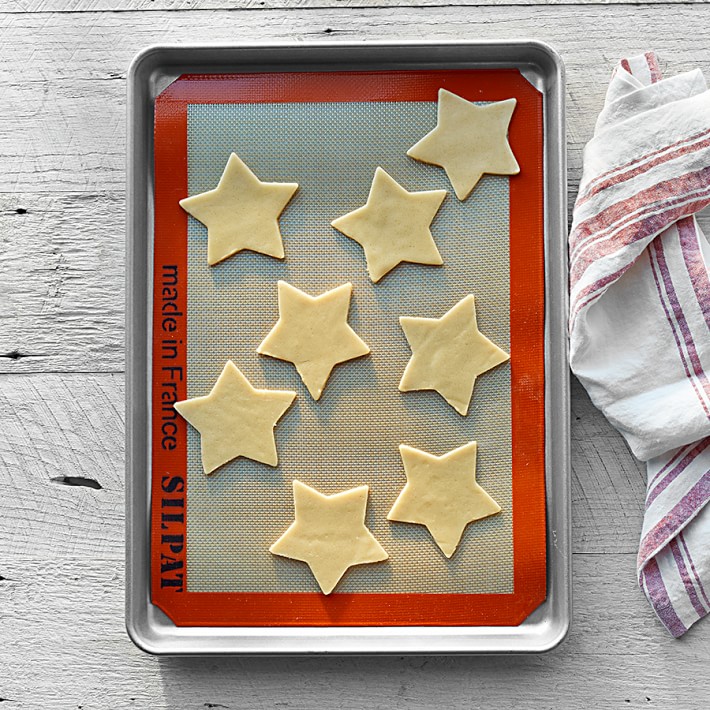 Before baking your next batch of cookies or sticky buns, cover the baking sheet with this flexible nonstick Silpat Silicone Baking liner from France and enjoy the difference it makes. Cut down on parchment paper waste with reusable, nonstick mats for easy-clean baking. Lay it on the baking sheet for an instant nonstick baking surface; does not need to be greased.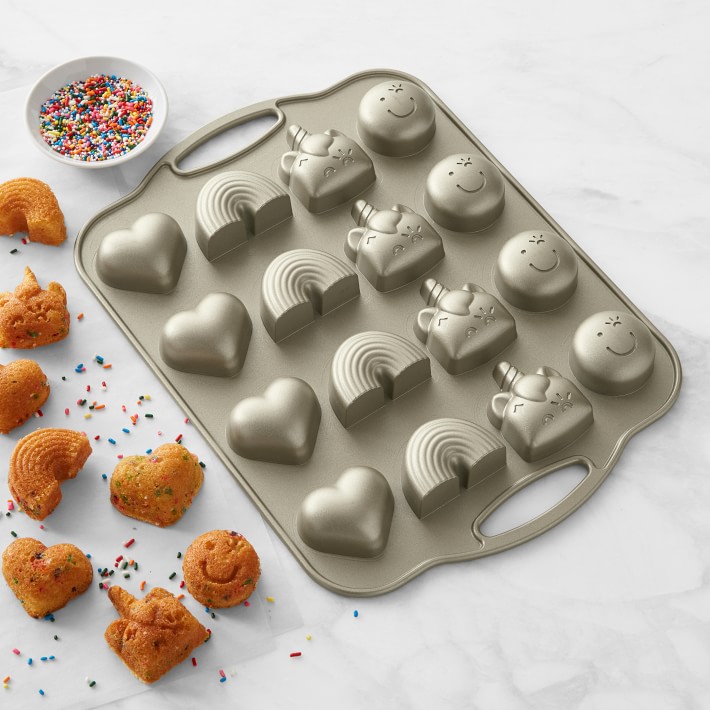 Williams Sonoma Flour Shop Bitelet Pan. Amirah Kassem, owner and founder of Flour Shop in New York, is known for her whimsical custom creations, from rainbow-colored layer cakes to glittery "cake balls." You can make fun cake bites in your own kitchen. Cast-aluminum pan has nonstick coating for quick release and easy cleanup.
Perfect for baking pressed, rolled and dropped cookies and pastries, Goldtouch® Non-Corrugated 3-Piece Cookie Bakeware Set includes a pair of our professional-quality cookie sheets, plus a cooling rack. Designed to promote even baking and browning, the nonstick sheets release baked goods in perfect shape and clean up in seconds. Commercial-grade aluminized steel distributes heat quickly and evenly for consistent baking results. Extra-large capacity provides ample space between cookies, and easy-grip handle eases transfer from oven to cooling rack.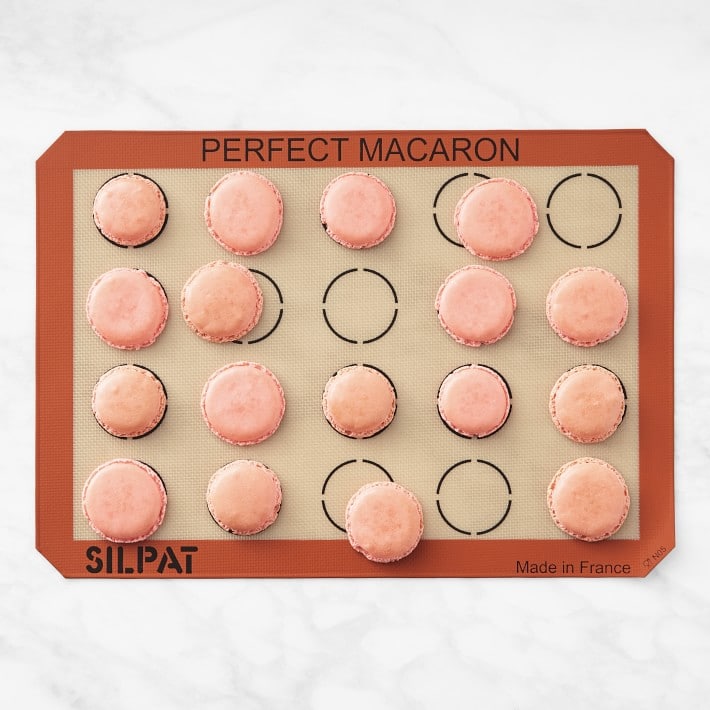 Silpat Silicone Perfect Macaron Mat was developed for French patisseries and a favorite of professional kitchens,.Silpat's innovative pan helps you make 20 perfectly round cookies for macarons. The lightweight, flexible material optimizes heat conduction for consistently outstanding results. The mat is coated in food-grade silicone that offers effortless release and eliminates the need for greasing.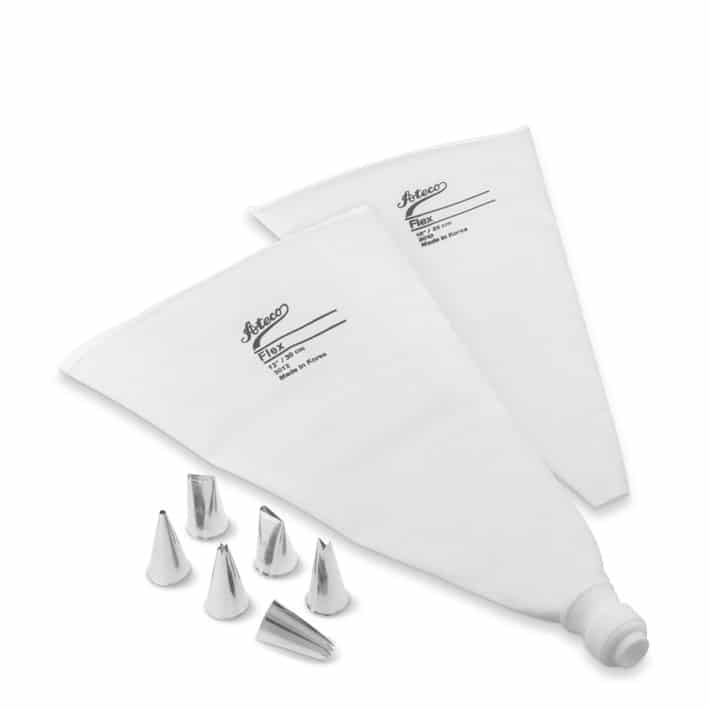 Ateco Pastry Bag Decorating Kit ideal for decorating cookies, cakes, cupcakes and pastries. This kit contains the essential tools for creating countless borders, scrolls, flowers and lettering. Durable stainless-steel tips can be used again and again. Six tips let you create outlines and fills, writing, beads, dots, stems, flower petals, stars, zigzags, shells, ropes, puffs, rosettes, scrolls and leaves.
The decorating possibilities are endless with this collection of Ateco's most popular professional-quality tips for creating all the designs you can dream up. Along with an array of round tips for creating lettering from fine to thick, it comes with multiple leaf, flower, star, wedge and basket-weave tips. They're packaged in a handy storage case along with a small coupler and specialty pieces essential for filling and finishing cupcakes, cookies, cakes and more.
Nielsen-Massey World Vanillas have long been the choice of bakers and ice cream makers for their unparalleled quality. Our set includes extracts of vanilla from Mexico, Tahiti and Madagascar, created through an exclusive cold-process method that preserves their intense nuanced flavors. Mexican vanilla is known for its creamy, spicy flavor. Tahitian vanilla is prized for its aromatic, fruity flavor. Madagascar Bourbon vanilla, the king of vanillas, is legendary for its sweet, smooth, mellow flavor.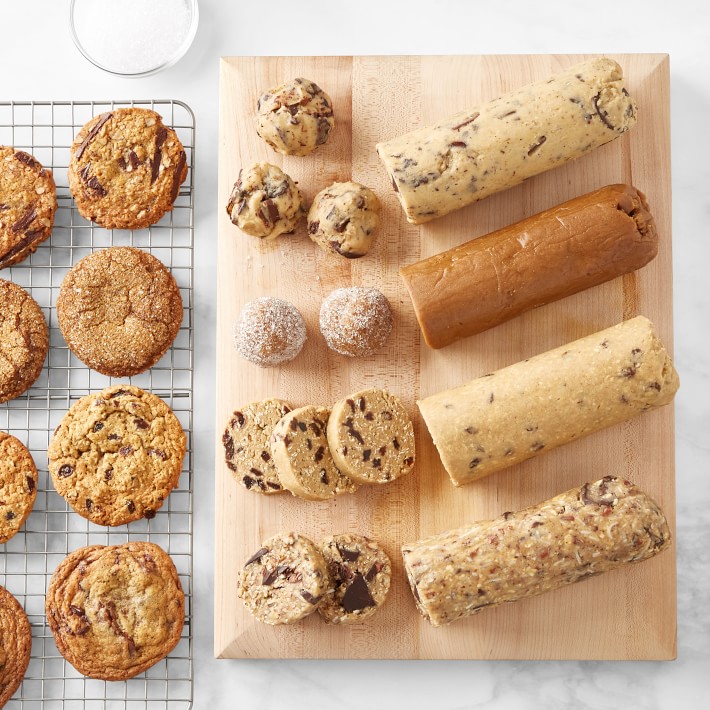 Bostonians, foodies and out-of-towners flock to Joanne Chang's Flour Bakery & Café, where they indulge in the decadent treats created by the James Beard Award-winning pastry chef. Chang's cookies are the stuff of legend, prepared from fresh, locally sourced ingredients and chock-full of premium goodies like TCHO chocolate, coconut, oats, spices and ginger. With our exclusive frozen doughs, you can bake up a batch of the famous cookies in minutes, right in your own kitchen. Buy your Flour Bakery Assorted Frozen Cookie Dough at williams-sonoma.com
Make any celebration sweeter with homemade Linzer cookies, diminutive cousins to the classic Austrian Linzer torte. The spiced almond butter cookies are sandwiched with different jewel-toned fillings, including homemade raspberry jam, lemon curd or apricot marmalade. Perfect partners for fresh-brewed coffee or tea, these traditional European cookies are handcrafted for us by an Austrian-born baker who uses her own treasured family recipes. Buy your Vienna Cookie Company Assorted Linzer Cookies at williams-sonoma.com
Inspired by the velvety hot chocolate served at the renowned Angelina café in Paris, Williams Sonoma Classic Hot Chocolate is produced from shavings of premium chocolate rather than cocoa powder for a rich, intensely chocolaty flavor, smooth texture and exquisite aroma. For the silkiest sip, this hot chocolate is made of a couverture bittersweet chocolate from Guittard that melts quickly and consistently in hot milk. The result is a world-class beverage with a perfectly balanced chocolate flavor.
The Original Williams Sonoma Peppermint Bark is a once-a-year favorite crafted using the finest ingredients, including custom-blended Guittard chocolate and triple-distilled oil of peppermint. This "bark" is finished with a snowfall of peppermint candy pieces. The result is an unforgettable holiday confection with a perfect harmony of flavors and textures in every bite.