Le Creuset Signature Enameled Cast Iron Round Dutch Oven is inspired by nearly a century of culinary craftsmanship. Le Creuset's Signature collection of enameled cast-iron cookware seamlessly blends classic form with ergonomic innovations. Designed to enhance slow-cooking by heating evenly, this Dutch oven locks in moisture for tender, succulent dishes.
RECOMMENDED READING: Best Gifts for Her 2020
Our Place Always Essential Non-stick Pan. The cult-favorite best-selling Always Pan. This do-it-all wonder is designed to replace 8 traditional pieces of cookware. Plus, it looks pretty good too. THE ALWAYS PAN REPLACES YOUR: fry pan, saute pan, steamer, skillet, saucier, saucepan, non-stick pan, spatula, and spoon rest. WITH THE ALWAYS PAN, YOU CAN: braise, sear, steam, strain, saute, fry, boil, serve, store – you get the picture. Get your Always Pan at fromourplace.com
RECOMMENDED READING: Best Gifts for Kids 2020
Anna Bond is the whimsical whirlwind behind Rifle Paper Co., the Florida-based stationery boutique and design studio whose heartfelt notecards and quirky journals have us smitten. Includes recipe tin, 12 dividers, and 24 recipe cards. Buy your Rifle Paper Co. Recipe Tin at anthropologie.com
RECOMMENDED READING: Best Technology Gifts 2020
Finished with Emile Henry's proprietary glaze, this Emile Henry Pizza Stone produces perfectly crispy crusts and doubles as a cutting surface. The piece withstands exceptionally high heat, so it can be used in the oven or on the grill, and it is dishwasher safe. Ideal for pizzas, bread and general grilling.
RECOMMENDED READING: Best Gifts for Him 2020
Add a dash of color to your kitchen with this vibrantly printed tea towel. Buy this Rifle Paper Co. Floral Vines Tea Towel at anthropologie.com
RECOMMENDED READING: Top Gifts For Someone Who Loves To Bake
Meet the ultimate Instant Pot – designed with the help of millions of fans from around the world. To develop the next generation of this ultra-popular cooker, the Instant Pot team researched everything from social media posts to food blogs and message boards to discover the innovations home cooks like you want most. The result is the most intuitive, user-friendly Instant Pot ever, featuring 48 customizable cooking programs for a variety of dishes from soup and beans to rice and ribs. You'll also find many new state-of-the-art design details, including a super-efficient inner pot, automatic lid seal, convenient pressure release button and much, much more.
Get his Canvas and Leather Apron at anthropologie.com
These All-Clad Stainless-Steel Measuring Cups & Spoons bring speed and precision to measuring ingredients for baking and cooking. Each is a miniature version of All-Clad's famous saucepan, made of heavy-gauge stainless steel with a polished finish and the manufacturer's signature riveted handles.
Featuring a minimalist-meets-retro design, this kitchen timer is a must-have for the home cook or baker. Simply twist the bottom to start a countdown before it dings to alert. Buy this Countertop Kitchen Timer at anthropologie.com
Williams Sonoma Olivewood Spoons, Set of 4 made of Mediterranean olivewood, an especially dense hardwood prized for its distinctive swirled markings and honey-golden tones. The gently tapered handle feels comfortable in the hand for a range of tasks, and the olivewood remains smooth even with repeated use and washing. These spoons are beautiful enough to use at the table for serving.
A kitchen essential, this innovative 11 lb. capacity digital scale is packed with user-friendly features. The easy-to-read display panel pulls away from the base, making it easy to check readings when the container overhangs the platform. As you add ingredients, just press a button to reset the scale and view the updated reading. Buy your OXO Kitchen Scale at williams-sonoma.co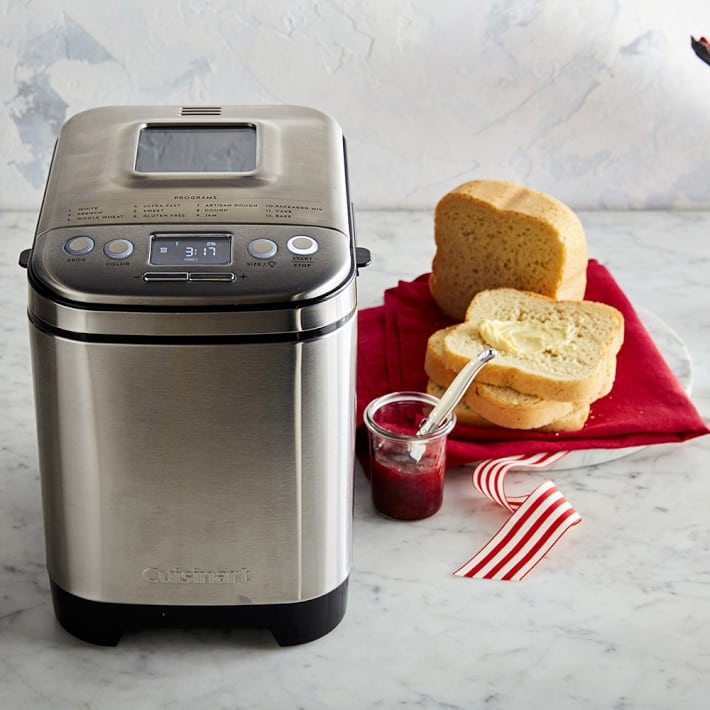 Ideal for busy cooks who love homemade bread, this Cuisinart Bread Maker offers a host of advanced features in a compact, countertop-friendly design. Choose from a variety of loaf sizes and crust shades. Automatic recipes include gluten-free and artisan breads as well as jams and compotes. Fully automatic bread making, from kneading to rising to baking.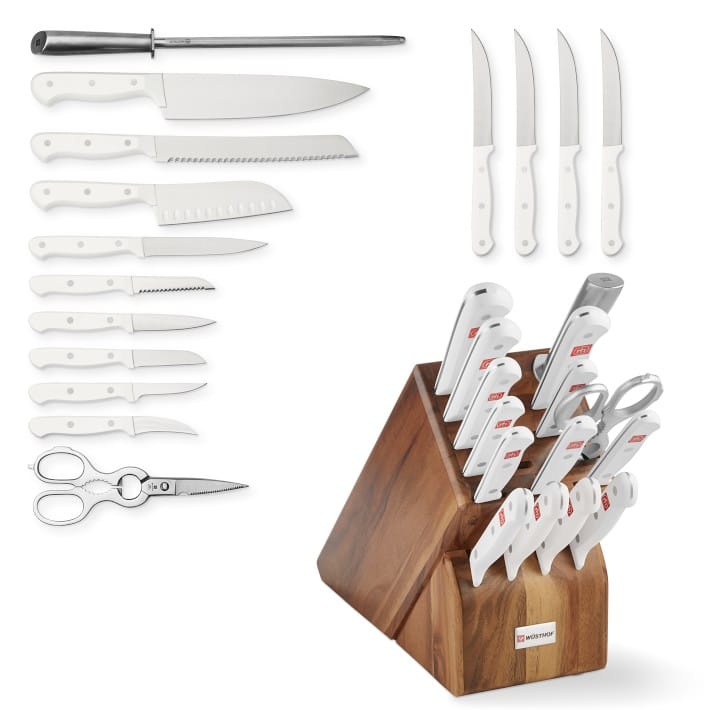 Family owned for seven generations, Wüsthof has produced some of the finest kitchen cutlery in the world since 1814. The Gourmet line features precision stainless-steel blades that resist stains and rust while holding an exceedingly sharp edge. This set includes all the most common kitchen knives, as well as a four-piece steak knife set, specialty knives for more advanced prep work and a handsome hardwood block. Stamped blades are made of high-carbon stainless steel for top performance and durability. Buy your Wüsthof Gourmet 16-Piece Knife Set at williams-sonoma.com
Breville state-of-the art Smart Oven Air adds air-frying and dehydrating to a full menu of cooking modes. Air-fry favorites like French fries, donuts and fried chicken, or prepare your own jerky and dried fruits. The large, 1 cubic-foot interior makes room for toasting 9 slices of bread, roasting a 14-lb. turkey, or cooking with a 5-qt. Dutch oven or 13″ x 9″ pan. Roomy oven is 30% larger than the Breville Smart Oven Pro.Two oven racks create twin tiers of cooking space – double that of the Breville Smart Oven Pro. Air-fry function combines intense heat and maximized airflow to make foods crispy and browned. Dehydrate function evenly dries out foods at low temperature without cooking or overheating. Optional Convection mode cooks foods up to 30% faster; Super Convection produces a crispier result.
Philips Smart Pasta Maker Plus, this state-of-the-art appliance prepares authentic homemade pasta in fewer than 10 minutes. The fully automated machine weighs the flour, then indicates the correct amount of liquid for perfect al dente pasta. Simply choose a program and press "start" — the machine mixes, kneads and extrudes with a push of a button. Fresh pasta doesn't get any easier than this! Makes 2–3 portions (approx. 8.8 oz.) of fresh pasta in 10 minutes or less. Auto-weighing technology takes out the guesswork of measuring. Includes eight discs for penne, fettuccine, spaghetti, lasagna/dumpling, angel hair, thick spaghetti, tagliatelle and pappardelle. Fully automatic operation for mixing, kneading and extruding. Automatically senses when extrusion should start.
Vitamix Professional Series 750 Heritage Blender offers power and functionality as well as durability. The 64-oz. container has a low, wide profile designed to fit under most kitchen cabinets while producing extremely fast, efficient results. Engineered and made in the USA, the Vitamix Pro 750 Heritage brings true professional performance to the home kitchen.
Instead of heading out to a sushi bar, exercise your culinary creativity with homemade sushi rolls. This DIY Sushi Kit makes it easy with all the ingredients needed for sushi rice, plus seasonings and a flexible mat that allows you to quickly roll your own sushi. Just line the mat with nori, spread on sushi rice, add your favorite fillings and you're ready to roll.
Warm hearts and souls with beloved Williams Sonoma Complete Hot Chocolate Hamper holiday classics packaged in their signature hamper. It includes three flavors of our premium hot chocolate to make the richest, creamiest beverages imaginable. Also nestled in the reusable hamper are two white stoneware mugs plus Peppermint North Poles and Gingerbread Folks Mug Toppers for enjoying the ultimate hot chocolate.