They had me at "Mac and Cheese Burger." Swensen's has completely changed their menu and you will want to eat it ALL. Each item is hand crafted fresh to order just for you, from burgers with queso fresco and plaintains to skillet desserts. If you haven't stopped by Swensen's, a Coral Gables landmark since 1977, it's time you make it over there and enjoy their new gourmet burgers, craft beers, and beer shakes. They even have new tunes. The new Swensen's has their own pandora station playing a good mix of indie pop and rock with a little bit of 90s nostalgic rock. You will hear the likes of Beck, MGMT, and M.I.A., and the BeeGees.
Swensen's New Gourmet Burgers & Menu
If you are a gourmet burger lover you will want to check out Swensen's brand new menu. In an effort to move away from the regular old dinner food, Swensen's revamped their menu and introduced craft burgers and other delicious dishes – all based on small batch home-style cooking. All the food is cooked to order and everything is made fresh. Even the gravy is made to order when you order the chicken and biscuits.
The Nica Sliders
I recommend ordering sliders and sharing with your friends because there are so many yummy things on the new menu, you will want to pace yourself. The Nica sliders are three mini Angus beef patties topped with chimichurri, queso blanco fried cheese, sweet plantains, pineapple vinegar slaw, and jalapeno cream sauce. The sauce is not spicy; but its flavor ties all the different sweet and savory ingredients together perfectly. The sliders are served on mini, buttered, toasted, brioche buns. These sliders are delicious with the perfect combination of sweet and salty with fried queso blanco, the tasty meat patty and the plantain. The pineapple cole slaw gives it crunchy texture. The bun is soft and lightly toasted. These sliders are a smaller version of the award-winning full sized Nica Burger and you need to taste them.
Even the fries are worth mentioning. I ordered the sweet potato fries with the marshmallow cinnamon dip. It's hard to find crunchy sweet potato fries without them being burnt or over oily. These are made to perfection (and I'm picky when it comes to fries). The fries with marshmallow dip taste amazing. The steak fries were also fantastic. Thick wedges perfectly crispy on the outside with a soft center.
The Mac and Cheese Burger
The Mac and Cheese burger at Swensen's is a dream come true for mac and cheese lovers. If you consider yourself one of these wonderful people (I do), then you need to head over to Swensen's and try it. The Mac and cheese burger is assembled with the following ingredients: macaroni and cheese, smoked gouda, applewood smoked bacon, hamburger patty, fried mac and cheese on the bottom, and cooked to order pepperjack cheese sauce. When you hear the list of ingredients you think to yourself, "this is too much". The truth is, it is; but in a good way. It's definitely very rich and I recommend sharing it because you might end up needing a nap after eating the whole thing (or even just half of it). PRO TIP: Bring your stretchy pants.
Riky Borroto, Swensen's official beer expert & beer shake master, recommends you pair your mac and cheese burger with the Authentic Bavarian Hefeweizen beer from Germany: Ayinger Brauweisse. The beer is light with a mild sweetness in the back and it goes well with the mac and cheese's creaminess.
Swensen's is Serving Local & Imported Craft Beers
Craft beer fans and owners of Swensen's, Cinthia and Saud Rai, were sitting at a local brewery when they decided to add craft beers to the menu. Today, customers are loving their craft beer selection of local and imported beers; and the Rais are wondering why they didn't do it sooner.
As craft beer fans, the Rais attend craft beer festivals around the world including Belgium. They also want to support the growing local craft beer scene by carrying local beers. Their goal is to carry 100 beers and will be adding taps to the restaurant to carry craft draft beer too. This is just the beginning of Swensen's craft food and beer revolution. We'll keep an eye on them as the updates develop.
Swensen's Beer Shakes Are An Experience You Won't Want To Miss
It turns out that the owners wanted to pair craft beers with their new menu – not only their burgers but with their ice cream too. Two months ago they decided to marry their love of craft beers and ice cream to create Beer Shakes, making Swensen's in Coral Gables the home of the original beer shake. Each beer shake is made with 4 ounces of beer and the rest of the beer is served with the shake so each customer can add more beer if they want. Riky recommends you sip your beer first and taste the flavors before you drink your shake. It makes all the flavors stand out.
Banana Fosters Beer Shake
We had the Bananas Foster: fresh bananas, warm caramel, and Due South's Caramel Cream ale. It's a sweet banana caramel dessert with a hint of beer after taste.
Special Edition Beer Shakes
Riky is always working on beer shake recipes. He likes to make recipes that go well with movie releases such as the Batman, Superman, and Wonderwoman Beer Shakes for the release of Batman vs. Superman. The following shakes will be available at Swensen's while the movie is still screening at theaters. Go while the movie is still playing before they take them off the menu.
Batman Beer Shake: sticky chewy chocolate ice cream, chocolate syrup, half a brownies, Founder Breakfast stout which is a coffee oatmeal based stout.
Superman Beer Shake: vanilla ice cream with cherry syrup and Cigar City Jai Alai IPA.
Wonderwoman Beer Shake: vanilla ice cream, fresh raspberries, fresh strawberries, an organic amber ale called Monk in the Trunk from Jupiter, Florida. shakes: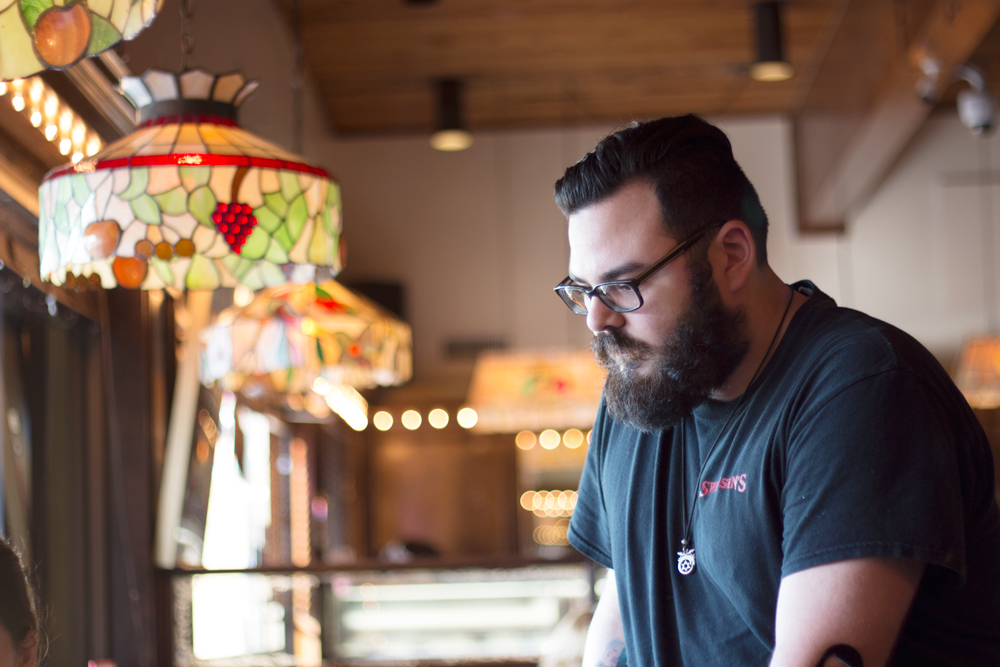 If you want a server that will recommend perfect beer pairings with your dishes ask for Riky. He was the tour guide for our adventure and he didn't suggest a single thing we didn't like.
Other Recommendations
We also liked the truffle oil mac and cheese, the lobster mac and cheese (pictured above), the duck confit sliders, the dolphin fingers and the skillet desserts. The skillet desserts are baked to order. When it arrives at the table it is still sizzling. If you are vegetarian, Swensen's is also looking out for you. They offer a homemade veggie burger with ramoulade, zuchinni, couscous and lentils.
We loved the new Swensen's and have already visited them twice after our first review! Go see what the new menu is about and let us know what you thought in the comments. PRO TIP: There's also plenty of parking in the back.
Swensen's is located at 1586 S Dixie Hwy, Coral Gables. instagram.com/swensensmiami