If you have been looking for private knitting lessons in the Coral Gables or South Florida area, then you are in luck. The Knitting Garden is a friendly place to take knitting or crochet lessons. Annie and Virginia are there to help you, whether you want to learn technique or you want to accomplish a specific project. When you walk into the knitting garden you are enveloped by tranquility, yarns and ideas for knitting projects. The Knitting Garden is located at 1923 Ponce de Leon Blvd. Coral Gables, Florida. TheKnittingGarden.org
The Knitting Garden owners Virginia & Annie
The Story Behind The Knitting Garden
Annie Tejidor-Bakas and Virginia Benitez met at a knitting workshop and decided to start a knitting group. They would meet every Sunday with the other group members and knit. As it happens, both Annie (an architect) and Virginia (a mortgage banker) were looking for a career change at that time; and after participating in the knitting group for a while, they realized the truly enjoyed the sense of community they had in the knitting group. Annie had always wanted to have a store and Virginia's daughter planted the seed for a knit shop. Eventually, at one of the knitting group dinners, Annie received the suggestion of opening a knitting shop too. Virginia then approached Annie and asked her if she wanted to join her in a knitting store venture.
It was often comical how much they realized they had in common and how similar their visions were for The Knitting Garden. They each separately picked the same paint color palettes and brought the same bird houses to decorate the store. They had each bought the birdhouses at completely different places many years before they met. Annie and Virginia shared the same philosophy, "We wanted to build a knitting community. To create a place where anyone could come and sit and knit, share their projects, share their ideas, and be able to have access to really fine yarns." They knew they wanted to carry the best yarns and they wanted a welcoming atmosphere for anyone interested in knitting. After four months of hard work, they opened in 2009.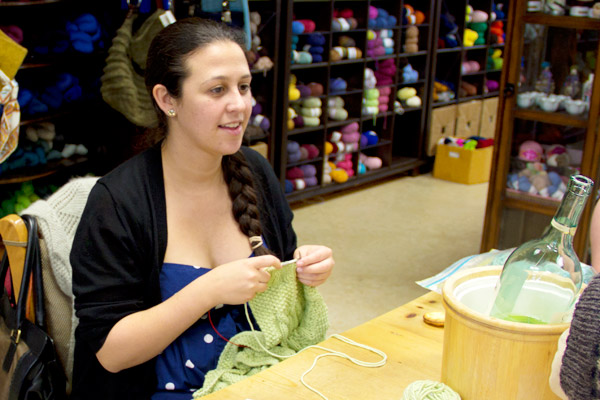 Happy Hour Knitting
Friday Happy Hour at The Knitting Garden
The Knitting Garden has Happy Hour on Fridays from 6pm-8pm where they offer FREE wine while you work on your knitting project. People tell their stories, knit, and laugh. You are welcome to bring your additional drinks and munchies too.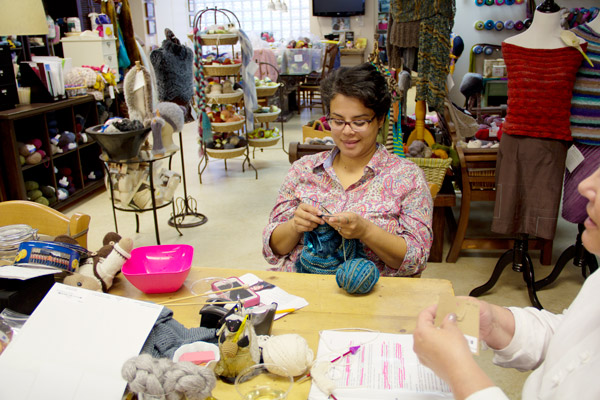 Knitting Lessons
Annie and Virginia teach classes every day of the week. They offer the following private or group lessons: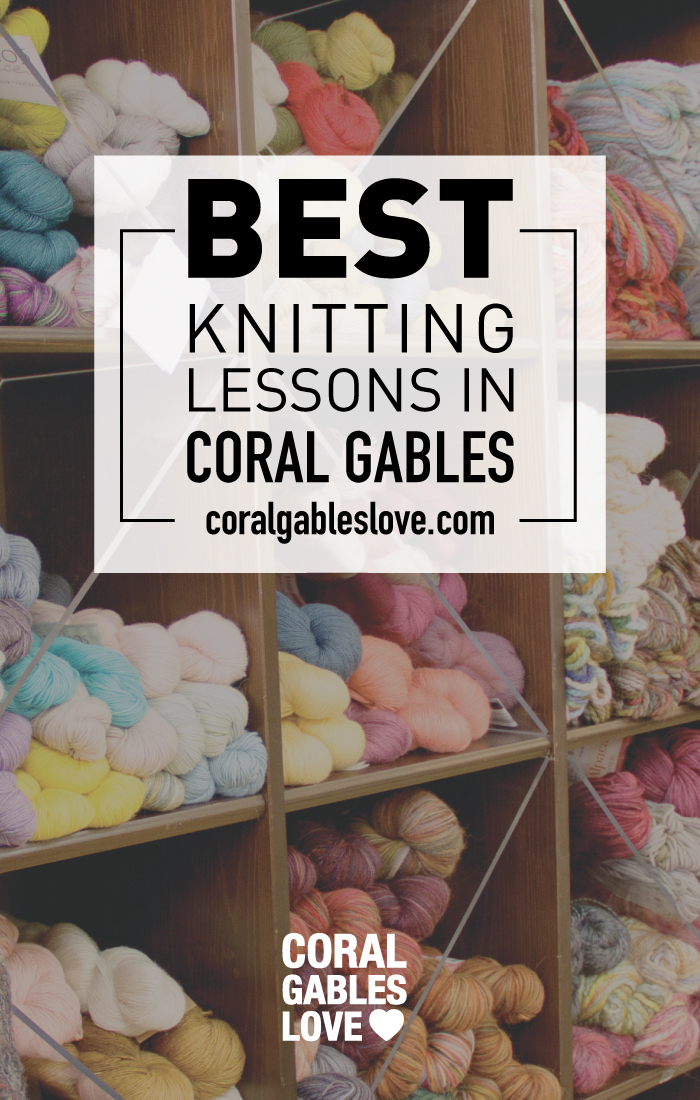 Beginner Knitting classes (Knitting 101): Have you always wanted to learn how to knit? Did you learn at one time and then forget? Even if you have never picked up a ball of yarn and two needles, Annie & Virginia are here for you! Learn the knitting basics at The Knitting Garden: knit and purl stitch, casting on/binding off, and increasing and decreasing stitches. Two-hour classes meet once a week for three weeks.
Intermediate Knitting classes (Knitting 201): Once you have mastered the basics, you will embark on learning cables and working with circular and double pointed needles. Annie and Virginia will get you started confidently on two projects: a reversible cable scarf and a rolled-brim hat. Two-hour classes meet once a week for three weeks.
Beginner Crochet lessons (Crochet Workshop 1): Learn to crochet by starting with the basics stitches: chain, single, double and triple crochet. One, two-hour class.
Intermediate Crochet lessons (Crochet Workshop 2): This class is perfect for crocheters looking to expand upon the basic skills. The class teaches several different patterns that can be used to create increasing complex designs. Two-hour classes meet once a week for two weeks.
Project Based classes: Learn & build a complete project like a teddy bear, pair of socks, sweater, shawl, and more.
Afternoon Kid's Club: Kids ages 7 and up are welcome everyday! However, the kid's club is a kids-only weekly lesson on Wednesdays from 4:30pm-5:30pm.
For more details regarding their private or group knitting lessons visit their online schedule: theknittinggarden.org/classes
During the month of April, The Knitting Garden will host Technique Thursdays. Technique Labs will teach techniques that both compliment and supplement the regular schedule lessons. The labs include many subjects including: Picking Up Stitches, Japanese Short Rows, Duplicate Stitch, Japanese 3 Needle Bind-Off, and Mattress Stitch.
You can be sure you will be receiving the best knitting lessons in South Florida at The Knitting Garden. Annie & Virginia are constantly educating themselves and improving their techniques to offer the best knitting classes you will find in Coral Gables. The Knitting Garden also hosts special lessons with internationally recognized, visiting teachers such as Lucy Neatby and Nora Bellows. Make sure to sign up to their mailing list to receive all the latest news on new yarn products, events, and knitting classes.
Once you are part of The Knitting Garden Community you will want to sign up to their second newsletter where they share customer candid photos with their projects and comments.
Health Benefits of Knitting and Crocheting
If you like to knit, crochet, or work with your hands you need to visit The Knitting Garden. You will find a relaxing oasis of yarn and friendliness. The repetitive nature and focus required for knitting is very relaxing and has health benefits such as relief from stress, tension, and arthritis. You can read more about the health benefits of crocheting and knitting at The Craft Yarn Council.
Give The Gift of Knitting Lessons
Knitting lessons would be a great and unique gift! Keep The Knitting Garden in mind for the next holiday or anniversary. Family classes are also very popular with parents and children or grandparents with grandchildren. You can take the classes as a group and bond while you learn to knit or crochet.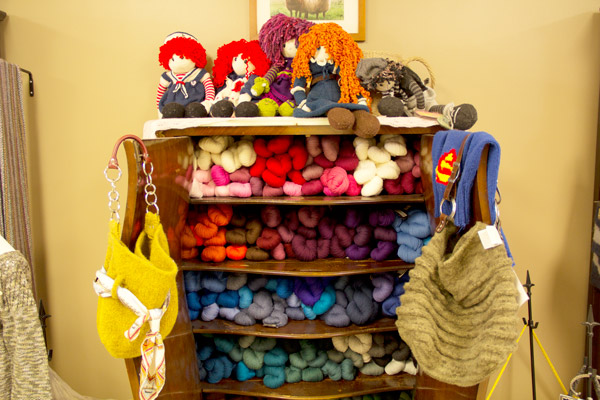 High End Yarns
The Knitting Garden specializes in eco-friendly luxury yarn you can feel good about using. They carry top, hand dyed brands like Anzula and MadelineTosh, and other innovative brands like Shibui. All the yarns you find at The Knitting Garden are natural fibers and upscale products. Pop in to their retail location to see the incredible selection of natural brands, products and colors they stock. You can also visit their online store if you prefer to shop online. TheKnittingGarden.org
Remember to support your local yarn shop so that you can have a local resource in case you need help with a stitch or project! If you do visit The Knitting Garden please tell them I sent you and share the Coral Gables Love :) Also, please share this local gem with all your friends via the social network buttons below.
PIN FOR LATER