Our local Coral Gables Art Cinema is flourishing by offering movie goers a refreshingly eclectic alternative to the movies you find in more conventional theaters. Just this past Saturday, I attended a sold out showing of the Oscar nominated Argentinian Film, Wild Tales (Relatos Salvajes). It is a hilariously dark comedy showcasing a series of short stories, dealing with revenge, that are truly wild. The film is certainly a must see for any fans of Pedro Almodóvar and/or Ricardo Darín. Indeed the fans turned out in large numbers, selling out every show this weekend. Many of the people I spoke to, waiting in line, were also fans of the theater itself. They like going to the Gables Cinema because it is an intimate and welcoming experience.
Located at 260 Aragon Avenue, the Coral Gables Art Cinema is run by a team of highly qualified film professionals who pride themselves on showing the best foreign, independent and art house films. The film programming is carefully curated to bring the best current and classic films to South Florida. Hence, you can always be sure you are in for a treat when you watch a film at the Gables Cinema.
The History of Coral Gables Art Cinema
Last week, I met three of the talented people running the Coral Gables Art Cinema: Associate Director, Ben Delgado; Associate Director, Javier Chavez; and Front of House Manager, Reginald Desjardins. They graciously took the time to explain to me the history, purpose and various programs of the Gables Cinema.
Javier Chavez, Ben Delgado, and Reginald Desjardins
The story of the Coral Gables Art Cinema begins in 2006. The city of Coral Gables saw an opportunity to add to the arts and culture landscape. The city formed a partnership with the non-profit film arts organization Coral Gables Cinemateque, and Founder Steven Krams to make the Coral Gables Art Cinema. In October of 2010, the Coral Gables Art Cinema opened its doors to the public outfitted with the latest state of the art digital projectors. In fact, at the time the Coral Gables Art Cinema was the only venue running digital cinema projection. Alongside digital projection, they also have the capability to screen 16mm film and 35mm film and will be upgrading soon to include 70mm film. These technological upgrades allow the Coral Gables Art Cinema to screen an increasingly diverse selection of films distributed in a wide variety formats.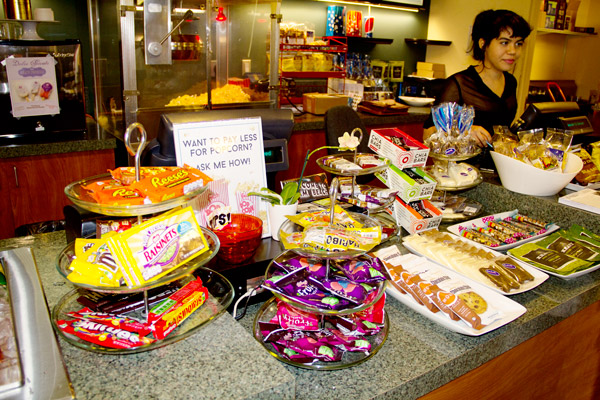 The Cafe at Gables Cinema
For most movie theaters the snack bar is really not worth writing about. But here again, the Coral Gables Art Cinema goes above and beyond to give their customers something special. For example, all of their wine is purveyed from local wine distributor Cerda & Llanos specializing in wines from Spain and Latin America. The cafe is also stocked with a wide variety of treats and local goodies. You can find a selection of delicious Peter Brookes chocolates to munch on while you enjoy your movie. The cafe also carries Romanicos chocolates with more exotic flavors such as chili pepper dark chocolate. Dolci Peccati Gelato is available for those with a cooler sweet tooth. The gelato is available in milk or vegan flavors. Most importantly, their popcorn is light and fresh, supplied by local carnival and movie distributor Florida Choice Foods.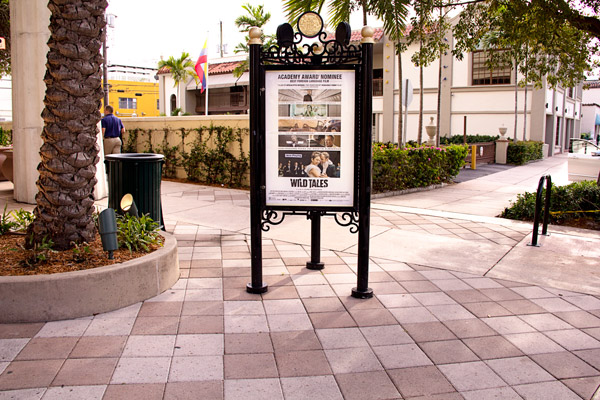 Main Feature Programming
Nat Chediak, Director of Programing for the Gables Cinema and founder of the Miami International Film Festival works closely with Ben Delgado and Javier Chavez to bring films such as the current box office hit Wild Tales to the Coral Gables Art Cinema. Each film runs daily for about a month until the next feature film takes its place. After Wild Tales has completed its run, we will get a chance to take a look at About Elly: an Iranian mystery thriller. Admission tickets are $11.50 for adults, $10 seniors, $10 students, $7 children, and $8 for members. For the full calendar of upcoming features visit their website gablescinema.com.
Essentials Programming
On select Saturday and Sunday afternoons, the Cinema screens Essentials Programming. These films are considered classics that no film buff can resist and that many of us casual movie goers really ought to see. In the month of April you can look forward to the following films: In the Mood for Love, Marriage Italian Style, Yesterday, Today, and Tomorrow, The Red Shoes. Take a look at their calendar for more information gablescinema.com.
After Hours Programming
Do you like to hang out late? Catch a midnight movie (11:30pm) at Gables Cinema. This programming, hand picked by Nayib Estefan, offers fun flicks from a few years back. This is your chance to see some of your old favorites, on the big screen again, for super cheap. For $5 you get your admission ticket and a small popcorn. Every Saturday night at 11:30pm. Upcoming films: Saturday Night Fever, Tim Burton's Batman, Clueless, and Blade Runner.
Family Day Programming
As part of Family Day on Aragon, Gables Cinema offers Family & Children's programming every second Saturday of the month. The programming is selected by award-winning mental health counselor Midge Blumberg-Krams. For $5 you get your movie ticket, a soda and a small popcorn. Upcoming films: Follow That Bird (April), How to Train Your Dragon 2 (May).
National Theater Live Programming
The National Theater of London is recorded live and then screened at the Coral Gables Art Cinema. Tickets are $20 for regular admission, $18 for seniors, $18 for students, $14 for children, and $16 for members. Upcoming film: Behind the Beautiful Forevers
Beyond Film Screenings
The Coral Gables Art Cinema is always working to enrich the community through different projects and programs. They are a non-profit organization and therefore a community theater. They work with as many local businesses as possible through cross promotion and special events. Opening night premieres often are big events with local restaurants providing food for patrons.
The Coral Gables Art Cinema is also launching a new program to support local filmmakers. Headed by Ronald Baez, The Miami Film Development Project is dedicated to supporting independent film production, education, and outreach in South Florida. Film making outreach program provides mentorship to film makers via workshops. filmprojectmiami.com
The Coral Gables Art Cinema is located at 260 Aragon Avenue, Coral Gables. gablescinema.com