My Ceviche is a build-your-own ceviche restaurant and my favorite place to eat fish tacos. They have the perfect fish taco recipe with delicious seasoned fish, garnishes, and sauces. Plus, they serve high quality food at a great price with most of their dishes ranging around $9.95. The latest My Ceviche location just opened on Miracle Mile and the chances of me celebrating taco Tuesday have just increased by 1000%. My Ceviche is located at 232 Miracle Mile, Coral Gables.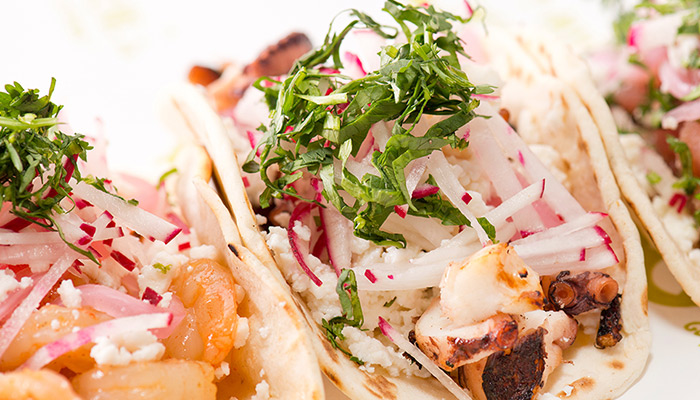 The first thing you notice when you walk into My Ceviche is the scent of freshly chopped cilantro. I was impressed by the look of the new location. The new space has bright colors, natural wooden panels on the walls, giant modern pendant lamps, and a massive mural with their adorable shrimp logo wearing a chef's hat. The colorful industrial look of the seating area complements the white subway tiled kitchen with its bright blue ceiling made of corrugated metal. Whoever designed the Coral Gables location gets an A+ from me. It's gorgeous.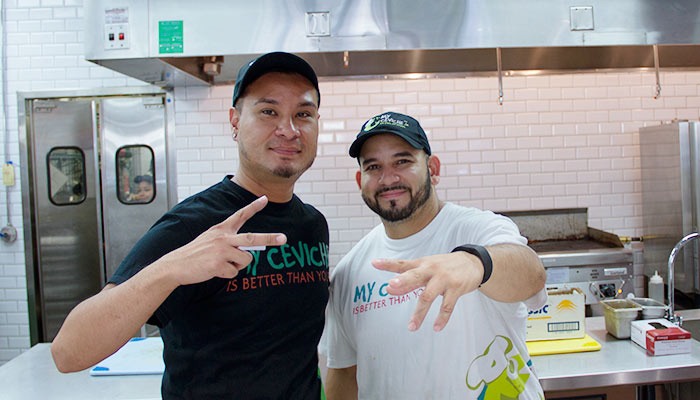 Ordering at My Ceviche is quite a pleasant experience. As you browse the menu options you listen to upbeat reggae. Once you've decided whether you want tacos, a burrito or a ceviche salad bowl; you build your meal by moving past ingredient stations – cafeteria style. First you choose from a selection of different wraps: corn, flour or lettuce. Next you will find the protein station where you can pick from wild caught fish, all natural shrimp, wild caught octopus, or free range chicken. Then it's time to select from a range of tasty toppings including: cilantro, queso fresco, guacamole, mango and many more. You then pay at the register and receive your final order. Don't forget to stop by the salsitas station. Your fish taco is not complete until you've added one of their signature salsas and a twist of lime. My favorite salsita is their white creamy cilantro sauce. (Regular readers might notice a trend here. Yes, I love cilantro).
Menu Recommendations
I've tried the fish tacos on flour tortillas with queso and they are amazing. The grilled seasoned fish blends perfectly with the queso. Tip: I usually add extra mango or fresh avocado to my tacos – it's delicious! I've also had the fish burrito. The burrito is not only tasty but filling so make sure you are hungry when you order it. My Ceviche also offers fresh ceviche from unique recipes with Asian, Caribbean, and Latin American inspired flavors.
The Chef Behind the Fish Burrito Revolution
I had the opportunity to talk to Sam Gorenstein owner and chef of My Ceviche. Sam's current success is the result of passion, learning from mistakes, and hard work. Sam was born in Barranquilla, Colombia. At the age of six Sam began cooking for himself, trying to figure out the basics (making eggs for breakfast). Sam quickly moved on to baking and grilling steaks always wanting to learn how to cook new things. When Sam turned fourteen he had almost a decade of experimenting in the kitchen and his family decided to move to Miami. At age 17, Sam's parents recognized his talent in the kitchen and suggested he enroll in culinary school. While enrolled in culinary school Sam started working at local French bistro restaurant, Les Halles in Coral Gables. Les Halles was his first job in a professional kitchen where Sam learned incredible skills and experience he was not getting at culinary school. So he decided to quit school and learn via experience and apprenticeship by working in the kitchen.
When an opportunity to go to New York City came around, Sam did not hesitate. He moved to one of the meccas of the gastronomy industry and worked his way up at different Manhattan French restaurants. Starting at the salad station, Sam moved through the hot appetizer station, Entremetier (side dishes station), Poissonnier (fish preparation station), and up to Sous Chef.
Then, Sam moved back to Miami for his first Executive Chef position. The venture didn't go well. It was his first experience as Executive Chef and the investor's first venture in the restaurant industry. Sam doesn't regret the experience. He says, "I learned a lot. I learned what not to do."
Sam recovered from this early setback by doing what he does best – practicing his craft in some of the finest kitchens in South Florida. He became Sous Chef at Michael's Genuine Food & Drink under renowned Chef Michael Schwartz. He later opened BLT Steak Miami as Executive Chef. After four years at BLT, Sam began to feel complacent. He was no longer feeling challenged and looked for new opportunities to try something new.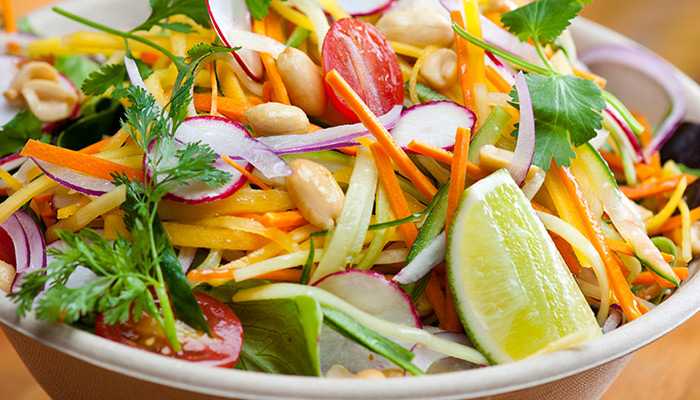 His new challenge is My Ceviche. My Ceviche started in a small shack of 200 squared feet in South Beach. The shack located on Washington Avenue served the freshest ceviche, seafood tacos, burritos, and salads in a fun casual environment. It was an instant hit. The fresh food, the cold drinks, and the casual atmosphere is exactly what the locals wanted. There weren't that many options in Miami offering high quality, healthy meals that didn't break the bank. Sam says that My Ceviche was first embraced by millenials whom are increasingly more concerned with eating food which is healthy and sustainably sourced.
Sam told me all of their ingredients are thoughtfully sourced using only sustainable seafood. Their fish and octopus are always wild caught and sourced from different parts of the world depending of where they are in season. My Ceviche purchases their fruits and vegetables from local farms. So you can be sure you are eating the freshest ingredients when you dine at My Ceviche. Everything is handmade in house every day.
Stop by My Ceviche and tell them I sent you! Share your new discovery with your friends using the social buttons below.