When I  think of comfort food there is always one that stands out – grilled cheese. You just can't go wrong with grilled cheese, a meal that feels like it's been specially made to not only satisfy my hunger but give my gloomy days a silver lining. Finding a really good grilled cheese in Miami seemed quite impossible until I was introduced to the city's restaurant sweetheart, Ms. Cheezious. Boy did it change the grilled cheese concept I had! With such variety and amazing flavors on the menu, my cheat day somehow became my cheat week, followed by my cheat month.
Southern Fried Chicken and Waffle
After living in New York and Los Angeles, Brian and Fatima Mullins always envisioned bringing the food truck revolution to South Florida. The perfect opportunity came up when Fatima's sister – the director for the Cleveland Orchestra – invited them to The Fall of the Arts that took place in The Arts Center. The event took place outside in the hot summer sun, which discouraged Fatima and Brian from attending – until they found out that there would be food trucks.
At the time there weren't many food trucks in Miami and the lines were insane. Brian and Fatima stood in line in the blazing hot sun and spent $50 on food. That's when Brian realized,"There was something to this whole thing. It was so magnetic to people."
The Mullinses decided that grilled cheese would be the best choice for a food truck, since it's an all time favorite for kids and adults. From there, all they had to do was come up with a name that nobody had ever heard of. They chose a play on the word mischievous because the logo would be sexy and cool, resulting in their popular name: Ms. Cheezious. The first food truck was launched during Art Basel in Miami. The food truck was marketed from a character-driven point of view and social media has helped it soar.

Grilled cheese is in all time favorite but Brian and Fatima changed the whole concept when they introduced Ms. Cheezious to Miami. Many favorites include their best seller the Short Rib Melt, BBQ Pulled Pork, Smoked Turkey, Croqueta Monsieur, Pesto Melt and many more. My two favorites are the Southern Fried Chicken and Waffle Melt and the Mackin Melt.
When trying the Mackin Melt you simply get the "best of both worlds" as stated by front of the house employee Jackie. The Mackin Melt includes creamy Gouda Mac and Cheese with bacon in a grilled cheese sandwich. The Southern Fried Chicken and Waffle melt, the combination of having fried chicken and cheddar cheese with waffles as the bread along with its syrup and gravy sides pulls together an array of flavors that you will be happy you indulged in.
I couldn't help but ask, "Who was the creative genius behind my two new favorite sandwiches?" Having lived in L.A., Fatima came across the popular Roscoe's House of Chicken and Waffles.  This southern classic was a new concept to Fatima, who decided to put her own twist on it by making it into a sandwich. When asked about the creation of the Mackin Melt Fatima recalled with joy "I don't know why this happend but we knew it would be good." While some of the sandwich ideas were born inside Ms. Cheezious, others have been creations of competitions or food expos.  The Croqueta Monsieur Melt was created by Fatima during Croquetapalooza  and was sold out when first introduced in Magic City Casino and the following day before the lunch rush they had all sold out again.  With every creation Brian and Fatima want to spice up it up, involve any experience they have come across, and mix it with what they know best – grilled cheese.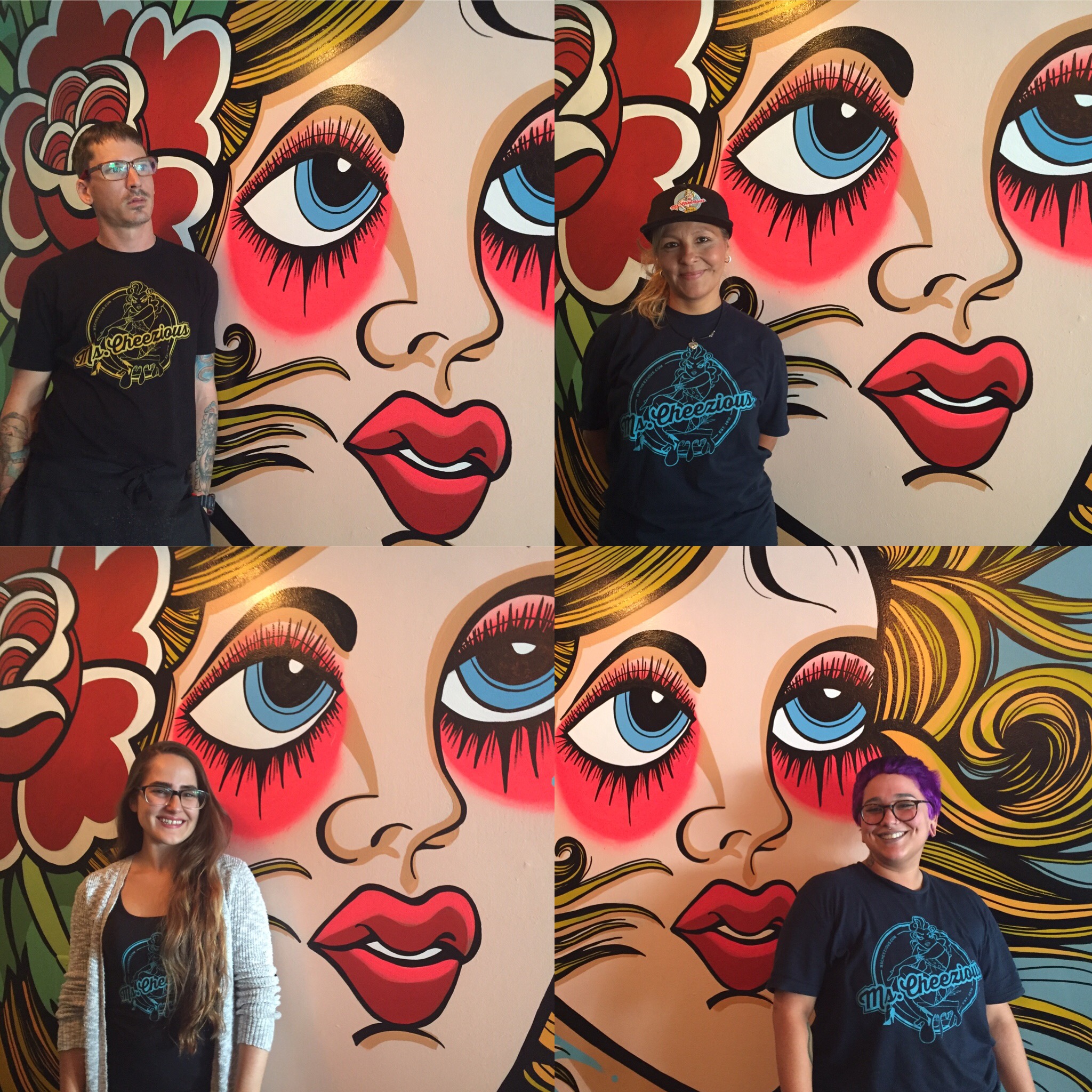 Ms.Cheezious left to right: Adam and Norma, Bottom row left to right: Elizabeth (Liz) and Jacklyn (Jackie)
One of the many great things about Ms. Cheezious is that the second you walk into the restaurant you are greeted and treated like family. Each staff member has a passion for what they do and want to make sure that others can feel it too. Staff members who become like family and grow along with the business can create good results.
Adam, Back of the House Cook, can surely second that since he had an interesting start at Ms. Cheezious: he was actually Brian's neighbor and met him at a Halloween get together. After hearing Brian having a conversation about starting a food truck, Adam joined in. "I worked at Cheesecake Factory at the time and I got into the conversation and I mentioned I could work weekends here and there and it steamrolled from there."  He likes the fact that he got to watch Ms. Cheezious grow from a drawing on a piece of paper to the success it is today with multiple food trucks and restaurants – on its way to becoming a Miami standard.
Ms. Cheezious employees start off their morning getting pumped and ready for the day. Norma, Back of the House Prep Cook, knows that the way someone starts off can set the mood for the rest of the day. "Being the prep cook I am the first one to arrive at Ms.Cheezious and I get to prepare all that will be essential so we can have smooth sailing for the rest of the day. It is my job to make sure we are fully equipped so that all customers get to have their favorite sandwich."
Buffalo Chicken Melt and Regular Fries
Elizabeth, Front of the House server, is no exception to the grilled cheese addiction that all Ms. Cheezious employees share. Her favorite Sandwich is the Short Rib Melt: "Its delicious, when I come into the kitchen I can smell the short rib and just want to eat all of it."  She mentioned that grilled cheese is something that is familiar to us but at the same time its different, because "when you come to Ms. Cheezious you will have fun and it's great for friends."
As a customer it cheers your heart up when you meet staff who are always aware of you or what you might need. To come across an employee who understands your needs is very important and that is what Jacklyn, Front of the House server, strives for. She tries to make sure every customer gets exactly what they came for. Why does she recommend Ms. Cheezious? "Who wouldn't want to experience fun grilled cheeses, I feel like Brian and Fatima's creative palate pulled everything together." She enjoys the restaurant's environment, the artistic scene of the dining room, and of course the delicious food, which she hopes this will  drive people to come, visit, stay and become regulars at Ms. Cheezious.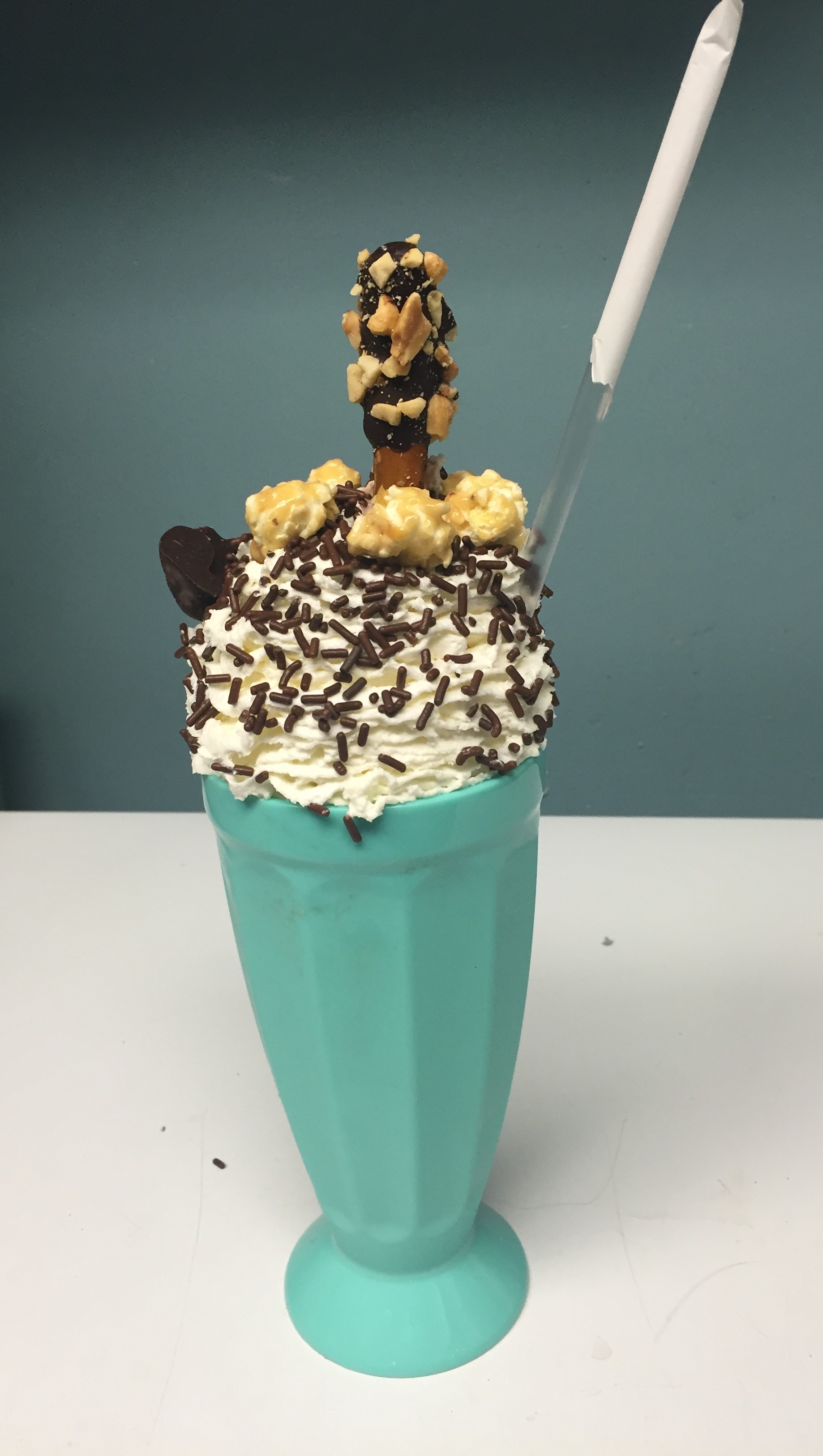 Midnight Snack Milkshake
Ms. Cheezious isn't just about grilled cheese though – if you have a sweet tooth like myself then you are in for the ride of your life with the Midnight Snack and Pastelito milkshakes that were added to the menu this year. This milkshakes were launched and introduced during the opening of the Ms.Cheezious Coral Gables restaurant and are now also available in the Biscayne location. These milkshakes became an instant hit, and the uproar for these delicious desserts has not been tamed. So I obviously had to ask Brian and Fatima if we can expect any new flavors anytime soon! You won't be able to handle this one: a Cotton Candy milkshake will be launched this upcoming week. It'll be a Carnival themed milkshake with cotton candy and swirly lollipops that'll bring the recent over-the-top milkshake trend close to home, so you know you can't miss out on this one.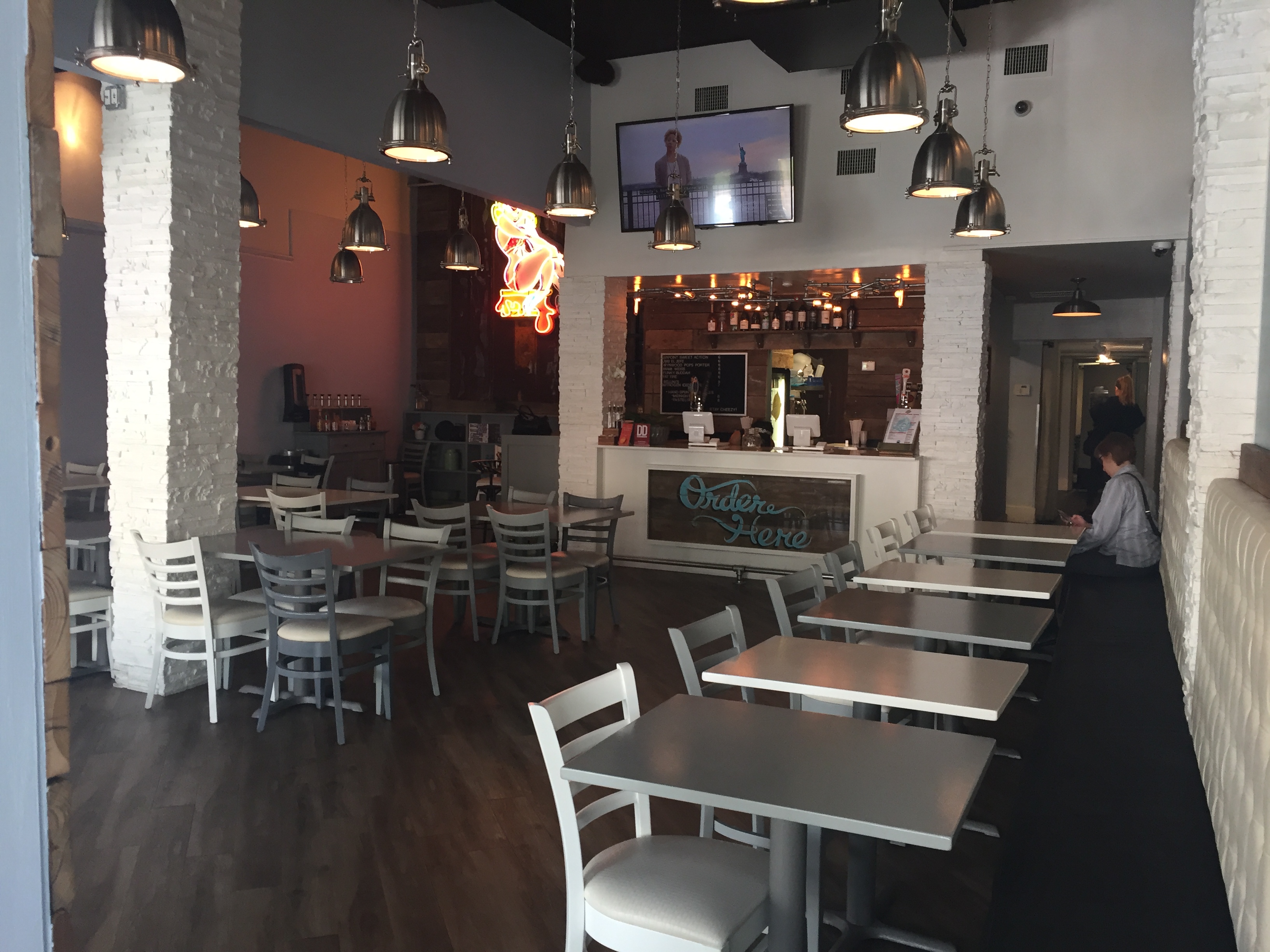 Ms. Cheezious has become a major success in the past few years, but it's certainly not stopping here. Brian and Fatima shared with me the exclusive that they are currently working on offering franchise opportunities. The future for Ms. Cheezious is looking bright, given that "before the end of the year you might start seeing Ms. Cheezious in other parts of the Country."
As for sandwiches, there will always be something new, considering that a lot of the sandwiches on the menu were specials at one point. This means that the everyday menu is responds to what you love to eat at Ms. Cheezious! Customers should always be on the look out for specials, because they have the power to make it a regular on the menu.
Grilled Cheese is not only an American favorite but it is also becoming an international favorite. As for me: no matter how upset, unsettled, joyful or happy I am, coming into Ms.Cheezious makes me feel relaxed and carefree, like coming home to my bed. A grilled cheese has become a go to meal for me (and, I suspect, many others) which I can always count on to satisfy. Not only can you come and enjoy a great meal but you can play board games with friends and family. As I enjoy my Southern Fried Chicken and Waffle Melt, I invite you to come and visit Ms. Cheezious. It is the best experience you will have and you will  never regret it, trust me.
Ms. Cheezious in Coral Gables is located in 1915 Ponce de Leon Blvd, Coral Gables, FL 33134.
They are located under the blue awning and across the street from Office Max.
You can visit their website at http://mscheezious.com/