The French couple, Quentin and Agnes Garrigou, are the owners of Janette & Co. Macarons. They named their French patisserie in honor of Quentin's grandmother, Jeanine, whose delicious home cooking inspired him to become a cook and Agnes' grandmother, Jeane. Janette & Co. sells the finest French pastries much like Tiffany & Co. sells the finest jewelry. Janette & Co is located at 208 Miracle Mile, Coral Gables. janetteandco.com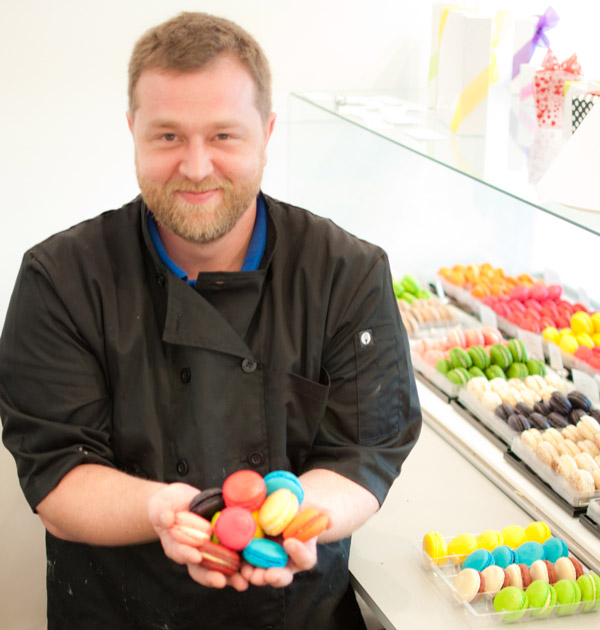 The Making of Janette & Co
Quentin learned to cook working at French restaurants for ten years. However, he specialized in macarons by taking classes at the famous French pastry school Lenôtre in Paris. Quentin and Agnes used to live in the French countryside in the Loire Valley in a city called Amboise. When an opportunity for a French cook became available in Sarasota, the couple decided to move to the states. After living five years in Sarasota, they moved to Miami and opened their first French patisserie in Sunset Place (5811 Sunset Drive, South Miami, FL). Janette & Co. has been so successful they recently opened a new location on Miracle Mile in Coral Gables.
The Macarons
So how good are their macarons? Well, let me tell you. I have tried many macarons in South Florida and it wasn't until I had Janette & Co's macarons that I found my go-to French macarons. The biscuit merengue cookies are fluffy and chewy while the inside is decadent and creamy.
All their macarons are handmade from scratch at the patisserie and made from the best and natural ingredients. Quentin prides himself in finding the best ingredients to work with, regardless of price. His ultimate concern is making the finest macarons in South Florida. For example, he only uses Valrhona chocolate from France. Quentin explains that this brand treats chocolate like wine. Each chocolate tastes different depending on the country or region it was grown in. The sun and the soil affect the flavor of the chocolate. Valrhona doesn't mix chocolates from different regions as other brands tend to do.
At Janette & Co they use the most genuine process possible, as such, the caramel is homemade; and the fruit flavors are made from real fruit. You can feel confident that you are buying a natural product made from the very best ingredients at Janette & Co. The biscuit merengue cookies are made from almond flour, eggs and sugar flour. Janette & Co macarons don't have any preservatives, so they last at most three days. If you are not going to eat them right away they recommend you refrigerate them. Plus, a cool macaron is a thousand times more tasty than a warm macaron.
The bright colors are a break from the traditional pastel colors used for French macarons. Quentin wanted to give his macarons vibrant colors that matched the colorful Miami lifestyle. To bake his flashy macarons he uses powder coloring from France.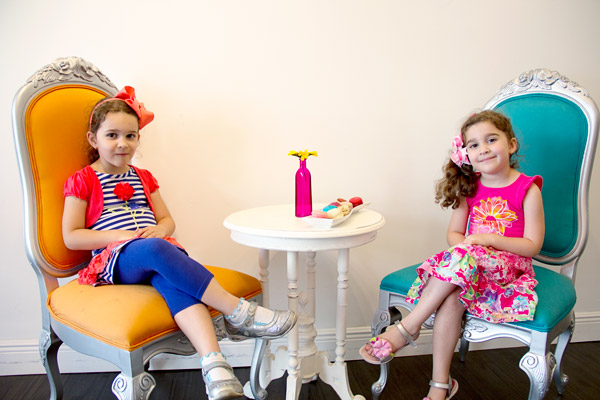 Macaron Flavors
Every month they release a new macaron flavor. The Macaron of the Month of March is peach and Oreo will be the macaron flavor of the month for April. I look forward to trying those! Quentin & Agnes like to have 25 flavors for you to pick from plus the Flavor of the Month. Currently, these are some of the flavors on the menu: orange blossom, Venezuelan dark chocolate, coffee, lemon cream, black currant, rose petal cream, coconut white chocolate, passion fruit chocolate, mojito fresh mint, Nutella, hazelnut crunchy praline, basil, pear chocolate, pistachio, gingerbread, butter salted caramel, and vanilla. The best selling flavors are coconut white chocolate and Nutella; but I personally recommend the vanilla. It's classic and always satisfying.

Macarons For Events
Janette & Co provides macarons for big events: weddings, baby showers, and other events. If you are interested in having classy, colorful and delicious macarons at your next event call them to set up an appointment. At the consultation you will meet with Chef Quentin and you can chose what macarons you want and what colors you are interested in. At this point, Quentin has made over 200,000 macarons. So if you are looking for someone who really knows their macarons, Janette & Co is the place to go.
Also, Quentin designed a macaron tower to display macarons at events. The tree displays are available in two sizes: small (fits 23 macarons) and large (fits 44 macarons).
Other Goodies
If you are looking for other goodies other than macarons, Quentin and Agnes also sell chocolate croissants, Norman Love chocolates and Kusmi Tea. Kusmi Tea is the best brand of tea in France. They have a retail store in New York City but it is harder to find in South Florida. Customers drive from South Beach to get their Kusmi Tea at Janette & Co in Coral Gables or South Miami.
The Love Story of Quentin & Agnes
More than ten years ago, Quentin and Agnes were "doing the season in France" (working six months at the beach and then working six months at the mountains). They were both moving every six months to a new town. Quentin worked as a cook and Agnes was a waitress at that time. They met each other in a town on the Pyrenees Mountains and fell in love. They have worked together, at the same restaurant, ever since.
Upcoming News
They will be launching a line of colorful eclairs by the end of the year. You will have ten flavors to choose from. Keep a look out for the new yummy addition to the menu.
Janette & Co has a unique and colorful atmosphere. They have comfy bright chairs to sit around munching macarons and drinking coffee or tea. Quentin & Agnes made the chairs themselves by refurbishing chairs, spraying the frames in silver and upholstering them in vibrant fabrics. It's the perfect place to have a meeting and eat trendy pastries.