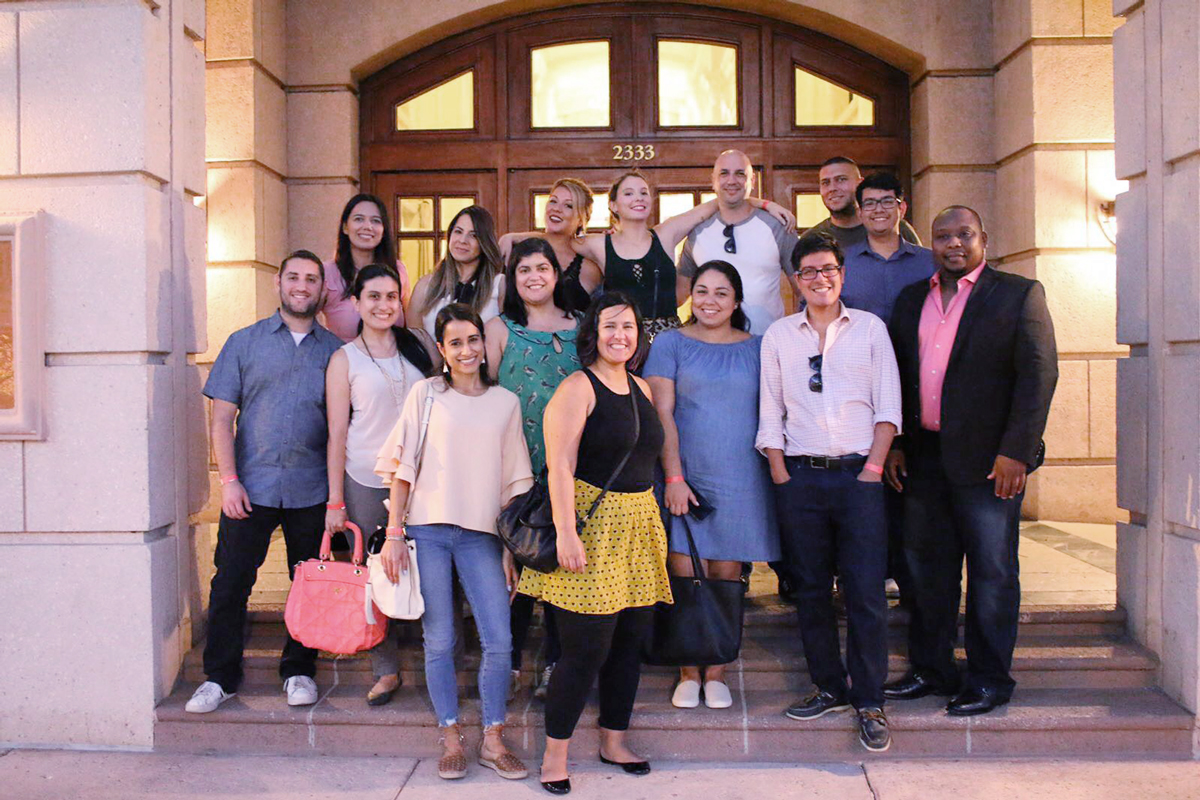 I was reminiscing about our latest Coral Gables Love Food Tour. It was a blast! Thank you to everyone who made it out for a night of yummies and shenanigans. In collaboration with the City of Coral Gables a group of foodies visited three of Coral Gables' best restaurants in one night! Also big thank you to all the participating restaurants: Angelique Euro Cafe, House Kitchen & Bar and La Taberna Giralda. We ate and drank the delicious yummies until we were stuffed and we loved every minute of it.
First Stop: Angelique Euro Cafe
Angelique is a gem on Mirale Mile serving up European-inspired comfort foods in a friendly neighborhood atmosphere. They also have a great wine and beer selection, making them a perfect date night spot.
We kicked off the Coral Gables Food Tour at Angelique Euro Cafe. They eased us into the festivities with a delicious Angelique Pera Mista salad and they famous gruyeres. Gruyeres are baked bite-sized, gruyere cheese souffle and they are served with raspberry chili jam. The first wine was a crisp white wine.
The salad and grueyeres were followed by braised short rib topped with potato crisps and red wine. Angelique has great wine and they serve large glasses. If you like wine, this tour is for your because the wine kept flowing.
We ended our Angelique tasting with a warm bread pudding that will make you come back for more. Angelique's gnocchi and bread pudding are spectacular. If you've never had them, you are missing out and I suggest you go visit them – right now.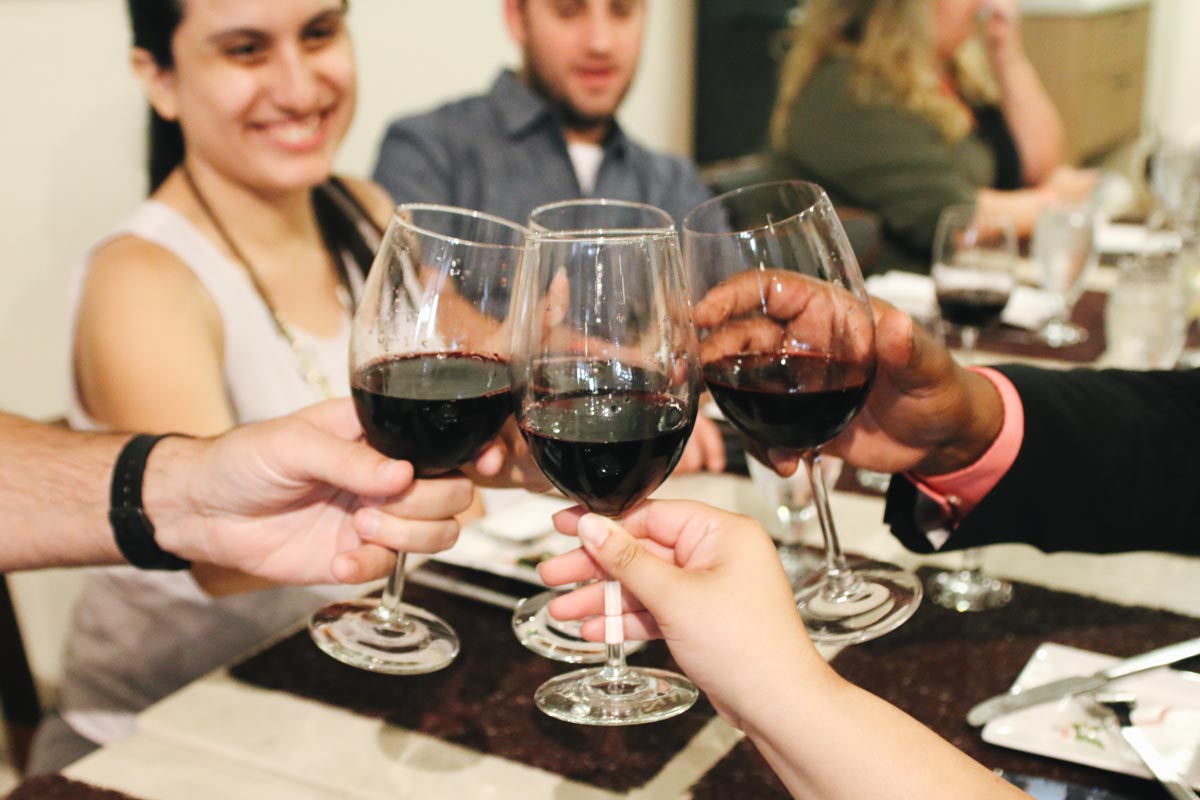 Second Stop: House Kitchen & Bar
House Kitchen & Bar is new restaurant in Coral Gables by the operators of Town Kitchen and Bar in South Miami. They serve global comfort foods with a focus on fresh local seafood. Chef Mike Altman makes a killer rotisserie chicken.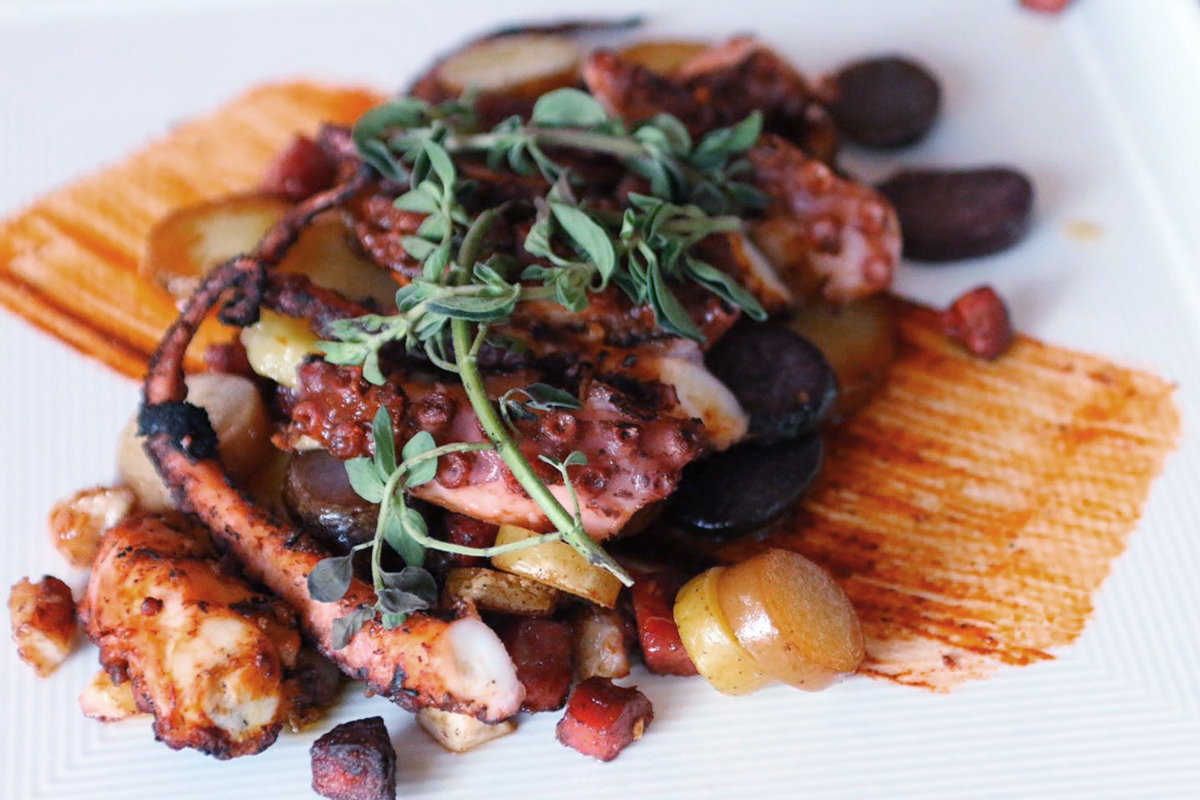 At House we enjoyed several different dishes from seafood to veggies and everything was tasty. We tried the grilled octopus with petite potatoes, chorizo, and anticuchera sauce. It was cooked to perfection and accompanied by a delicious red wine.
Next, we had the salmon poke "heat wave" with cucumber, jalapeño, scallion, togarashi, poke sauce and plantain chips. The spicy flavors combine with the sweet and crunchy profile of the plantain chips balancing each bite with flavors and texture.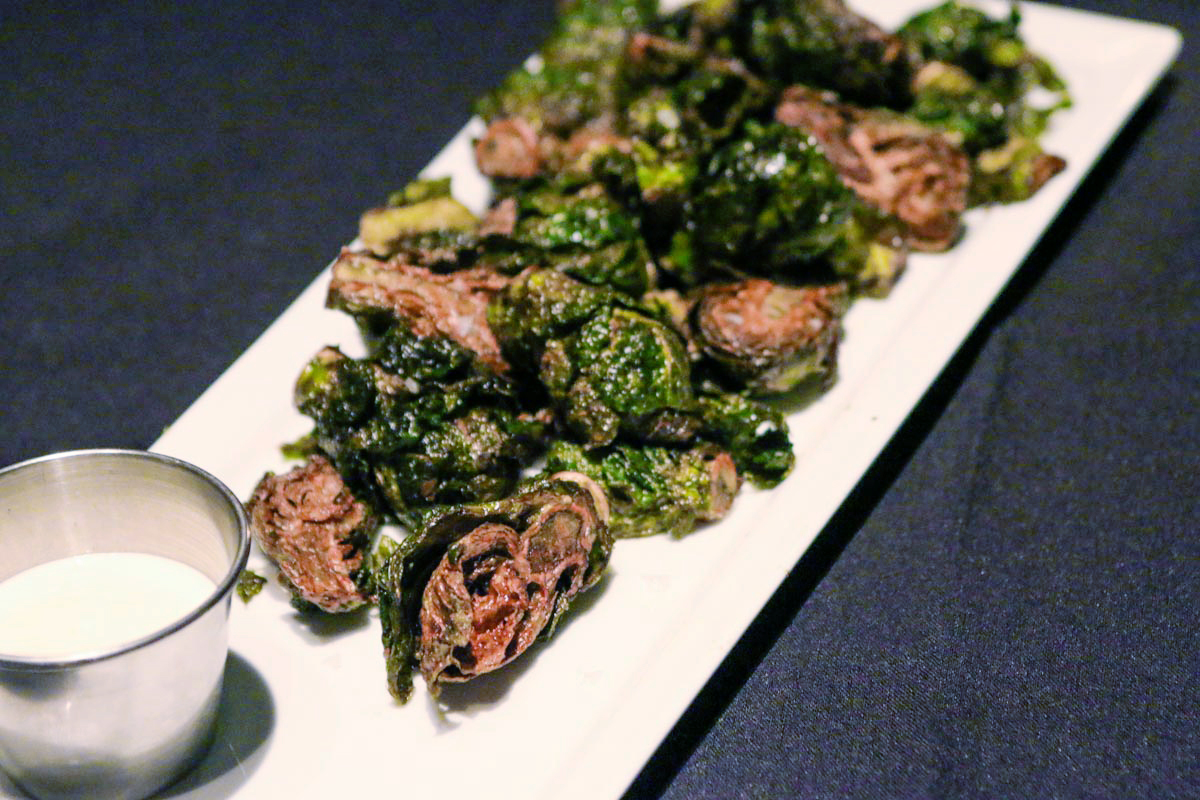 I couldn't stop eating the crisp Brussel sprouts served with lemon aioli and maldon salt. They were a little charred and I loved the taste. It's a nice, healthy option on the menu.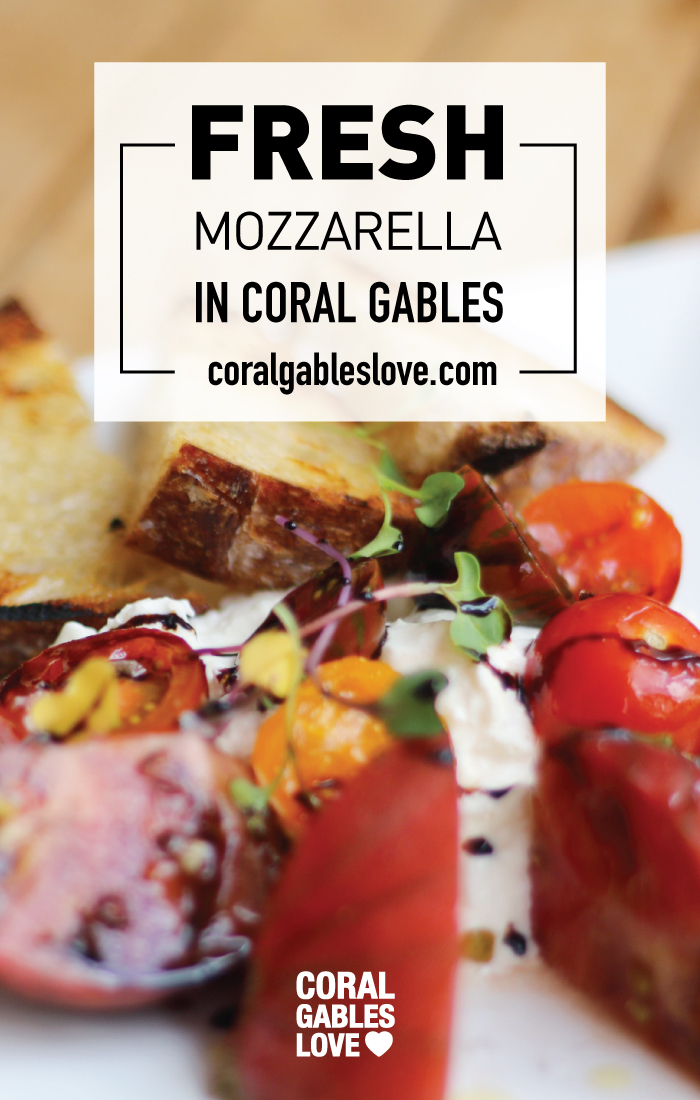 My favorite by far was the Stracciatella creamy mozzarella cheese with Tartine bread, heirloom tomatoes, and a balsamic glaze. I just love fresh mozzarella so much and this dish is made with the famous fresh mozzarella from Mimo's in North Miami.
We ended this stop with another bread pudding, but this time it was a chocolate bread pudding with creme anglaise.
Third Stop: La Taberna Giralda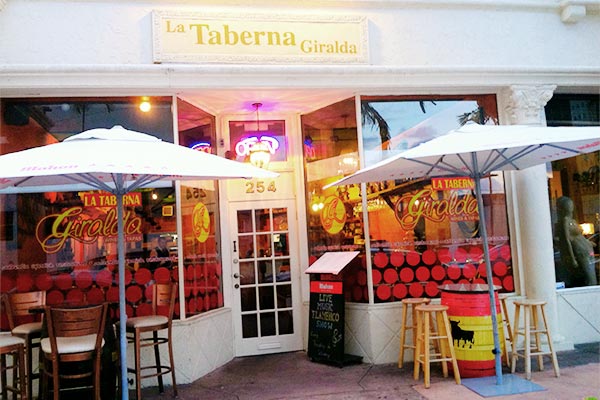 La Taberna Giralda is a Spanish restaurant with a warm and inviting atmosphere. They have live flamenco nights on Saturdays and serve seriously delicious Spanish food everyday of the week.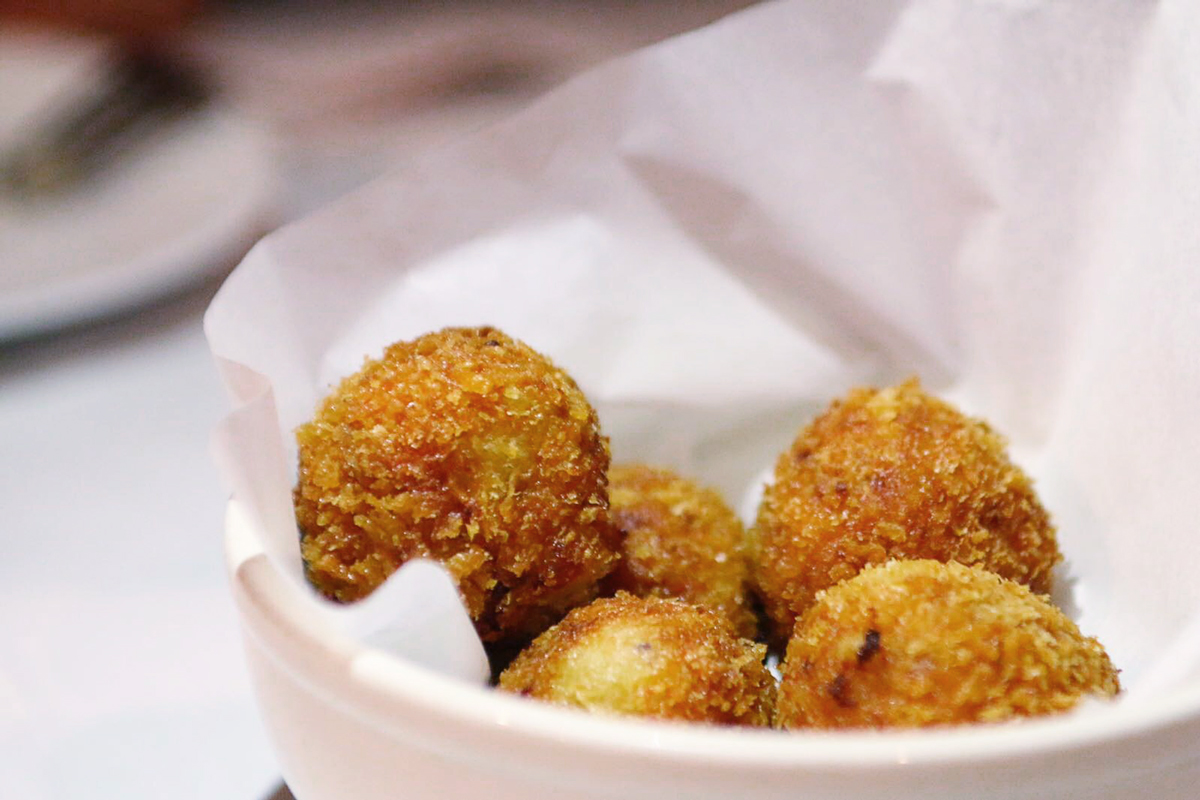 We started our Spanish cuisine adventure with croquetas de jamón serrano. They might be the best croquetas I've ever tasted. You should visit them and let me know if you agree.
Next, we had their tortilla Espanola, a traditional Spanish potato and egg omelet served with aioli sauce and a balsamic glaze. What I like most about their tortilla is the sauces. The mix of potato omelette with balsamic glaze is amazing.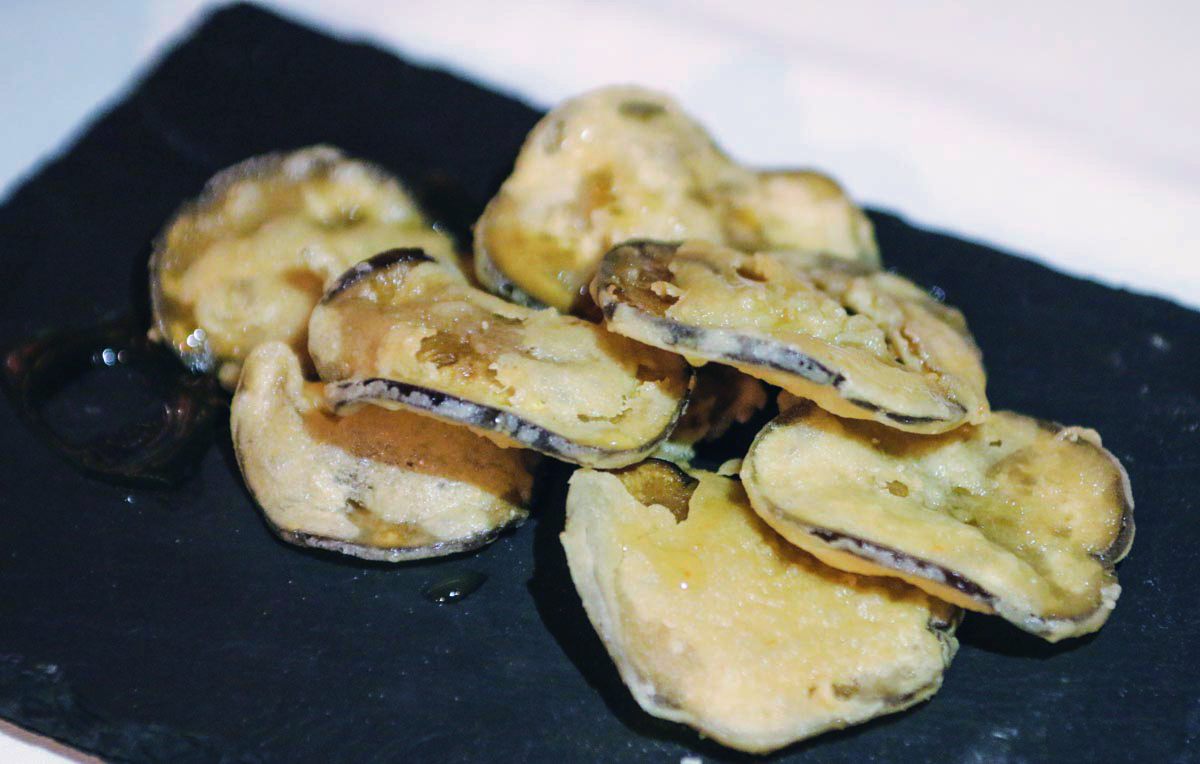 And the yummies kept coming! Eggplant Chips sprinkled with honey don't sound like they would blow your mind; bit you're wrong. It was my favorite dish of the stop. It was hard to choose because everything they cook at La Taberna Giralda is so tasty.
We ended the night with perfecto de solomillo de cerdo: roasted pork tenderloin with caramelized onion and aroma of rosemary. We also finished the pitchers of white and red sangria. With our bellies full and happy faces from friendly conversation and meeting new fellow foodies, we finished our incredible food adventure. Stay tuned for our next Coral Gables Love Food Tour! I hope you can join us in our foodie celebration next time.