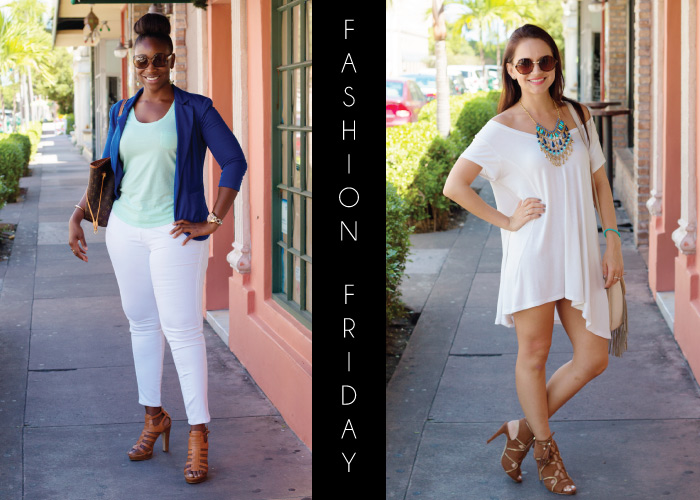 We get to celebrate another Friday and that means a new installment of Fashion Friday! Today, we are going to be looking at how two fashionable bloggers style their beautiful heels. Let's get started!
Our first fashionable blogger, Anquanette, runs Cruzan Foodie: a blog about travel and yummy finds. Not only is she knowledgable about craft beer and delicious food, she also has fabulous fashion sense. We attended a blogger brunch recently and I loved her outfit – especially her platform sandal pumps! She was wearing white plants with a mint top and a cobalt fitted blazer. She also had a Louis Vuitton tote that matched her heels and tied the ensemble together. I loved her color palette and style.
Shop Anquanette's Outfit

Our second fashionista is Sonya. She is a writer for the Huffington Post and runs Single Strides: a blog about falling in love, falling apart, and traveling the world in between. She was wearing the latest trend of lace-up peep toe heels with a swing dress and statement necklace. The entire outfit was simple, eye-catching, and stylish.
Shop Sonya's Outfit