Today, I invited mom blogger Stephanie Arboleda from the blog I Am Her After to share a few activities to entertain the kids at home. Stephanie is always coming up with unique ideas for children that involve creativity, fun, and exercise. Follow her for unique activity ideas for the entire family at iamherafter.com
1. Kids Super Hero Capes and Cuffs (No Sewing Required)
Materials Needed for Super Hero Cape
Adult T-shirt (size varies on child's size)
Scissors
Color Felt (for decoration)
Glue
Velcro
Kids Super Hero Cape Directions:
Start off by cutting off the sleeves of the adult t-shirt.
Cut the sides of the t-shirt.
Open the t-shirt (leave the neck hole intact) and cut off the front part of the shirt.
Cut the neck hole and glue the Velcro.
We save the best for last, have fun decorating your super capes by gluing decorations.
Materials Needed for Super Hero Cuffs
Paper toilet rolls
Paint
Felt
Glue
Scissor
Kids Super Hero Cuffs Directions:
Paint the toilet paper roll.
Allo the paint to dry.
Cut a slit to make an opening.
Go crazy decorating your super hero cuffs.
RECOMMENDED READING: Activities To Entertain Toddlers During COVID-19 Social Distancing
2. Kids Tie Dye Project
Materials Needed for Tie Dye Project
100% cotton T-shirt
Rubber bands
Gloves
Plastic bag
Bowl
Kids Tie Dye Project Directions:
Dampen the t-shirt using water.
Fold and rubber band your T-shirt.
Mix your dye with water.
Squirt dye on t-shirt over bucket.
Wrap t-shirt in plastic bag and let sit for 6-8 hours. The longer it sits, the more vibrant the colors will be.
Rinse dye with cold water.
Remove rubber band and continue rinsing until you see no more dye coming out.
Toss T-shirt in washer and dryer.
Enjoy your new Tie Dye Shirt.
3. Kids Frozen Dinosaur Egg Treasure Hunt Activity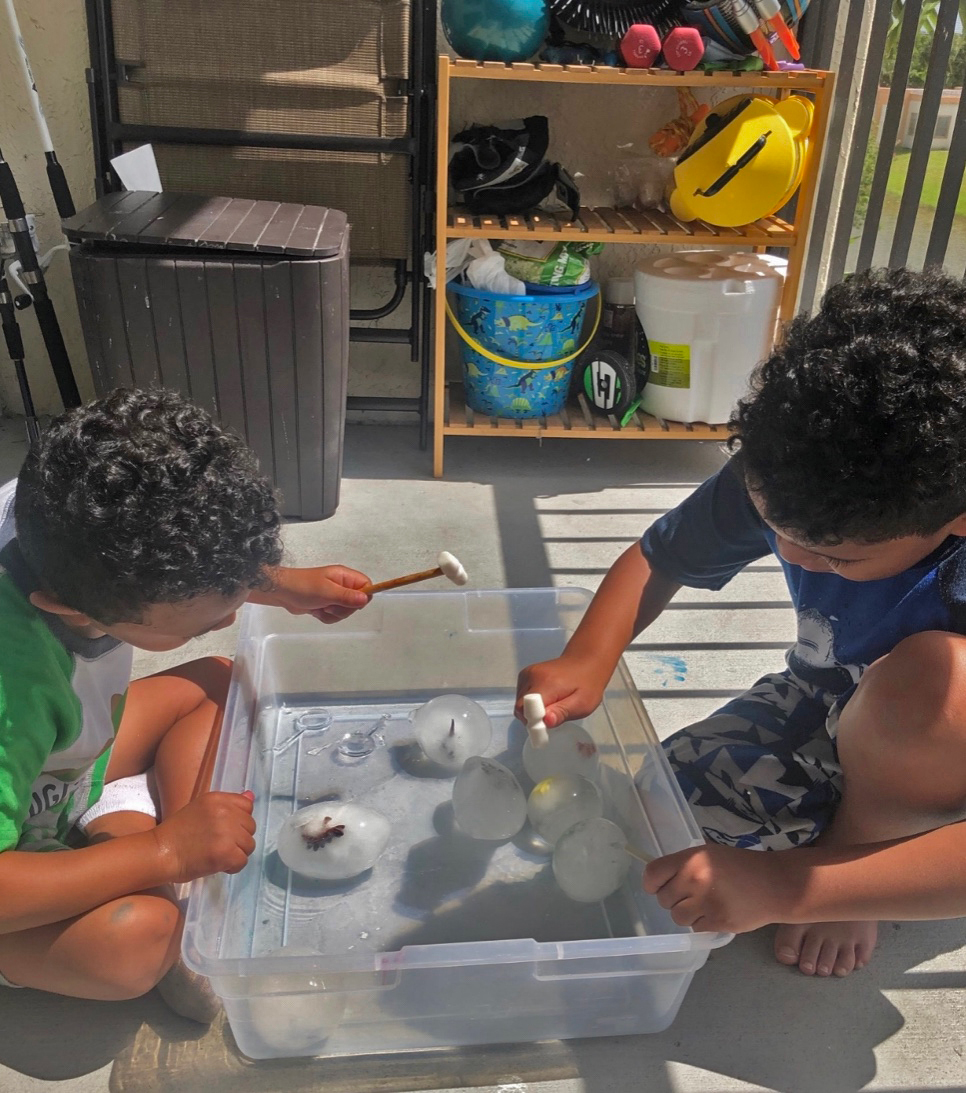 Materials Needed For Kids Frozen Dinosaur Eggs
Balloons
Small dinosaur figurine
Water
Kids Frozen Dinosaur Egg Treasure Hunt Directions:
Squeeze in one small dinosaur figurine (or the child's choice of small toy figurine) inside each balloon.
Carefully fill the balloons with water and tie.
Place in the freezer.
Once the balloon is frozen remove the balloon.
Set the kids outside with a plastic tray ready to chisel the dinosaur out of the frozen egg. *I purchased an excavation tool set for kids or they can use popsicle sticks.
RECOMMENDED READING: Activities To Do With School Aged Kids During COVID-19 Social Distancing
4. Kids Homemade Ice Cream Bags
Homemade Ice Cream Bag Ingredients:
½ cup Whipping cream
2 ½ tsp Vanilla
1 tsp Sugar
Table salt
*optional (cocoa powder for chocolate ice cream)
Ziplock bags (1-quart size and 1 gallon size)
Rubber gloves
Homemade Ice Cream Bag Instructions
Using the quart size Ziplock bag, mix the whipping cream, vanilla, and sugar.
Seal the quart size Ziplock bag.
Using the gallon Ziplock bag, fill it halfway with ice, and add 6 tsp of salt.
Insert the quart size bag with the ice cream mixture into the gallon bag. Make sure everything is sealed properly.
Put on your gloves and start shaking the bag.
You can make it fun and start tossing the bag to one another. Make a game out of it! (Shake the bag for about 5-10 minutes).
Watch how the liquid starts forming into ice cream.
Once its ready to eat, add the toppings and take pleasure in eating your homemade ice cream.
Pin For Later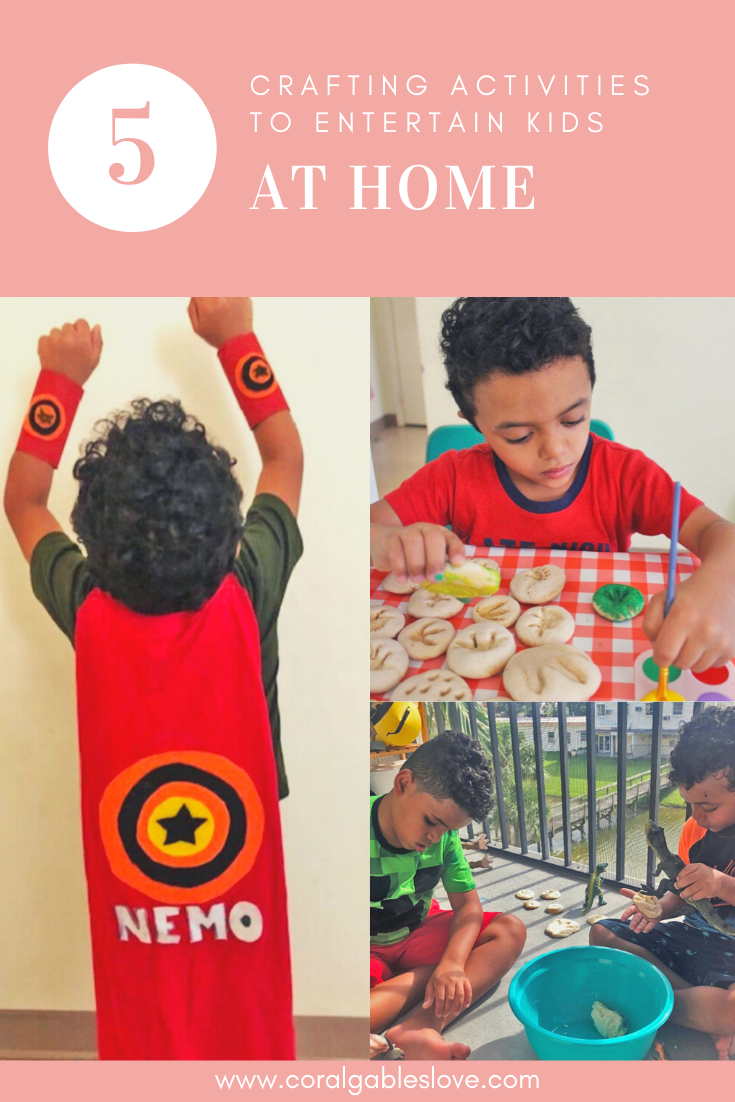 5. Kids Dinosaur Fossil Stones Fun (3-in-1 activity)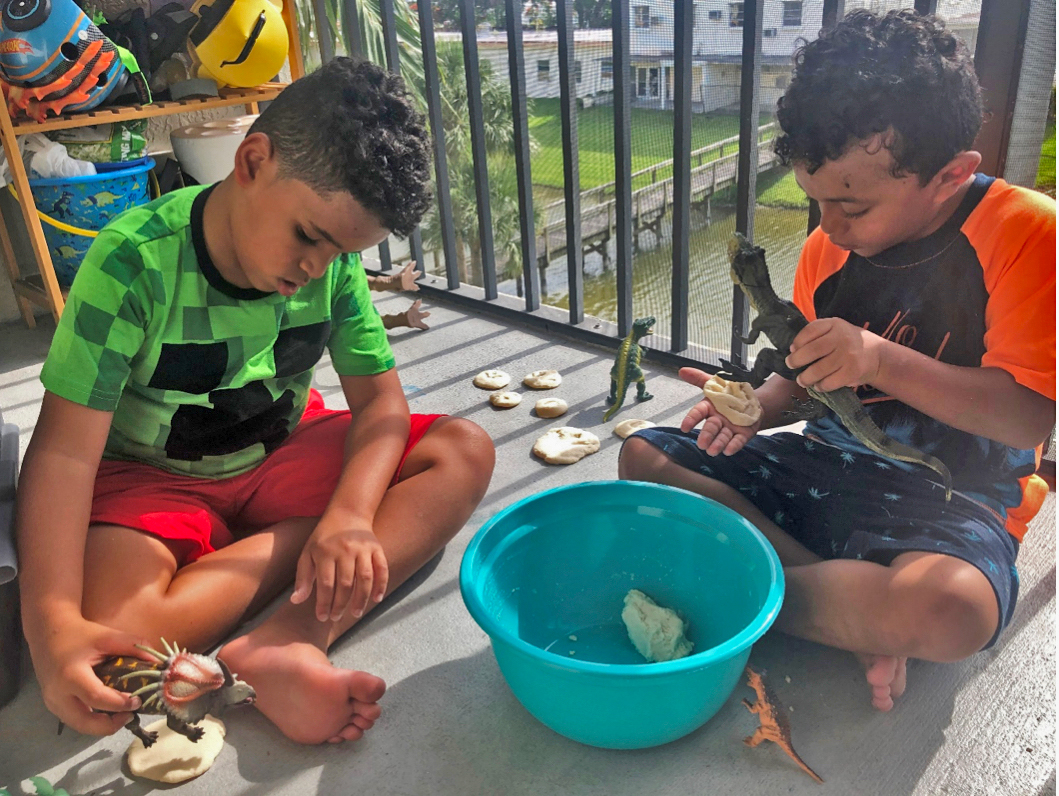 Part 1: Making the Dinosaur Fossils
Materials Needed to Make Dinosaur Fossils:
Flour
Salt
Water
Dinosaur figurines
Dinosaur Fossils Instructions:
Mix 2 cups of flour and 1 cup of salt.
Slowly start mixing the water little by little (About 1 cup).
Start kneading the dough.
Take a piece of the dough and roll it into a ball.
Flatten the ball like a pancake.
Then use a dinosaur body or foot to start making your Dino fossil shape.
Bake the fossils in the oven at 350 degrees for 15-20 mins.
Part 2: Painting Dinosaur Fossils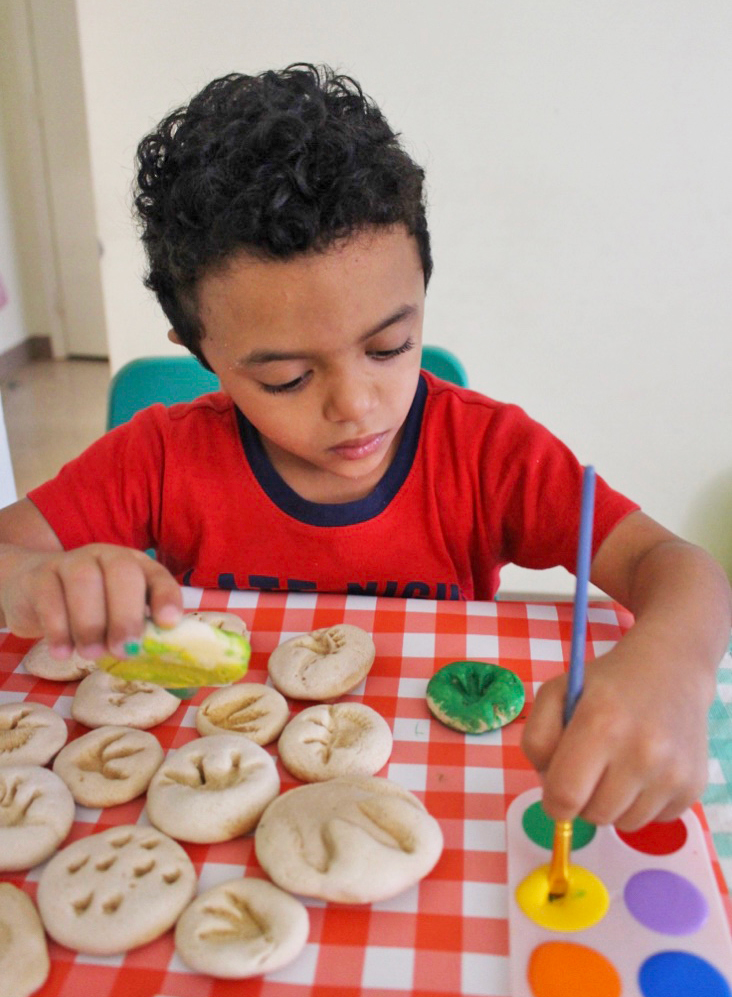 Once your dinosaur fossil is baked in the oven. You can set your kids down to have fun with some acrylic paint and paint brushes to color their fossil stones.
Part 3: Dinosaur Fossil Hunt
During Easter the kids have a great time with egg hunts, so I figured, "Why not have a Dinosaur Fossil hunt?" I hid the Dinosaur stones while they weren't looking. I gave them each a bag and they quickly started running in search for fossils. It turned out to be a great outdoor activity for the kids.