Enter to Win 2 VIPS Tickets to the 2015 Sobe Seafood Festival
Yay! I'm so excited to give TWO VIP Tickets to the Sobe Seafood Festival going down Saturday, October 24, 2015 at Lummus Park (located on 7th st. and Ocean Dr.) VIP Tickets have a retail value of $200 and you can win them for FREE! Leave a comment below and use the widget below to submit your entry! Once you leave a comment you will have more opportunities to submit more entries to the contest.
Sobe Seafood Festival 2015 Discount Code
If you want to grab your tickets before they go up in price or sell out, go to sbsf.wantickets.com and make sure to use the discount code: CGLOVE to get 20% off your tickets. Ah yes, the perks of being a Coral Gables Love Reader ;)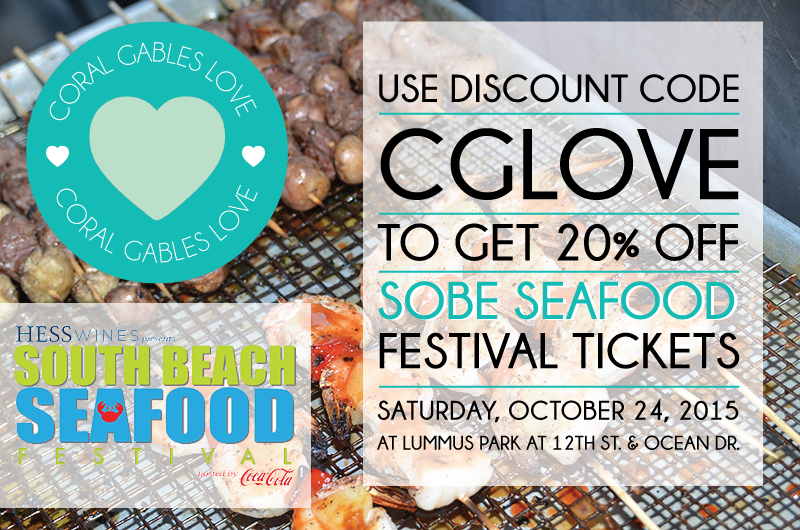 So what is the South Beach Seafood Festival?
It's an open bar event held on the sandy beach of Lummus Park in South Beach. In addition to free drinks, TOP chefs set up mini café's on the sand to create an EATING Paradise with over 50 Menu Items to choose from for ONE Day Only. Please keep in mind, the drinks are free but the food is for purchase! So make sure to take your cash and credit card to buy your nom noms! Participating restaurants include: Joe's Stone Crabs, Naked Taco, Red, the Steakhouse, Smith & Wollensky, Red Fish Grill, CJs Crab Shack, Drunken Dragon, A Fish Called Avalon, Oceanaire, City Hall the Restaurant, CIBO, Tarpon Bend, Poseidon, and Whole Foods Market. Thousands will flock to the sand to dive in to Stone Crabs, Lobster Waffle Cones, Steak & Lobster Skewers, Shrimp Tacos, Oysters, Shrimp Cocktail, Gyros, Crab Cakes, Grouper in a Bag, Lobster Mac 'N Cheese and more.
Taste fresh seafood dishes from your favorite Miami restaurants, enjoy open bar (21+), live music, chef demonstrations, sun, sand and MORE!
What does the VIP ticket get me?
VIP All-Access tickets holders enjoy all day FULL Open Bar & earn access to the GOYA Culinary Pavilion inside the Warren Henry Hospitality Village, featuring an all day party with private DJ, on stage live cooking demos throughout the day, MYO Interactive Cocktails bars with Bacardi, Stoli, & Herradura, private access to Joe's Stone Crabs and Smith & Wollensky, cool shaded comfort, and more. Additionally, guests will receive a speed pass to jump to the front of any restaurant line throughout the main festival area. And, All-Access guests will have exclusive access to the Heineken Light Sports Bar & "Chill Zone" featuring the day's college football action including an official Miami Hurricanes vs. Clemson Tigers watch party.
All Food at the event will be for purchase. 2nd Release tickets will only be available at this price for a limited time.
*Guests must be 21 or older to consume alcoholic beverages. All food is available for purchase. All Sales are final. Rain or shine. No refunds of returns.
The event benefits Community Initiatives Foundation in support of the EAT SMART Campaign to fight against childhood hunger, childhood obesity, and assisting the community to find the perfect balance through nutritional awareness & individual development in Miami Dade County.