It's August 3rd, the first day of early voting for the Florida primary election. Early voting continues until August 16th. During this time registered voters can vote at any of the early voting locations. That's right, you don't have to vote at your specified voting location when you vote during the period of early voting.
I decided to try and vote on the first day of early voting. The plan was if there was a line, then I would come back another day. Turns out, there was no line at the Coral Gables Library early voting location. So I voted today.
RECOMMENDED READING: Complete This Checklist To Prepare For the Florida General Election on November 3rd
What To Expect at The Polls During the August Florida Primary Election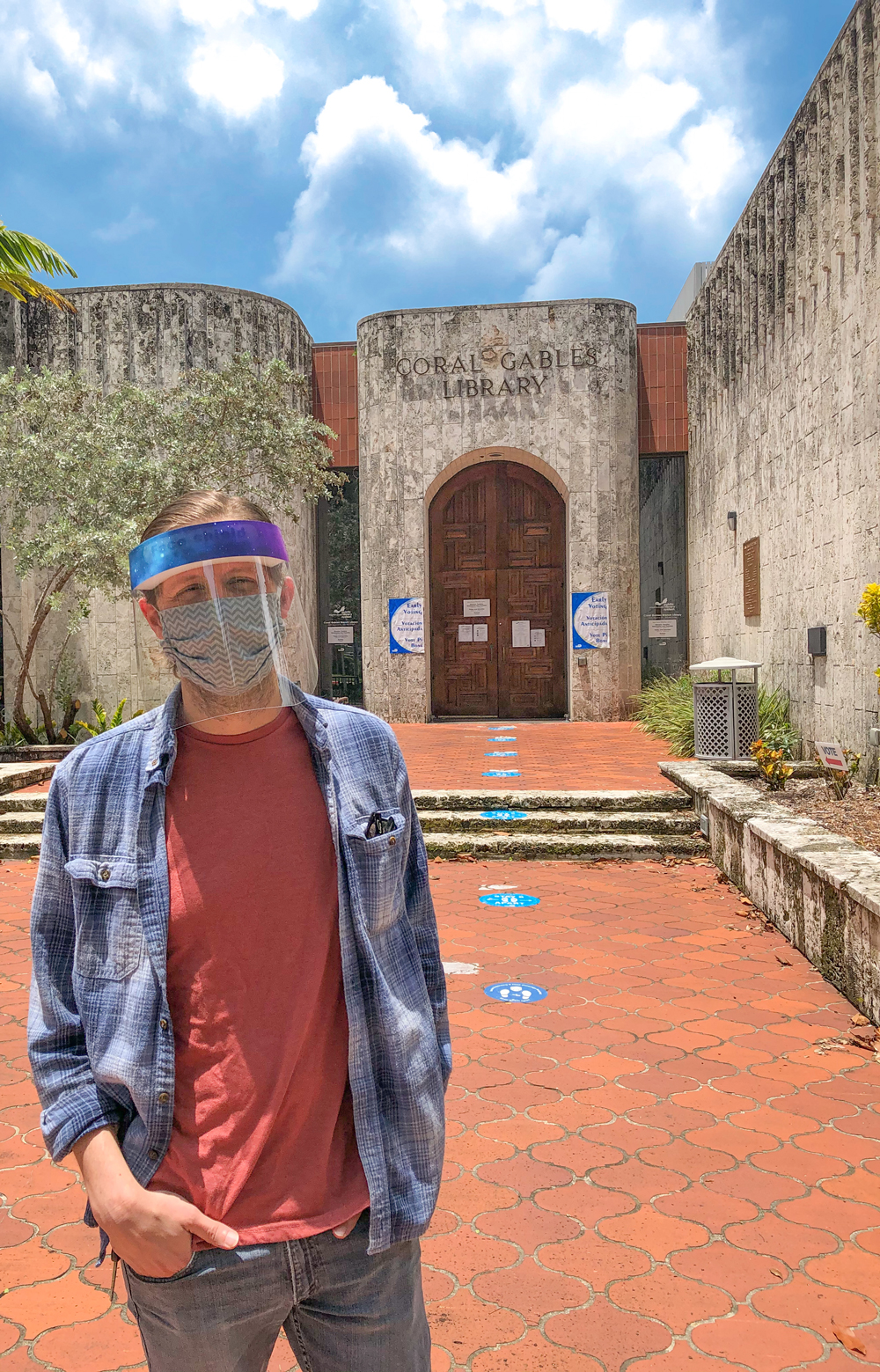 Poll Workers and Voters Wear Masks and Face Shields
I drove up to the Coral Gables Library at 12:30pm. The parking lot looked full, but I found a parking spot in the second row. I stepped out of my car and put on my face mask and face shield. Due to the Miami-Dade face mask emergency order. You are required to wear a face mask when in public.
I was about to walk into an enclosed space and I always wear my face shield when I do to reduce the chances of being exposed to Covid-19.
Once I stepped inside, every poll worker was wearing a face shield too. I was surprised there was no one in line to vote after seeing the parking lot almost full. The parked cars must have been from the people campaigning for candidates, poll workers, and library employees. Don't be discouraged if you see a full parking lot that doesn't necessarily mean there are long lines inside.
Sanitize Your Hands Before Voting
A man wearing a mask and sitting at the front desk stops every person looking to vote. He asks them to first sanitize their hands using the big jars of hand sanitizer at a table near the library entrance. Once you've covered your hands in antibacterial gel, you're ready to walk into the polling room.
Keep Your Social Distance of 6 feet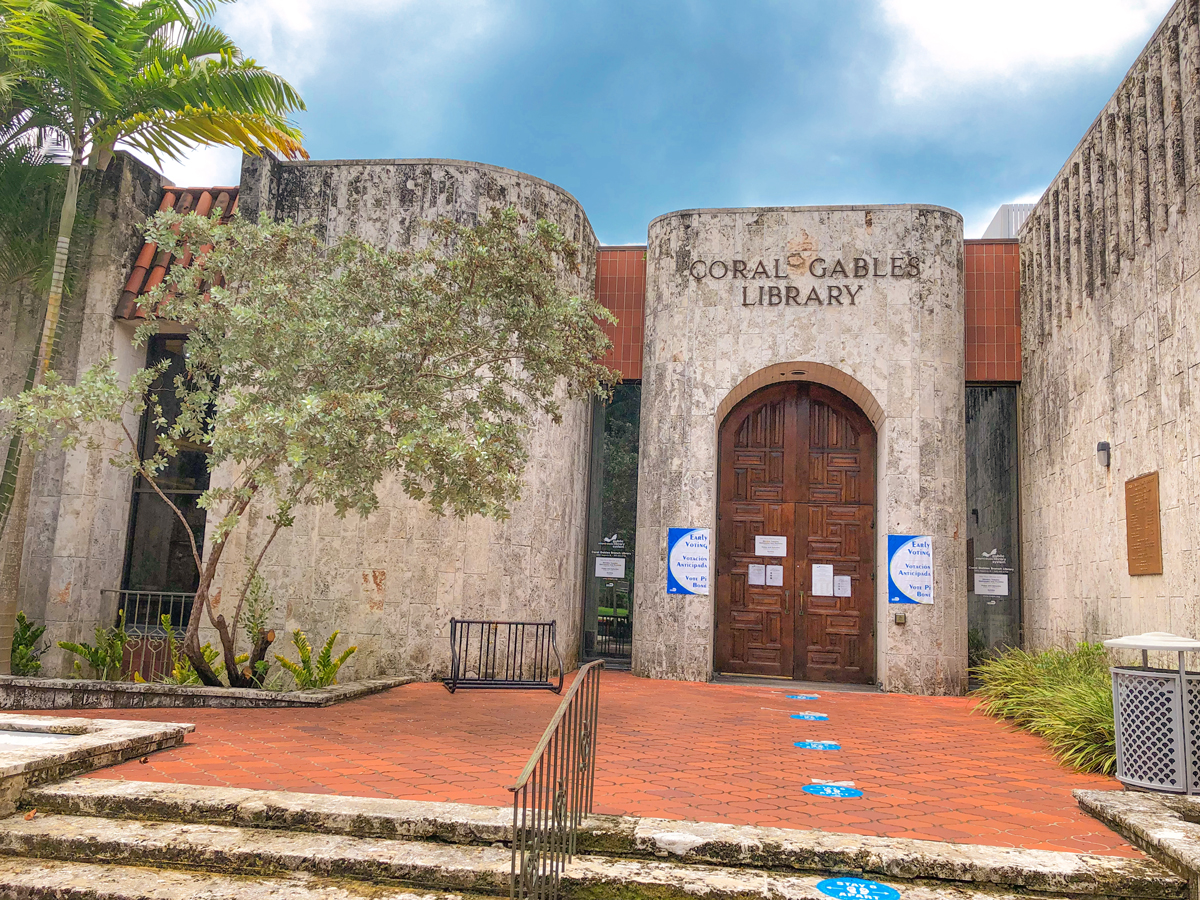 There are stickers on the floor 6 feet apart to keep people in line within the CDC guidelines of social distancing. Since there was no line, I walked over them all the way to the first sticker. I could see a couple of people filling their ballots in the privacy booths as a poll worker waived me to go meet her at her desk.
As usual, the poll worker asked for my ID and for me to verify my address in a little electronic pad. Then she printed my ballot and reminded me to fill out the front and back.
Bring Your Own Black Pen
With my ballot in hand I was directed to the privacy booths where I could bubble in my candidate selections for each race. Each privacy booth has a pen dangling from a string. Since we are in the midst of a pandemic I brought my own black pen to avoid touching as many objects as possible.
Bring Your Candidate Selections
Filling out my ballot was easy. I had done my homework ahead of time when I put together my list of Coral Gables Love candidate endorsements. All I had to do was go down the ballot and find the candidate in my voter guide. Now I was ready to scan my ballot.
Bring Your Own Hand Sanitizer
I headed over to the ballot scanners. A poll worker verified my voting precinct printed on my ballot and asked if I filled my ballot completely front and back. I said "Yes!", scanned my ballot, and received my "I Voted!" sticker. I voted. Once I was done scanning my ballot I used my own antibacterial gel to sanitize my hands and forearms. I recommend bringing your own hand sanitizer in case your voting place runs out.
Voting took less than 10 minutes. Voting early was so easy; and I felt safe wearing my mask and face shield during the experience.
I definitely recommend you take advantage of early voting in Florida and avoid the long lines on August 18th.
RECOMMENDED READING: Florida General Election November 2020: Who To Vote For In Coral Gables & Miami-Dade County
Return Your Vote-By-Mail Ballot at an Early Voting Site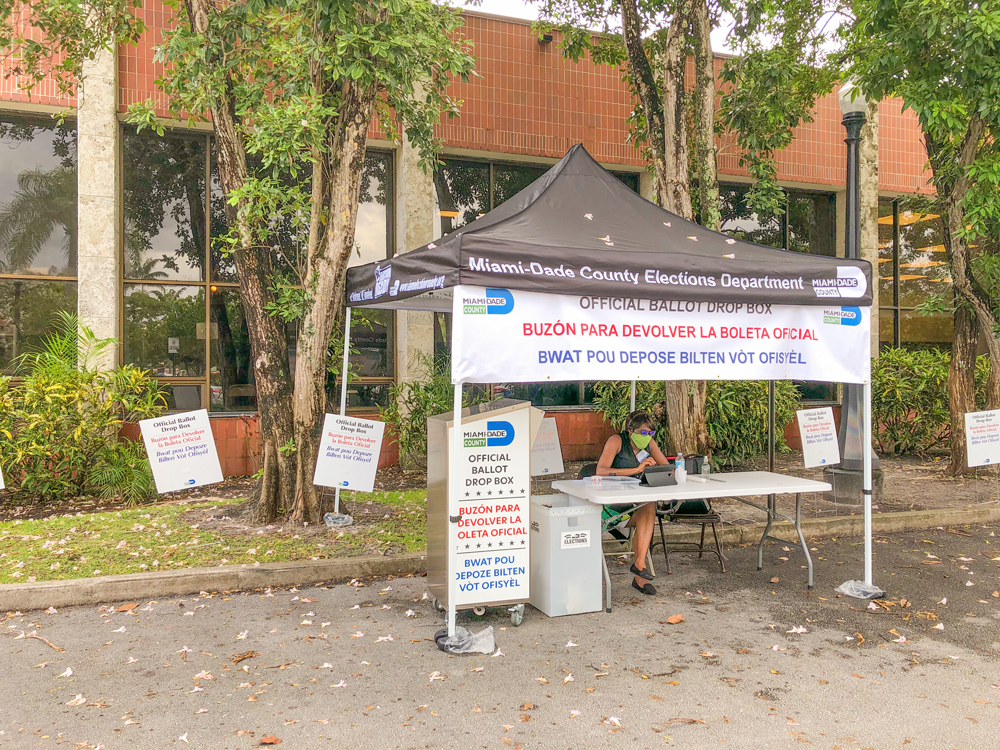 If you requested to vote-by-mail you can avoid the worry of your ballot not making it back in time within the deadline. You can drop it off at an early voting location at the official ballot drop box. The Coral Gables Library early voting location had the ballot drop box outside under a tent. You don't event have to step inside to have your vote counted.
August Florida Primary Early Voting Locations