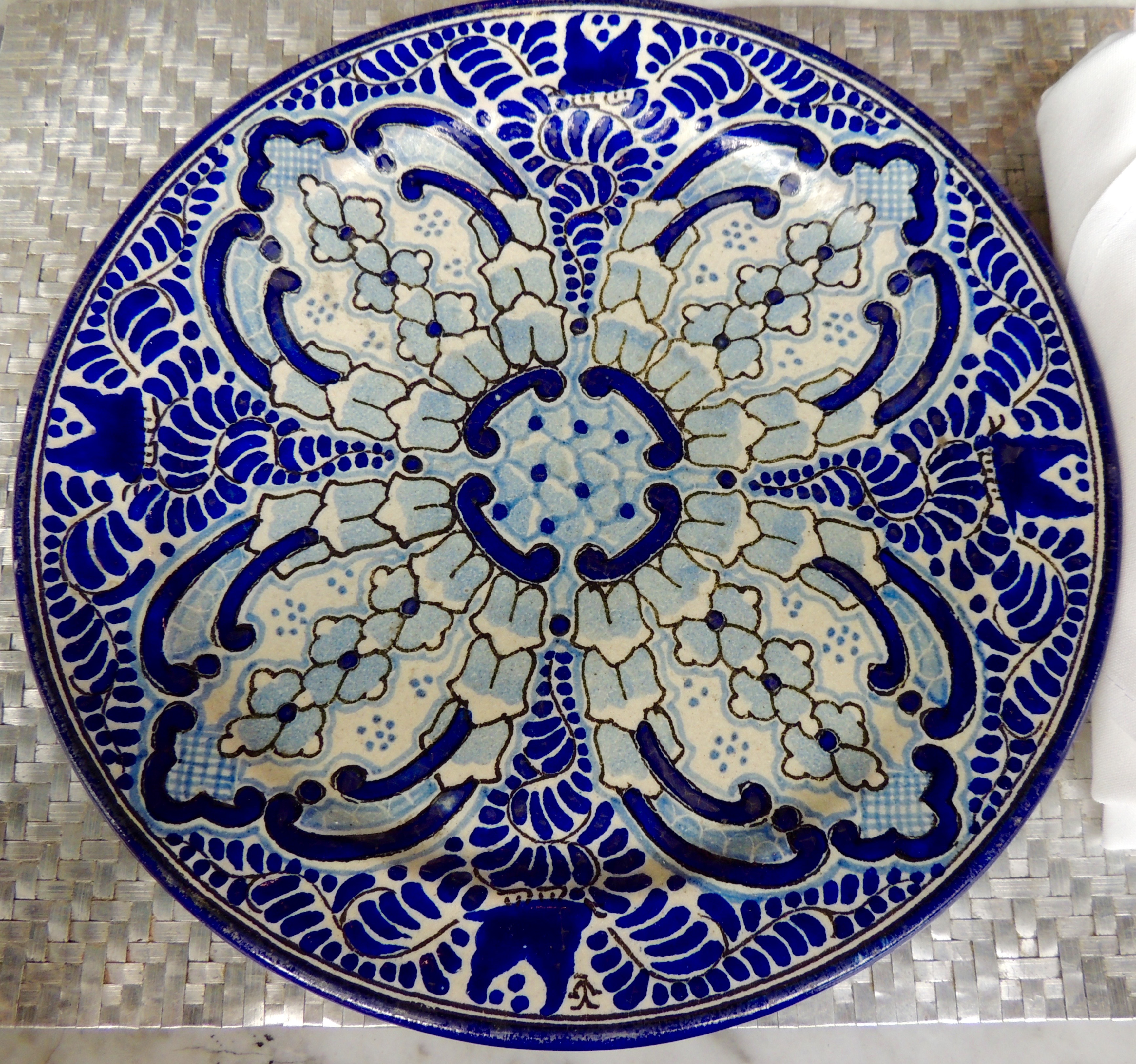 Talavera Cocina Mexicana stands out as a gourmet Mexican restaurant with a simultaneously high-end and laid-back atmosphere.  Their plates (one of my favorites pictured above) are all beautiful, and are available for sale for those of us who want every dinner to feel like it's from Talavera.
The chips and salsas they brought out while we looked at the menu were noticeably fresh – the chips were even still warm.  The red salsa had a distinct smoky flavor, which I usually don't like, but found myself turning to it to cool off my tongue after too much green salsa – which was so delicious and SO hot (which in my book is absolutely a good thing)! After several rounds of fresh blue corn chips we realized that we would have to start ordering real food eventually, and the adventure began.
Tostada de Cochinita
Right off the bat, this tostada was easily my favorite thing that we ordered: a hefty serving of braised shredded pork on top of a golden fried tortilla, topped with a little bit of guacamole and pickled onion slices. While the meat itself was delicious – extremely tender, which tells me it must have been slow cooked, in a flavorful tomato based sauce – the metaphorical "cherry on top" was actually the roasted sunflower and sesame seeds that circled the plate. Adding these to a bite of tostada rounded out the flavors perfectly – everything tasted fresh and flavorful, rather than just salty as poorly-made Mexican food can sometimes be.
Arrachera al Carbon
This was actually my friend's meal and not mine, but I could not stop eating off of her plate! We kept joking about looking for the "perfect potato" and decided that every potato in this dish was perfect – perfectly crispy and perfectly seasoned. The steak was also delicious, tender, and well seasoned, and the freshness of the ingredients really stood out in the pico de gallo, which allowed the mild natural flavors of the tomatoes, onions, and cilantro to shine through.
Octopus Tres Chiles
When I saw octopus on the menu I knew it was a sign – I had been craving it for weeks – and when I saw it next to the word "chiles" I was sold.  These delicious tentacles were boiled in broth and grilled, then served with a sauce made of garlic and guajillo, morita, and puya chiles.  Octopus will always have a chewy quality to it, so if that's not up your alley you should steer clear – but the aromatic broth is key in making every bite of octopus flavorful, even without the sauce. The sauce itself was a great balance of sweet and spicy, and complimented the octopus very well.
Pastel de Chocolate Abuelita
You better believe that after all that, we still ate dessert. And it did not disappoint. How could you go wrong with a fudgey chocolate cake with a molten chocolate center, topped with vanilla ice cream and spiced almonds? The description says it all. Not a bite was left behind.
Throughout our meal the table was fairly quiet – we communicated mostly through happy chewing nods and mumbling the word "amazing" after every other bite. The best part about Talavera is it's authenticity. Almost anyone (myself included) would expect to find foods like fajitas, burritos, and nachos on the menu of any Mexican restaurant, even though none of these foods are authentically Mexican. Instead, Talavera offers gourmet versions of traditional Mexican meat, chicken, and seafood dishes, with familiar favorites like tacos and flautas making an appearance. Overall, the meal was incredible. Quality and taste of the food aside, the location is great, the service was fast, and the servers were accommodating and kind. If Talavera is on your list of places to visit, bump it up to the top, and if it's not on your list – do yourself a favor and add it!