Over the 4th of July weekend, Florida broke a new record of COVID-19 positive cases with 11,458 cases on Saturday. Miami-Dade COVID-19 hospitalizations are on the rise and ICU bed availability is less than 25%. In the face of this COVID-19 surge, Miami-Dade Mayor continues to rollback openings a little bit at a time. On Tuesday, January 7th Miami-Dade mayor issued Executive Order closing a new list of businesses and imposing new rules on businesses that remain open starting on 12:01 a.m., Thursday, July 9, 2020 .
Miami-Dade Restaurant New Rules
Restaurants and cafeterias are limited to:
No indoor dining for on-site consumption.
Outdoor service only for on-site consumption between the hours of 6:00 a.m. and 10:00 p.m. each day,
Outdoor on-premises service cease at 10:00 p.m.
Table size shall be limited to four persons per table, irrespective of whether those persons reside in the same household.
Music shall be eliminated or set at a decibel level below that of a normal conversation.
Restaurant and cafeterias may operate their kitchens between the hours of 10:00 p.m. each night and 6:00 a.m. the next morning only for the purpose of providing delivery, pick-up, room service, or take out services and employees, janitorial personnel, contractors, and delivery personnel shall be allowed access to such establishments.
Miami-Dade Gym New Rules
Gyms and fitness centers may remain open. All individuals in a gym or fitness center shall at all times wear a mask or other facial covering.
Businesses That Must Close With Miami-Dade's Amendment of Executive Order 26-20
The following businesses must close starting Wednesday, July 8, 2020:
Banquet halls, both stand alone and incident to any hotel or other establishment
Ballrooms, both stand alone and incident to any hotel or other establishment
The following businesses were already required to close with Miami-Dade Emergency Order 26-20 issued on July 3rd 2020. These businesses should have closed starting at 12:01 a.m. on July 4, 2020:
Movie theaters, concert houses, auditoriums, and playhouses
Bowling alleys
Arcades
Indoor and outdoor amusement facilities and attractions
Casinos (except casinos on sovereign tribal land)
Adult theaters, special cabarets, and unlicensed massage establishments
Businesses Allowed To Remain Open With Executive Order
Office buildings
Retail stores
Grooming services
Gyms and fitness centers. This amendment requires masks or facial coverings to be worn when inside gyms and fitness centers
RECOMMENDED READING: New Miami-Dade Face Mask Emergency Order Amendment is Stricter Than Coral Gables' Order
Outdoor Activities Still Allowed in Miami-Dade
Condominium and hotel pools with strict social distancing and masks rules.
Summer camps and child daycare centers with strict capacity limits, requiring masks and social distancing of at least 6 feet.
Beaches reopen on Tuesday, July 7, 2020.
Miami-Dade Countywide Curfew from 10pm to 6am Remains
The 10 p.m. to 6 a.m. Countywide curfew will remain in force with exceptions for essential workers and for people who have a religious obligation.
South Florida Officials Respond to the Latest Miami-Dade Emergency Order
As Miami Herald reporter, Doug Hanks, announced the latest Emergency Order via Twitter, local officials replied to Miami- Dade Mayor Gimenez's response to COVID-19, his latest emergency order, and lack of leadership.
Miami-Dade County Commissioner Daniella Levine Cava's Response
In response to Miami-Dade County Mayor Carlos Gimenez's latest announcement on rolling back re-opening plans, County Commissioner Daniella Levine Cava today released the following statement:
"It's clear that the hospitals are sounding the alarm as ICU capacity falls quickly and overall hospital bed availability drops. The Mayor is rolling back the reopening plans as cases rise. This could have been avoided if we had put in place the contact tracing and isolation strategies I called for early on in the pandemic, but these were ignored."
"Now our businesses and workers have to endure this economic pain yet again. The national health experts are clear in their guidance: if businesses reopen, then a community MUST put in place aggressive contact tracing and isolation. We continue to be 2-steps behind the virus rather than 1-step ahead. "
"We have paid with pain and sacrifice and the lack of leadership means we will have to go back to close our businesses again. We can't continue to fall into the trap that we have to choose between our economy or public health. We know by now that's a false choice. Full economic recovery recovery and controlling the spread of the virus go hand in hand. Furthermore, we are unlikely to receive additional recovery dollars from the Feds. It will fall on local government to absorb the cost and pay the price of a rushed and poorly planned opening" – Daniella Levina Cava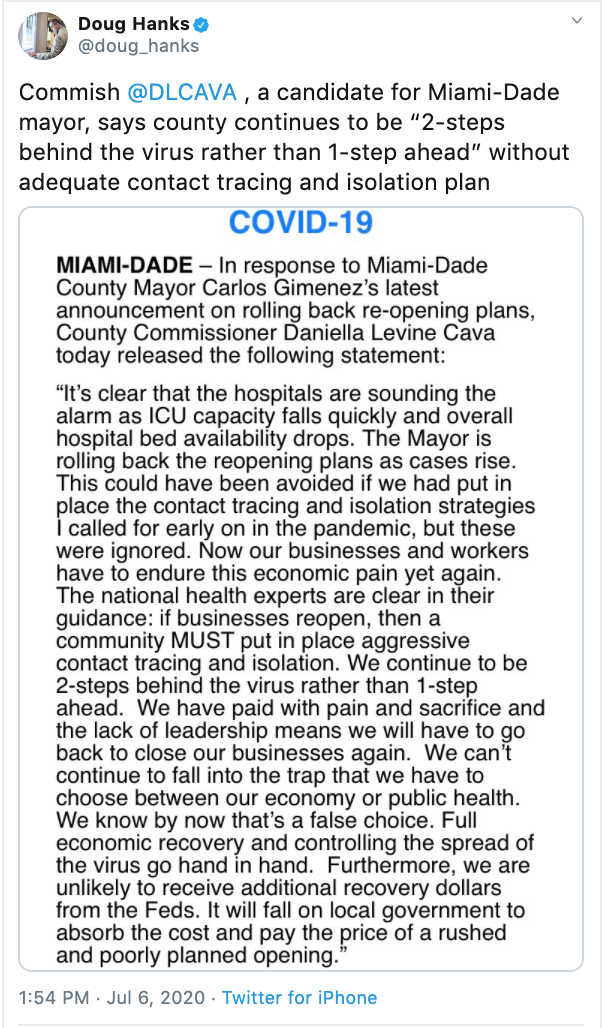 U.S. Representative for Florida's 26th Congressional District Debbie Murcasel-Powell's Response
"Just 4 weeks ago Miami-Dade Mayor Gimenez took a victory lap on COVID.
He re-opened too soon just to please Donald Trump & Ron DeSantis.
Now, we're forced to shut down again. This is failed leadership. Our community deserves better" – Debbie Murcasel-Powell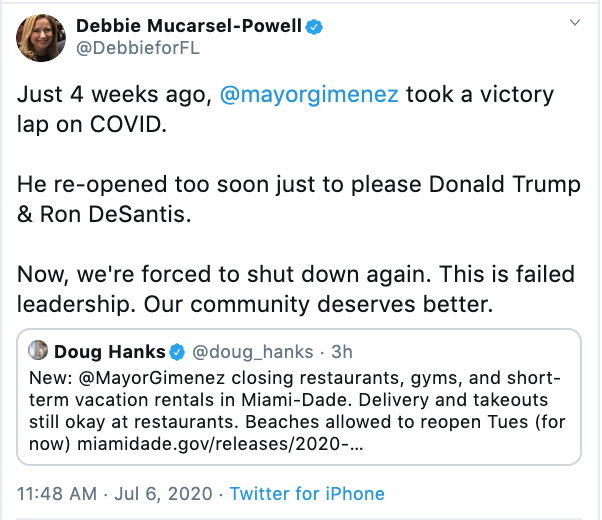 The news revolving this latest executive order was a mess. On Monday night, Mayor Carlos Gimenez sent a press release stating he would issue an executive order closing all restaurant on-premise dining and gyms. On Tuesday, Mayor Gimenez posted on social media walking back his previous press release. The first change stating the upcoming executive order would allow dining on-premises for restaurants only outdoors, followed by another social media post stating gyms would remain open.