The City of Coral Gables just announced a new Emergency Order joining other Miami-Dade cities requiring the use of face masks indoors & outdoors. The new order takes effect on June 25, 2020 at 12:01 am.
Face Masks Required Indoors & Outdoors
Next time you leave your home, make sure to wear a face covering. If you are caught violating this new emergency order, you will first receive a verbal warning. The second violation will result in a code enforcement citation and a $50 fine.
Face Masks Exceptions in City of Coral Gables
Children under two years old,
Persons who have trouble breathing due to a chronic pre-existing condition,
Persons engaged in active strenuous physical exercise (which may include walking for exercise, jogging, running, or bicycling
City of Coral Gables Face Mask Emergency Order
"Starting tomorrow morning, Coral Gables will be enforcing a new emergency order intended to eliminate the spread of COVID-19. Face masks and face coverings will be required indoors and outdoors where social distancing measures are difficult to maintain. There are some exceptions such as children under the age of two, people who have trouble breathing due to chronic pre-existing conditions or people engaged in strenuous physical activity (including walking for exercise, running, jogging or bicycling). According to the Centers for Disease Control (CDC), COVID-19 spreads mainly from person to person through respiratory droplets produced when an infected person coughs, sneezes, or even talks. Face masks significantly reduce the spread of the virus. People who live, work and visit Coral Gables must adhere to this order. Returning to normal will depend on the collaboration of all."
To read the emergency order document click here.
What You Need To Know About COVID-19 To Protect Yourself & Your Family
As the number of COVID-19 cases continue to rise in South Florida and the hospitals begin to reach ICU capacity, it's important to know how to prevent the spread of COVID-19.
How COVID-19 Is Spread
According to the CDC, COVID-19 is primarily spread from person to person. You can become infected:
by coming into close contact (about 6 feet or two arm lengths) with a person who has COVID-19.
from respiratory droplets when an infected person coughs, sneezes, or talks.
by touching a surface or object that has the virus on it, and then by touching your mouth, nose, or eyes.
How To Protect Yourself And Others From COVID-19
There is currently no vaccine to protect against COVID-19. According to the CDC, The best way to protect yourself is to:
Avoid being exposed to the virus that causes COVID-19.
Stay home as much as possible and avoid close contact with others.
Wear a cloth face covering that covers your nose and mouth in public settings.
Clean and disinfect frequently touched surfaces.
Wash your hands often with soap and water for at least 20 seconds, or use an alcohol based hand sanitizer that contains at least 60% alcohol.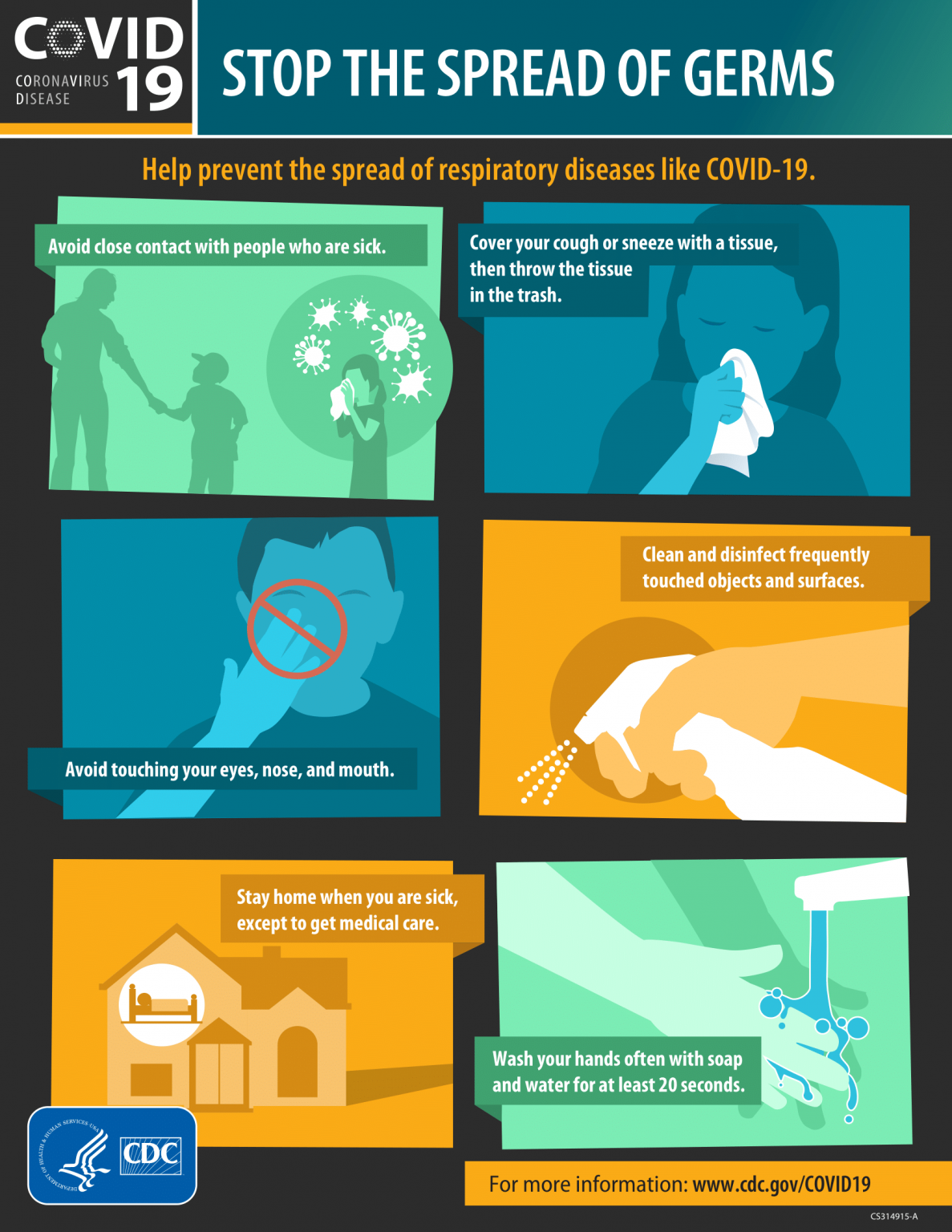 Practice Social Distancing
• Buy groceries and medicine, go to the doctor, and complete banking activities online when possible.
• If you must go in person, stay at least 6 feet away from others and disinfect items you must touch.
• Get deliveries and takeout, and limit in-person contact as much as possible.